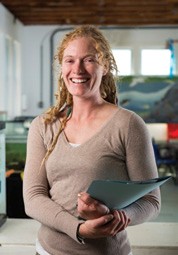 Mistral Dodson, a Program Director at New England Science & Sailing Foundation (NESS) in Stonington, CT, was chosen as one of 2016 Southeastern Connecticut's Annual "40 Under Forty" brightest young professionals. The 4th Annual "40 Under Forty" Awards ceremony, held January 8 at Foxwoods Resort Casino in Mashantucket, CT, recognizes 40 residents of Southeastern Connecticut and Western Rhode Island under the age of forty who demonstrate excellence in their profession through their leadership, commitment, and service to the region.
© Laura Swoyer
Prior to joining NESS in 2008 as a seasonal instructor, Dodson worked with students in both marine and terrestrial environments all over the world. She graduated with a Bachelor of Science in Marine Science and Conservation with Honors from Murdoch University, Western Australia. In 2012, she became a full-time program director at NESS, an ocean adventure non-profit that engages students in experiential learning to build confidence, teamwork, and leadership skills.
An experienced and accomplished outdoor adventure educator, Dodson teaches hundreds of students each year. Her certifications and licenses include U.S. Coast Guard Master 50GT Captain, American Red Cross Lifeguard Instructor, PADI Divemaster, US Sailing Level 3 Coach, ACA Coastal Kayak Instructor, and NSSIA SUP/Surf Instructor.
Dodson currently serves on the Stonington Science Task Force, helping science teachers connect with the Next Generation Science Standards as they revamp the district's science curriculum. She has been a driving force behind NESS's growth from a summer-only program with 580 students in 2011 to a year-round program with over 4,700 students in 2015. She lives in Westerly, RI with her husband and son. For more information, visit nessf.org.