By Colin Rath
Editor's note: This is the tenth installment in a series of dispatches from the Rath family (Colin & Pam, daughters Breana, Meriel and Nerina), who departed Stamford, CT in the fall of 2014 for a worldwide cruise aboard their Hanse 545 Persevere. You'll find previous articles linked below.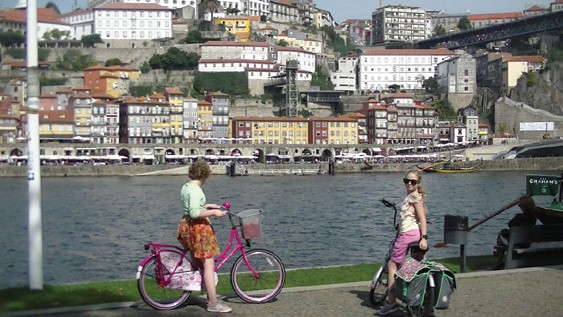 Fall was coming quickly in Amsterdam. Still nice weather, 70 degrees, but once the sun went down the leaves on the trees were dropping. It was time to head south. This meant sailing down the English Channel and across the Bay of Biscay and around Spain to Gibraltar. This would start our winter in the Med.
© persevere60545.com
We would stop along the way to the tip of France and then wait for a weather window to decide to hug the coast of France and Spain or head across the Bay of Biscay to the tip of Spain in one shot. After that we would bounce along the coast of Spain and Portugal until the Rock of Gibraltar. The Bay of Biscay can get nasty in the fall. You see, the edge of the Bay of Biscay is a shallow ledge and the Atlantic Ocean is over 3,000 feet deep and it comes up to the edge of the Bay, which is little more than 400 feet deep. Any storm produces massive rollers that only build and build until they hit the coast.
I am sure we all have seen pictures of a 30-foot sailboat trying to enter a harbor on the Atlantic coast of France surfing 40-foot rollers. We all know what usually happens and it's not good. So, my fearless crew (family) and I made sure we got a great three-day weather window to do the crossing.
The sail down the English Channel was its usual three-day sail to Cherbourg, France with a constant watch for collision courses with tankers and freighters bearing on us doing 15 knots, windmill farms and 50 ships on AIS to monitor. It was an uneventful sail, a nice reach in 20 knots in mild seas, although we did get boarded along the way. The coast guard steamed up to us in late afternoon off Belgium, lowered their inflatable and came alongside as we were sailing. After a brief passport check and inspection, they checked to see if we had pink diesel. I couldn't find my receipt for fuel from England, so they had to see the diesel. Pink diesel is commercial fuel for which ships are not charged a VAT (value added tax of 21 to 28 percent). There is a hefty fine if they find pink diesel aboard a non-commercial pleasure yacht. Yes, they put a siphon in our fuel tank and pulled out a cup of diesel to examine and saw that it was clear. Then thanked us and off they went, short and sweet.
Persevere docked in Cherbourg, France for four days to get the best possible weather window for the crossing, and we did some sightseeing and bought provisions for the journey. Cherbourg was the main port for the maintaining and supplying the Allies after D-Day. Without it, the invasion would have failed due to lack of supplies for the allied forces. The Allies had to rebuild the port completely after the Germans destroyed it in their retreat. They designed a completely new lock and docking system made out of destroyed ships, and built it in record time. The fort overlooking the city has an extensive bunker and tunnel system carved out of the cliff – really cool exploring with kids. We left Cherbourg with a 30-knot breeze astern that was going to die down to 15 knots offshore by the time we hit the Bay of Biscay.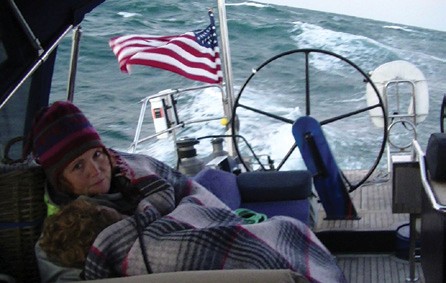 That night, the seas got quite rough and we had an accidental jibe at 3 am that snapped all our main battens. Luckily, we had a boom preventer or it could have been worse. It always amazes me that these things always happen in the wee hours of the night – never in the middle of the day – but we made it through with a little drama.
© persevere60545.com
Come daybreak, we sailed around the tip of France and had a nice three-day sail to Coruna, Spain. Our summer in Cowes, England had been cold and wet, and we enjoyed sunny days in October, sailing in shorts and tee shirts with each day getting a little warmer than the last. We caught a tuna and had a sashimi dinner…hard to beat that.
Coruna, Spain has the oldest working lighthouse built by the Romans. Called the Tower of Hercules, it's an impressive feat of Roman architecture still standing and functioning. The kids had a great time riding bikes around the town and countryside. We averaged 20-mile rides each day, much needed exercise for the younger generation and an ideal way to see this quaint town and try little hole-in-the-wall restaurants with great Spanish seafood dishes. Pam being fluent in Spanish helped a lot. We stayed a week exploring.
Next stop bouncing down the coast was Porto, Portugal. I recommend Porto town to anyone, especially if you like Port wine. This is where it comes from, and there are tasting rooms everywhere. Just wandering through the old town is a blast and a walk into the past. More great seafood, of course. After a week there we were off to Cascais, Portugal, just outside of Lisbon.
Cascais is named after the pirate that raided Lisbon. He based all his raids on Lisbon from there. Now, it's a seaside resort. We did several day trips into Lisbon. The train ride was only 30 minutes and cost 2.5 Euros. I recommend visiting Lisbon. It has a lot of history and they know how to eat and party. It's like New York – everyone goes out Thursday night and parties hard and goes away for the weekend.
An interesting thing happened while we were in Cascais. A severe storm hit, blowing 60 knots. We were in a well-protected harbor with 20-foot cement seawalls encircling us, so we were fine…or so we thought. Less than 500 yards away, a 900-foot tanker broke its mooring and was heading straight for our marina. The whole marina spent the night watching to see when it would hit. It eventually ran aground at 3 am (again, the middle of night theory) 500 yards from the marina. It took seven tugs to pull the ship off the sandbar two days later. The whole town came down to the docks to watch and celebrate the close call. The Portuguese enjoy a good party, and find a reason at a drop of a hat to celebrate. After the tanker was cleared and the harbor was opened again, we continued our trip to Gibraltar.
Next up for the Rath family is the RORC Transatlantic Race (Lanzarote to Grenada) this month. Look for updates on Persevere's journey in future issues of WindCheck, and track their progress on their Facebook page, "Persevere60545."
Colin Rath's new book, It Is What It Is, has been released and can be purchased at any major bookstore or online at ColinRath.com.
Previous articles from the Persevere Family Journey:
January 2015 Persevere Cruise: The Most Important Rule of Cruising: Let the Weather – Not Your Timetable – Determine the Schedule.
March 2015 Persevere Cruise: Cuba Libra!
April 2015 Persevere Cruise: Serious Fun at the St. Maarten Heineken Regatta
May 2015 Persevere Cruise: Kirk Kelly's 50th Birthday in Rincón
June 2015 Persevere Cruise: From the Persevere Log: Dominican Tree House Village
July 2015 Persevere Cruise: From the Log of Persevere: Havana – The Tale of Two Cities
August 2015 Persevere Cruise: Back to NYC
September 2015 Persevere Cruise: Transatlantic Race 2015
October 2015 Persevere Cruise: Sail On, Aspen
November/December 2015 Persevere Cruise: Europe 16: The Adventure Begins