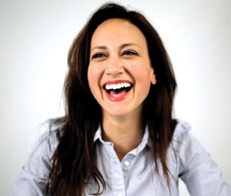 As the host of US Sailing's original web series The Beat, Katy Nastro has given us a fresh, inspiring and often very amusing look at our favorite sport.
"I grew up in Huntington on Long Island," says Katy. "I don't come from a sailing family, although we always had a motorboat, but I remember going on a sailboat with family friends at a young age, and thinking it was thrilling. I took my first sailing lesson at the Head of the Bay Club when I was nine, and got hooked. I decided I wanted to get into sailing a bit more seriously, so I joined the junior program at Centerport Yacht Club. I owe a great deal of my passion for sailing to my instructor, David Waldo [now the Executive Director of The Waterfront Center in Oyster Bay]. David has a passion for sailing that rubbed off on me!"
Katy attended Boston College and was a member of the Varsity Sailing Team. "I was involved in other sports in high school, but in my junior year I decided to pursue sailing in college," she explains. "I would've gone to school on the West Coast, but I think the best collegiate sailing teams are on the East Coast – it's more of a competitive scene. I've always loved Boston, and BC has a beautiful campus and a really great sailing program. Head Coach Greg Wilkinson brought my sailing to the next level, and I owe a lot of my connections in the sailing industry to him."
"I was a double major in Communications and English and I had a lot of great professors, and the 'athlete mentality' of Boston College was very appealing," says Katy, who served as Secretary of the New England Intercollegiate Sailing Association. "BC really supports athletes in terms of helping with time management, tutors, and anything to give them the best advantage in the classroom and on the playing field. A lot of college sailing teams have to struggle a little bit, whereas we were very lucky to have a beautiful gym and gear like warm-up outfits and bags, and we didn't have to worry about raising money for hotels. Even though Sailing is not an NCAA sport, at BC we complied with the same standards and that made us feel that we were just as important as the Football team."
Katy served as Editor of the Junior Sailing Association of Long Island Sound's excellent Jibe Talk blog during college, having taken the reins when her good friend Nicole Hering moved on. "Nicole and I used to sail together, and her whole family helped me pursue sailing," she says. "Nicole's dad, Thom Hering, has emailed to say how much he loves The Beat."
"I had taken a couple courses in video production and TV broadcasting at BC, and helped Chris Love with his SailGroove and Chalk Talk projects. Upon graduation, I wasn't sure about which career path to take, but I knew that I wanted to stay in media so I decided to take an advertising job with The Boston Globe. The Globe launched a younger demographic website called BDCWire and they were looking for freelancers. I started writing for BDCWire, and that led to me proposing a video idea. We did a series called Lunch Dates with Kate in which I did on-site interviews with chefs and restaurateurs, and from there I got an opportunity to do some videos with Boston.com."
"The Beat was conceived by US Sailing's Marketing Director Amy Larkin, and she proposed it to her co-workers Josh Toso [Marketing Manager] and Jake Fish [Communications Manager]. They had taken notice of some of the stuff I'd done in Boston, and they came to me last January and we mapped out a tentative season."
With its slogan, "Live. Laugh. Splash!" The Beat s inaugural summer tour had a goal of capturing the essence of sailing. Episode 1 was filmed last May at the Volvo Ocean Race stopover in Newport, where Katy interviewed several Americans in the race. Subsequent episodes brought her to Martha's Vineyard, Nantucket, the Chesapeake, Illinois, Colorado and California. "We did the third episode in Chicago," she says. "We went to Wrigley Field to interview random people who were going to a Cubs game, and I asked questions about sailing. We had our doubts, but our Editor Sam Crimmins knew how to put everything together and it turned out really well…some of the answers were hilarious!"
Perhaps the most viewed episode of The Beat is 'Sailing Stereotypes,' a send-up of sailors we've all known including 'The Always Late Guy,' 'Mr. Protest,' 'The Opti Mom,' and of course, 'The Yeller.' "Josh came up with that idea, and the people in it are employees of US Sailing," says Katy. "That episode went viral. I was just in Buenos Aires with 49er.org for the 49er and 49er FX World Championships, and people from around the world told me they'd seen it." To view The Beat, log onto USSailingTheBeat.org.
"The 49er Worlds was a significant regatta in that a lot of people were vying for spots on their Olympic teams," Katy explains. "I hosted the Magic Marine Daily Show, which was basically a talk show. It's a really cool class, the sailors are young and hungry and they love the speed, and the competitors I interviewed were all very friendly."
"The community aspect is one of the things I love most about sailing," enthuses Katy, who is an avid team racer. "I've met sailors from all over the globe, and it doesn't matter where you're from – we all just get along so well! I'll be covering the 2016 49er and 49er FX Worlds in Clearwater, Florida in February and I'd like to find my way down to Rio for the Olympics. Hopefully I'll be doing some work with Sailing World, as well as another season of The Beat. I'm trying to put my name out there and see where I can go with whatever sailing opportunities come my way. It's been quite a ride so far!"