By Joe Cooper
The casual observer, glancing over the docks at the Newport Shipyard on an overcast but balmy afternoon in early November, would have seen a small crowd. They might have wondered what these people were doing, gathered as they were on the docks and the apron above. For the cognoscenti of sailing, offshore solo sailing in particular and Class40s specifically, they would have known about, and probably been at, a farewell party for Joe Harris.
Joe, a relative fixture in Northeast solo sailing circles, had thrown a "Thank you" party prior to his departure on a solo non-stop lap of The Blue Marble. The declared intention: breaking the present record of some 137 days or so for such a voyage. Success on his voyage, record or not, would induct Joe into the tiny sliver of the sailing community, reportedly fewer than 100 souls, who have completed a circumnavigation of the planet via the great capes.
I was in attendance and was myself pondering the variety of things that such a voyage demands pondering on. The boat: a proven Class40 – Check. Lots of food – Check. Two or three of everything plus spares – Check. Lots of tiller time on the boat – Check. So, the big bases are covered but the most important piece of equipment that needs to be packed is not visible, does not need to be stowed and uses no electricity. Well, not much anyway.  
Solo sailing is viewed in the U.S. as largely a mug's game, undertaken by antisocial misfits with a death wish. Nothing can be further from the truth. It does, however, require a considerable amount of introspection and a high regard for one's own skills and abilities. And not just the sailing – that is the easy part – but when "IT" hits the fan. Such a voyage encompasses vast swaths of the most deserted and inhospitable places on the planet, and the Southern Ocean is light on Sea Tow bases. In Joe's case, it's reliance to a higher degree than "normal" on the immeasurable variable of mindset in that he will really be "alone."
I was originally musing on the idea of undertaking such a voyage as independent of a race and so without the lifeline, as it were, of other sailors, roughly, nearby when I remembered everyone else who has done this trip. Searching "solo circumnavigations" reveals several sites with longs lists of "circumnavigators," but most are via canals or have stops of other types. Few have sailed the track that Joe intends. All this brings me to my childhood and my fascination with such voyages.
From my earliest memories I have been an aficionado of long, solo, offshore passages and have been fascinated by the condition of singularity, of being "alone" as distinct from lonely. As a kid, I followed the pioneers of the genre: adventurers who could see the vision of going where no man had gone before, at least solo in a small boat. The Golden Globe, a race – really just a trophy – for the first solo non-stop circumnavigation was the motivating gravitational density for these men (for at the time they were all blokes), and they were my heroes.
I have also always wondered what I would do faced with the situations these sailors faced. Their answers have largely driven my approach to seamanship. Sir Robin Knox-Johnston, Sir Francis Chichester, Commander Bill King, Sir Alec Rose and the spiritual leader, in the very real sense, Frenchman Bernard Moitessier. At the time I had an entire collection of all the books, and I still have many, including a battered paperback copy of A World of My Own, Robin Knox-Johnston's (he was knighted much later) account of his passage and the pictures of him (obviously staged in home waters) shooting sun sights propped up against the mizzen shrouds with a grin peeking through his beard.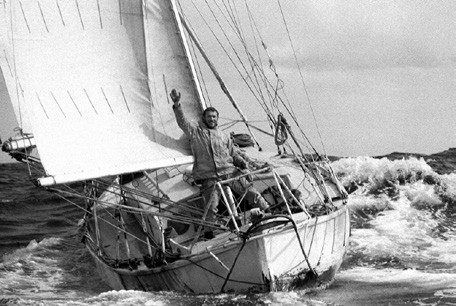 Robin Knox-Johnston waves from his self-built 32-foot ketch Suhaili off Falmouth, England on April 22, 1969 after becoming the first person to sail singlehanded non-stop around the world. The sole finisher among nine starters in the Sunday Times Golden Globe Race, Knox-Johnston completed his solo non-stop circumnavigation – a feat that many seasoned yachtsmen at the time believed was impossible – in 312 days at an average speed of just over four knots. In recognition of his achievement, Knox-Johnston was named a Commander of the Order of the British Empire in 1969 (he was knighted in  1995).© Bill Rowntree/PPL
I was fascinated by the lyrical descriptions of the heaving liquid mountains in the emptiness of the Southern Ocean written by Moitessier. Born in French Indochina, Moitessier combines in a unique language the functionality of sailing, navigating with a sextant and managing the boat, with a view of the ocean seen as almost mystical by some. He entered the Golden Globe as an adventure and famously, after crossing his outbound track in the South Atlantic, kept on sailing – all the way to Tahiti.
I still have the pictures my dad took of our TV during a news bulletin covering Chichester as he blew around Cape Horn with what was then referred to as a Spitfire Jib. It was reported that the wind was 60 knots…I can remember looking through the wire mesh fence at the shipyard where Gipsy Moth was being refit in Sydney and studying the boat and designing in my mind's eyes the things I would do differently were I in his sea boots. I was not yet 15.
I hold the opinion that we all harbor deep underneath the external face of the daily to and fro of our outward life the desire to do something that proves ourselves to ourselves. Twenty years ago this past summer, I was at sea in the Mini Transat boat I built (with a lot of help) en route to France to sail in the 1995 Mini Transat. Like almost all non-French efforts, my program was rushed and imperfect. About a week into the trip, I realized I was too far from being sufficiently well prepared and with a very large bag of emotions more powerful than those felt on departure I returned to the U.S. That desire is not much dimmed today.  
The literature of solo sailing is full of experiences of hearing voices, seeing things and other elements of mental stress. Thus armed, I was fully prepared for the voices of my father and the man who fills that surrogate position in my life now and then. I could not understand what they were saying, but they were definitely their voices.
So, what happens when one is alone, as in solitary, since today "communication" is possible and probably mandatory for all such voyages? I cannot readily think of any activity today where one is without other humans within a day or so of your position. Long distance offshore voyages are, naturally enough, by their nature solitary. There are no hugs, no seeing the gleam in the other's eye, no ability to connect their tonal inflections with body language and facial expressions. Sounds rather like "social" media and email, really. What an odd juxtaposition. So, what does one think about?
On a clear moonless night, the overwhelming feeling of insignificance under the countless stars would be a starter. Could you have lapses of confidence in your skills? Certainly on the Mini there is almost nothing except the sailing to contend with, so the fear of machines, engines, electrical systems and so on (my personal phobias) is limited. Our inevitable passing, when we've run our own course? What happens then? What if it does hit the fan and we cannot fix it? Fall off, serious anatomical damage… arm, leg, head? A sinking? Watertight bulkheads can keep out only so much water. What would be those images flashing across one's inbuilt personal back-of-the-seat-in-front-of-you movie screen?  
Joe is an accomplished sailor, with many offshore miles solo, and races under his belt including a solo O.S.T.A.R. He has been sailing this boat for a few years, and when I was on her the morning of departure she certainly struck me as being as well prepared as possible. I am not immune from the Armchair Admiral syndrome and so was casting my eye over the yacht and questioning the various mates who had helped him prepare. I even shot a 60 second video clip with Rob Windsor, his main prep guy, wherein Rob observed Joe had at least two of everything. Well, almost.
On 23 December he posted that the ocean had found that hairline crack in the planning that all sailors try and defend against. The power generators Joe has, hanging like outboards on the stern if you have seen pictures of him leaving, produced so much juice while sailing fast, ahead of the first Southern Ocean depression, that the regulator fried. He had only one of these. Faced with the prospect of another 80 days with insufficient fuel for charging over that time, Joe headed for Cape Town.
But back to Newport: The "weather window," a phrase unknown to the pioneers, suggested an opening in mid-November, the end of the week, as the best option for leaving. The ideal day was Friday…Friday the 13th, in fact. Tradition suggests leaving on a Friday is not so good. In any event, Joe did not leave until the following Saturday but perhaps the dye was cast. The Council of Albatross, The Guardians of the Southern Ocean must by necessity be a hard and unforgiving lot, charged as they are with keeping mariners, ancient and otherwise out of the doodoo. Perhaps they take more seriously the traditions of the sea and even discussing leaving on Friday the 13th disturbed their Force…Slightly unnerving it is to think that one small box with electrons whizzing through it, Velcro'ed comfortably under the chart table, keeping to itself was the downfall of such a magnificent dream…and that its failure pinged on The Guardian Meter.
If there is one thing that sailors are really good at it is philosophy, exposing ourselves as we do to the raw elements of the world. Joe's emails to his Facebook page were upbeat in describing the situation. But deep in the deepest darkest part of the bilges of the soul, it had to hurt. Perhaps the philosophical forces of the trip, as Moitessier discovered, can only be pulled out of the bag and reconciled when deep in the Southern Ocean, where the albatross glide, motionless on the air, alongside and looking without blinking at you, or perhaps into you. This then would be the time and place, unavailable to those who do not undertake such wandering, when you find out if you really are as good as you think. As the French sailors say, Bon courage, mate. ■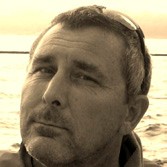 Australian born, Joe 'Coop' Cooper stayed in the US after the 1980 America's Cup where he was the boat captain and sailed as Grinder/ Sewer-man on Australia. His whole career has focused on sailing, especially the short-handed aspects of it. He lives in Middletown, RI where he coaches, consults and writes on his blog, joecoopersailing.com, when not paying attention to his wife, teenage son, dog, two cats and several, mainly small, boats.
 To follow Joe Harris' circumnavigation, follow his updates here.