Solar, wind and hydro-power on American Promise
By Rachael Z. Miller, Co-founder & Executive Director, Rozalia Project for a Clean Ocean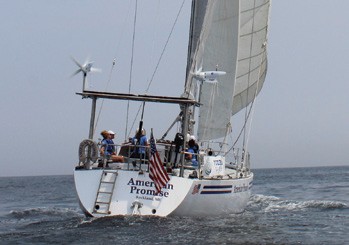 American Promise was built to beat a world record. And she did. In Dodge Morgan's hands, the 60-foot, Ted Hood-designed sloop set the solo non-stop circumnavigation record in 1986. Today, as the flagship for Rozalia Project for a Clean Ocean, she remains a world leader in technology, equipment and practices aimed at having a low environmental footprint and a high environmental impact preserving our planet.
American Promise underway with our favorite sail combo: full main, yankee jib and staysail and all three renewables contributing amps. Next stop, a remote island that needs cleaning!   © Rozalia Project, July 2015
Achieving this goal started with the installation of a high efficiency, low-emissions, low-noise and low-vibration marine diesel engine in 2013 [see "A New Engine for American Promise!"].
In 2015, Rozalia Project took the next step, this time addressing house power by installing solar, wind and hydro systems to run lights and electronics, charge computers and phones, and power Rozalia Project's remotely operated vehicles (ROVs) used for underwater cleanup. Out of the gate, the project was a success – the crew logged zero hours on the diesel generator this summer! One hundred percent of the boat's house bank needs were met by the renewables (plus main engine alternator during transits, never for battery charging only).
Both the re-power and the renewables project were funded, in part, by 11th Hour Racing with the intent to reduce American Promise's own footprint, and to act as a demonstration vessel for other boaters interested in burning less fossil fuels while on the water. To that end, following are details about the systems and our experience traveling over 860 miles during eight weeks of operations in the Gulf of Maine during the summer of 2015.
The Equipment
4 x Kyocera 130 watt solar panels mounted on a goal post style structure on the transom
2 x Eclectic Energy D400 wind generators mounted outboard of the solar panels on the goalpost
1 x Eclectic Energy Hydro-generator mounted on the transom just starboard of the rudder
Our power needs and typical sources
We use an average of 240 amp-hours per day. Until this summer, we got that power via the main engine alternator during no wind transits only; otherwise we sail) and by running the diesel generator for one to two hours every morning and one to two hours every evening; more if we needed to vacuum the boat or run the ROV. We have two battery banks totaling 1,200 amp hours, of which we will only use 50% before turning on our generator (for safety). Our focus is on remote islands, so we anchor or moor and rarely find ourselves on docks with shore power.
The Results
Solar panels: It was a beautifully sunny summer, and the solar panels were the best performing and most consistent of our renewables. Even with a small amount of cloud cover, as long as we had light they were almost always producing power. There was nothing in the way of maintenance or control. Regulators control how much power is sent to the chargers depending on the status of the battery banks.
If, for example, we are down at 50%, the regulators will send enough for a bulk charge; if we are closer to full, they will go into float mode. Furthermore, in the past, we would run the generator before disembarking to make sure we left her with full batteries, this summer, the solar panels did the job whether we left for a weekend or a month. Our overall impression is that these were an excellent addition and we highly recommend them for sailors and boaters operating in similar climates.
Wind generators: All of the sun we had this summer came with a trade-off: wind. It was a particularly light July and August on the Gulf of Maine. We rarely had wind over 10 knots, and spent our nights and many days moored or anchored in protected coves. Predictably, the wind generators did not contribute as much power as we predicted. We never measured more than 5 amps coming from the pair. That said, they are the quietest wind generators we have encountered, making barely a hum even on the rare occasions when we had wind.
We interacted with the wind generators more than the solar panels – tying them off before forecasted storms and when we left the boat for more than a day. While this is not expressly recommended, we are conservative with our equipment (we are a non-profit!) and rested easier knowing that even if those New England storms with winds in excess of 60 knots blew through, the wind generators would be fine. Our overall impression is that we need more data because this year was exceptionally light, but the D-400s were great in terms of low noise and manageability. We would recommend them to boaters, especially those in places with reliable breeze.
Hydro generator: We were very excited to be one of the first cruising boats to install this technology. The unit is secured out of the water when not in operation, and easily deployed on a counterweighted arm. A foil attached just above the unit's propeller keeps it at the correct water depth. It is easy to recover with a lifting line that we keep attached to the aft rail. We chose Eclectic Energy's design for two reasons: it is hinged so if we hit something, the unit should just pop up over the top of it; and secondly, the most expensive parts are in the boat rather than on the submerged part – so if we hit something big and unforgiving, we would replace parts that are not thousands of dollars (as ocean trash-hunters, we are very aware of what floats on the ocean's surface and the damage it can cause).
While our data collection was hampered by the lack of wind, we did have some great days under sail that gave us a lot of hope for this piece of equipment including one day generating 8 amps from the hydro while moving along at around 6 knots. Our overall impression is that this will be an important go-to piece of our power system especially during overnight passages under sail. It will pick up where the solar leaves off and depending on how fast we get American Promise trucking along, has the potential for us to enjoy 24-hour sails without having to run the generator. Even with limited time on the hydro, we think this is a great option for people who sail more than motor.
Looking ahead…
Due to the unusual, though lovely, conditions we experienced this summer, we do not yet know how much power our renewables will provide in windier, less sunny conditions. Therefore, we will not be removing our diesel generator just yet, although we hope to in the future. To make that decision easier, we are installing analog meters to spot check how much each power source is producing and generate robust data for each system in a variety of conditions. Stay tuned!
Rozalia Project would like to thank 11th Hour Racing, Eclectic Energy, and Maine Yacht Center who worked hard on everything from system and structure design to seamless integration with our existing power system.
We are happy to share more information about American Promise and the systems and techniques we are using to make her the greenest sailing research vessel in the world and we'd love to hear from you. Please contact us at greenenergy@rozaliaproject.com.
Rozalia Project for a Clean Ocean is a non-profit organization whose mission is to clean and protect the ocean. We address the problem of marine debris, surface to seafloor, from multiple angles of cleanup, prevention through education, innovation, technology and conducting solutions-based research. We operate throughout the Gulf of Maine and beyond taking on volunteers from different professional, academic and geographic backgrounds. For more information or to join an expedition, visit rozaliaproject.org, find us on social media or email rachael@rozaliaproject.org.