By Jocelyn Bethune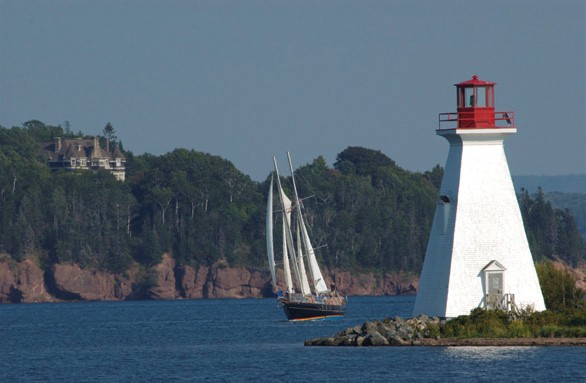 Imagine your own private waters. Perhaps a lake with good winds, with hundreds of isolated harbours to explore and some of the greatest sailing you have ever experienced. Perhaps it's an ocean coastline, with challenging breezes and many idyllic safe harbors to anchor. Could such a magical place exist?
In a word, yes. And it's not that far away.
A classic vessel sails past Beinn Bhreagh, the former home of Alexander Graham Bell. ©boatingcapebreton.com
Cape Breton Island, the northernmost part of Nova Scotia, has a long history with New England. In the earliest days, the northeastern coast of Canada and parts of New England were Algonquin territory. In the 17th and 18th centuries, there was a thriving commercial trade route between Nova Scotia and New England.
Today, there are opportunities to sail, kayak, paddleboard, row and motor in our scenic waterways. On shore, neighborhoods celebrate their history and culture, so there are plenty of attractions to visit. We have good winds and a friendly boating community to point you in the right direction. Here are just a few adventures that await you on the magical isle of Cape Breton: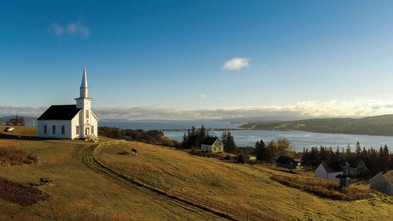 The Bras d'Or Lake is a 450-square mile interior coastline at the heart of Cape Breton Island. With hundreds of secluded harbors to explore and good breezes, the Bras d'Or is a sailor's dream. There are only two narrow channels open to the Atlantic (and the man-made St. Peter's Canal), so tidal action is slight. Fog is rare.
An aerial view of Iona and the Bras d'Or   ©boatingcapebreton.com
Four large rivers empty into the Bras d'Or, giving the water about 60 percent salinity of the ocean, but that all-important sea spray over the bow feels and tastes like it should.
On Cape Breton Island there are four historic sites and one national park operated by Parks Canada, the federally run agency that protects and preserves special places. These sites are often within walking distance of community wharves and anchorages, and so easily explored.
St. Peter's Canal – If you enter the Bras d'Or Lake from the south, you will experience the St. Peter's Canal. This 800-meter canal connects the Atlantic Ocean with the Bras d'Or. The earliest Aboriginal peoples found this to be a special place where salt water species and fresh water species live. Before there was a canal here in the 1860s, the Mi'kmaq used this narrow strip of land as a portage. Battery Park, a picnic area with ruins of some of the earliest 18th century settlements, can be seen adjacent to the canal. The village of St. Peter's is a short walk away.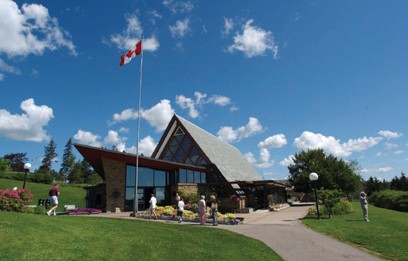 Alexander Graham Bell National Historic Site, Baddeck – This community on the Bras d'Or became the telephone inventor's second home in the 19th century. The setting, the scenery and the people inspired him in his many inventions. This 25-acre site overlooking the lake is the only museum dedicated to Bell's entire life. You can discover how nature inspired him to create 70-foot towers, airplanes, and a 60-foot rocket-shaped boat that broke world speed records on these very waters in 1919.
The Alexander Graham Bell National Historic Site is located in Baddeck. © boatingcapebreton.com
Marconi National Historic Site – Bell was not the only inventor to be inspired by the landscape here. Marconi built towers for transatlantic communication on a point near the town of Glace Bay. The first radio message to cross the Atlantic was sent from here in 1902. The historic site provides interpretation in English, French and the inventor's native tongue – Italian.
Fortress of Louisbourg – For many who visit Cape Breton by boat, a singular awe-inspiring moment is sailing into Louisbourg Harbour. With the spire of the King's Bastion on the horizon ahead, it is as if you are transported to another time. Costumed animators playing the roles of real business people, soldiers and musicians add to the feeling of stepping back in time. The site is the largest reconstructed 18th century fortified town on the North American continent.
Cape Breton Highlands National Park – Created in the 1930s to protect the Cape Breton Highland Mountains, this park includes sections of the world-famous Cabot Trail. Covering 950 square miles, the park is one of the largest protected wildernesses in Nova Scotia. There are 26 trails of varied lengths and difficulty, including the spectacular Skyline Trail. This 9.2 loop takes you to a headland cliff, 1,330 feet above the ocean.
Be Part of the Action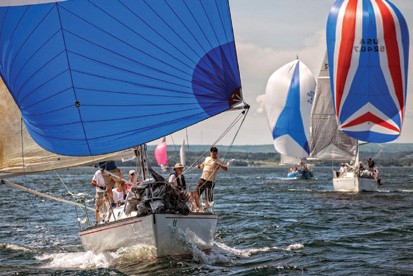 Race the Cape July 18-24, 2016 – Race the Cape will whet your many-pronged sailor's appetite. Seven days, five races, innumerable memories. Superb sailing, flanked by wondrous awe-inspiring sights, rounded off each evening with exhilarating entertainment and warm hospitality. Jump aboard the heart of the action!
Last year's top sailing accolades went to Colin Mann's J/92 Poohsticks, sailing out of Lunenburg, Nova Scotia. For more information, visit racethecape.ca.
Cultural Journeys, Eskasoni – Walk through the woods with a Mi'kmaq Aboriginal as they explore ancient customs, including how wigwams were built and identifying plants used for medicine.
Arichat Cup – This 16-mile in-harbor race is always accompanied by good winds and lots of fun. It's part of a weekend celebration.
Baddeck Regatta Week – A week-long event that is filled with racing on the beautiful Bras d'Or.  Junior and learning sailors are encouraged to participate, often in their first race.
Highland Village – Step into an early Cape Breton community, complete with blacksmith and Gaelic language class in the school. Early Scottish life in Nova Scotia is on display at the Highland Village in Iona, a pioneer living history museum
Golf Courses – A myriad of fabulous golf experiences to choose from:
The Lakes Golf Club at Ben Eoin (with dramatic tees overlooking the Bras d'Or)
Highland Links, Ingonish (into the Highlands and near the sea)
Bell Bay, Baddeck (breathtaking bay views that inspired Alexander Graham Bell)
LaPortage, Cheticamp (nestled into the Highlands)
Cabot Links and Cabot Cliffs, Inverness (windswept & challenging, with incredible views…sensing a theme here?)
Baddeck – Southern facing with a protective island at the harbor door, and a picturesque lighthouse. Just steps from shopping, restaurants, ceilidhs and activities.
Whycocomagh – This beautiful bay is a hidden gem with an 'as-yet-to-be-discovered' waterfront center. An enthusiastic marina crew are on hand to welcome visitors.
Arichat – An early settlement on Cape Breton Island, this harbor was often filled with schooners and shallops in the late 18th and early 19th century. A former blacksmith shop once constructed ironworks and anchors for the thriving boatbuilding industry along these shores. Today, the LeNoir Forge Museum is open to the public.
Mira River – This 34-mile long river has a long history of recreational boating. Legend has it that in the early 18th century when nearby Louisbourg was a thriving French town, pirates hung out near the mouth of the Mira and pillaged French ships as they sailed past.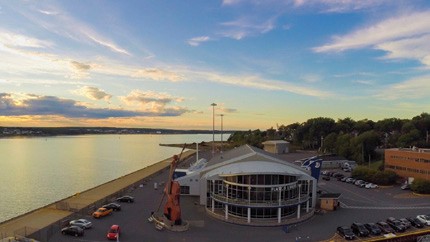 Sydney Harbour – This 10-mile long harbor greets cruise lines and hosts Snipe races.  As Cape Breton's main urban setting, Sydney sees many cultural activities as well; from live concerts, art shows, museums and nightlife at bistros and cafes. Don't miss the world's largest fiddle and bow at the Sydney Port.
The world's largest fiddle is located on Sydney Harbour. © boatingcapebreton.com
At the Boating Cape Breton website there is a nice interactive map of the harbors and marinas.
Food-Stuff
Delicious food is always a part of any Cape Breton celebration. Check out the following places for all types of meals, from gourmet soup to chocolate-covered nuts.
Jill's Chocolate Café, Iona – When sailing through the Barra Strait, visit Cape Breton's only chocolatier, Jill Franklin. Handcrafted and delicious, with a Nova Scotia theme.
Big Spruce Brewery, Nyanza – Unfiltered, unpasteurized, slow-produced craft beer made at a small brewery with a view of Nyanza Bay.
Flavour on the Water, Sydney – Gourmet and delicious. Overlooking Sydney Harbour.
Fleur de Lis, Port Hawkesbury – Local diner with homemade meals made with fresh and local ingredients.
Panorama, Inverness – Seafood for the Epicurean. View for the ages.
Ross Ferry Canteen, Ross Ferry – Hand cut French fries like you remember. Add some vinegar and you will be transported to your childhood.
Glenora Distillery, Glenora – Award-winning single malt whisky – Canada's only.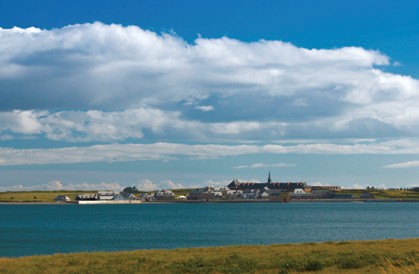 Cape Breton Island is to be experienced. Period. Condé Nast Traveler voted it one of the world's top islands. Travel and Leisure Magazine voted it the #1 Island Destination in North America and #3 in the World. And the opportunity to race through the challenging Bras d'Or Lake and along Cape Breton's rugged coastline is too tantalizing to miss. To learn more, log on to BoatingCapeBreton.com
The Fortress of Louisbourg is the largest reconstructed 18th century fortification in North America. ©boatingcapebreton.com