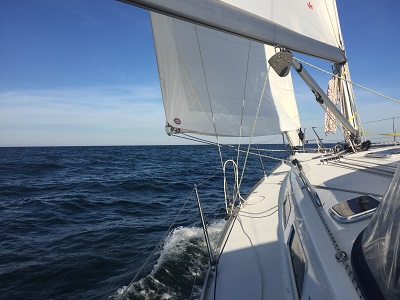 Dutchmar, a Norwalk, CT-based company specializing in innovative sail handling hardware, has launched the Zoom Jib Boom, which allows a 110% furling headsail to be self-tacking upwind, self-vanging off the wind, with the ability to be sailing in spinnaker mode in about a minute for easier and much faster sailing on all points of sail.
© dutchmar.com
"Although we are best known for the Dutchman Mainsail Flaking System, Boom Brake and Track Systems, I have long worked on a better solution for the headsail," said Dutchmar President Martin van Breems. "Self-tacking jibs are wonderful, but the required 92-95% headsail is often small for normal sailing conditions. All headsails are not great as soon as you crack off. The jib forms itself into a gutter, which is a very slow shape.
The Hoyt boom is a cool solution, but eliminates the anchor locker on most boats and still is restricted to a 95% headsail. Finally, setting up an asymmetrical spinnaker for downwind sailing is never a quick, easy job, so they are rarely used by cruisers.
"The Zoom system is much easier to use and offers better performance than any other self-tacking jib system," van Breems continued. "Your yacht's existing forestay is moved forward by about 12% of the distance from the forestay to the mast and attached to the forward end of the Zoom boom. The Zoom boom then is attached to the stem fitting, and a topping lift is added. The Zoom boom can use the yacht's existing jib sheets. A double 110% headsail is used, which wraps around the furling system. For sailing close-hauled in self-tacking mode, the windward of the two sheets takes the load, and the leeward sheet will have a significant amount of slack. Upon tacking, the formerly slack leeward sheet takes the load. It is thus easy to set exactly the angle desired. Cracking off the sail holds its shape on any angle."
"Downwind, the jib boom is pulled to the windward side using the windward jib sheet. An outboard sheet is attached to the leeward clew, then the leeward outhaul is released. The sails immediately separate into a butterfly configuration. The windward jib sheet is then eased, allowing the Zoom boom to project out on the windward side, much as a conventional spinnaker pole would, for maximum downwind sail area. Unlike a spinnaker, the sail is very controlled and does not tend to collapse. Simply pull in the leeward outhaul to return to upwind configuration, or release the other outhaul to roll the sail up."
Engineering on the Zoom Jib Boom, which received a 2016 Pittman Innovation Award from Sail Magazine, is handled by David Pedrick Naval Architects. For more information, visit dutchmar.com.