By Greg Gilmartin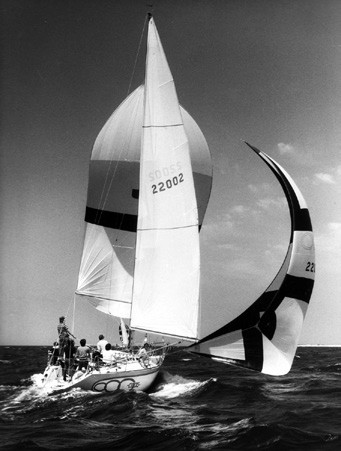 In 2016, the Mystic River Mudheads mark a milestone in their existence and, as the song goes…"40 years racing and still going strong…no one thought we'd be drinking this long!"
Any history of this sailboat-racing club requires weeding through hundreds of stories about boats built and raced, trophies won and lost, charitable dollars raised, and gallons of rum consumed. The story is laced with myths and legends, but in the end, it's clear, the Mudheads didn't go chasing the wind, they owned it!
Through a glass, muddlily. In 1981, Bill Nerney's Evelyn 36 Three Ring Circus, with several Mudheads aboard, cleaned up at Block Island Race Week.
On a fortuitous night in 1976, Rick Seeley, Ron Abate, Blunt White and Dennis Cox came together at the Darling Hill Farm along with Paul Ludwig, Donzo Wilkinson and Carl Fast to commit their souls to the Mystic River Mudhead Sailing Association. Joining in the initial incorporation were also Douglas Stewart, Lan Mershon, James Hansen, William St. John and Henry Mayo. This group of dedicated sailors and friends created the Mudheads from a passion for racing and rum.
And there was also mud – mud that clung to the tips of the masts that poked from the decks of the small vessels into the wind on the Mystic River. Fragile, yet flexible, oft bent to the will of the wind and lo, these masts dipped into the deepest depths of the river and upon their return to the sky there was the mud.
It's a simple and charming story about young disheveled men, looking for life's answers with nary a clue and finding themselves competing on the Mystic River in small dinghies, Lasers and home-built vessels. It was the '70s, mustaches were in and sailboat racing was about to change. If it floated they made it go faster…or tried to. If there were two of them, they raced. Soon there were three, then four, then six and, more than once they would flip their boats and get them stuck in the river bottom.
George Swinerton, captain of Barloviento, docked alongside the Mystic River, watched the boys of summer at play in those days. "You guys are some Mudheads!" he would comment as the boats righted themselves with mud dripping from the mastheads. And the first legend was born.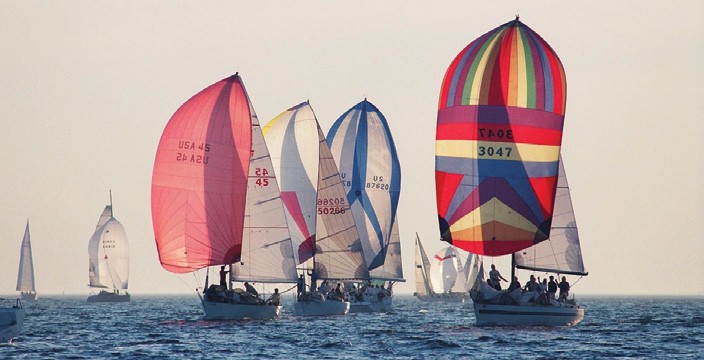 It's not unusual for more than 60 boats to turn out for the Donzo Wednesday Night Racing Series, which honors the memory of founding Mudhead Don "Donzo" Wilkinson.
But there was partying to attend to before the paperwork was completed; and boats being built in garages, and yacht clubs that required membership before you could enter a race. And these were racers not looking for Breton reds or caps with scrambled egg brims. They weren't concerned about flag etiquette as much as they were concerned about good trim.
It all made for interesting algebra when six of the founding members of the Mudheads gathered at the farmhouse to form a club that was inclusive. The only requirement was a desire to race and a desire to party. They certainly weren't taken by the yacht clubs of the day. A mutually exclusive arrangement, but there was a problem: you had to be a member of a yacht club to enter a boat in a race. Rule 75.2 required racers to be a member of an officially recognized yacht club to enter their boats in races.
That inclusive idea evolved in the mid '70s, when sailboat racing was undergoing a change. Boats were lighter, faster and more fun to sail. The Midget Ocean Racing Class was alive and a MORC station was started in Fishers Island Sound. Wednesday night racing became a must-do event. Young designers and builders like Rod Johnstone and Bob Evelyn needed crew to race their boats. And they found them racing dinghies.
Legend has it the minutes were written on a bar napkin, but the proceedings descended into a haze fueled by Captain Morgan & iced tea, among other consumables. What did emerge was a burgee, designed by Carl Fast, yellow feet sticking up from a sea of mud into a blue sky.
By 1979 there was a lawyer and signed paperwork filed with the State of Connecticut.  Donzo Wilkinson was named first Commodore, and the Eastern Connecticut Sailing Association (ECSA) soon recognized the Mystic River Mudhead Sailing Association and the racing continued under a new banner.
The Mudheads made an impact immediately. Chris Noyes' PT 30 Jet dominated the circuit and won the first Yachting Race Week at Block Island, eating up the competition with a huge spinnaker replete with yellow feet. Bill Nerney's Evelyn 36 Three Ring Circus won the next two Race Weeks and just about everything else. The club was still just a bunch of sailors who went on boats to make them go fast. They raced MORC home-built boats, were in the middle of the J boat/Evelyn revolution, experimented with new techniques and materials, always gravitating to the racecourse. They knew it wasn't just a sailboat race. It was a lifestyle.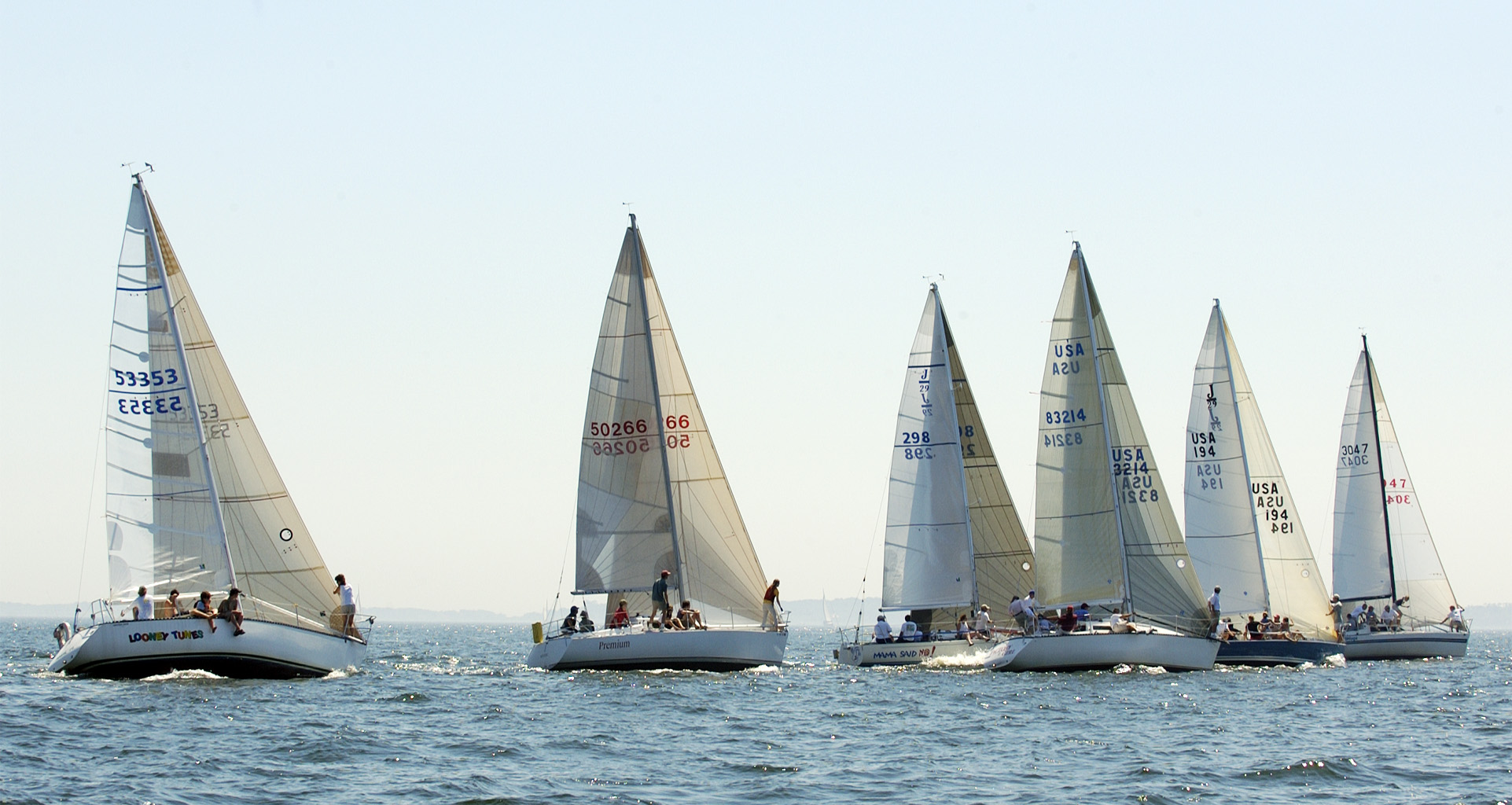 And they partied, as all competitors are wont to do when feeling good about themselves and their accomplishments. And when there wasn't a big regatta to go to, they made up their own regattas. The Aqua Rodeos were uniquely Mudhead events – an excuse to get together with like-minded friends and compete. Whether it was stairway racing, bring-your-own-boat racing or lawn darts, there was always a case of beer, and a bottle of rum.
Then something happened. The boys of summer grew older. Some moved away, had families, got jobs! The club was down to a few hearty souls, still actively racing, but where were they going so fast? Frank Murphy, fresh out of school, took the few meager funds left in the club's treasury and sent out a mailing, inviting all who were so inclined, to join the Mudheads on their noble quest, wherever it might go. People responded. For a few dollars they became a part of the movement. They flew the burgee. In 1980 there were 100 members. By the turn of the century, membership was over 400.
And the movement evolved into more than attending regattas. In the mid '80s the first charity regatta was sponsored by the Mudheads to raise money for Easter Seals. A variety of community organizations have since benefited, to the tune of over a million dollars. The Mudhead Benefit Cup and MegaParty, in July, has become a top event in ECSA, with proceeds benefiting Center for Hospice Care. The MegaParty crams 500 racers under the big tent at Mystic Shipyard for dining and dancing, and Mudhead seminars attract the leaders of sailing to expand the knowledge base and move the sport forward.
Dozens of young sailors have flown the burgee at ladder events, helped in part by the Dillon Fund, named for Richard J. Dillon who was very much part of the Mudheads. Richard was a good friend who helped immensely. He always reflected the "proper attitude" – fellowship, pitching in, and most importantly, enjoying the moment. When things start to become serious…it may be a good time to stop and remember what he was all about. Richard passed away on September 11, 1992 doing what he enjoyed the most: sailing. The fund continues to defray expenses for racers moving up to the next level.
Mudheads have grown into one of the most active racing fleets in the Northeast with over 60 boats regularly participating in the Donzo Wednesday Night Racing Series. The Mudheads can also boast about members who have raced from Newport to Bermuda countless times, plus America's Cup participants, Whitbread Racers, Volvo Ocean Racers, Brooklyn Ocean Race five-time winners, Hospice Nationals competitors – even military maneuvers – and a myriad of well-sailed races in New England – and around the world – sailing under the Mudhead burgee.
Mudhead events highlight the level of dedication to sailing and to the community. In 40 years, the Mudheads have held 35 Benefit Regattas, nine Golf Tournaments, seven Mudnite Madness Races (to continue the tradition of the overnight races, Mudnite Madness will change course for the 40th year and will head to Newport the last weekend of July and rendezvous for the annual Newport Jazz Festival…stay tuned for details), and over 700 Donzo Wednesday Night Races.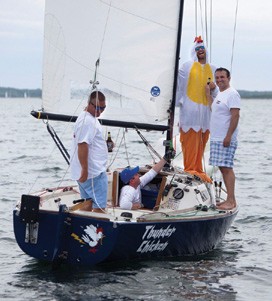 The Mudhead mission statement says it all: "Promote camaraderie and fun among members by encouraging competitive sailing, managing quality races, fostering member participation in racing at all levels, and hosting memorable social events."
The club owns nothing but a 30-foot committee boat and a portable dance floor. The garage-sized clubhouse in Noank, CT is rented for $1.00 a year. It's the concept that makes it all work. Everyone is invited, everyone helps out, and everyone has fun. And there's racing, too!
Exemplifying the club's mission to "promote camaraderie and fun among members," the crew of Scott Loweth's J/22 Thunder Chicken celebrates during the Mudhead Benefit Cup.   © Carl Tjerandsen
Dozens of boats, hundreds of trophies, thousands of sailors touched by the Mudheads: Potion, Prophet, Paradox, Evelution, Toad Hall, As Larks, Split D, Hooligan. A mini sample of the big names that played a small role, you might remember some of the names. They may have passed you going downwind.
Today, after 40 years, with thousands of races in the books, hundreds of thousands of dollars raised for community causes and countless gallons of beer and rum drinks served and devoured, the nearly 500 club members continue to prove that the initial idea was a good one. No one was thinking about becoming a legend, but looking back, what else can you call it?
Through the small steps of mud-stains come the waves of giants. Some giants have fallen and are missed, but through their foresight the Mudheads remain strong and will continue run great races and compete with passion. In researching the past, the names and the accomplishments show their heads, just as the muddy mastheads showed their head in the early days of racing in the river.
If the history of a club is made up of slices from the present, looking back, then the Mystic River Mudheads are in a great position to look forward. Looking back is more likely the secret, because there wasn't much looking forward 40 years ago when the Mudheads were born out of a need to be part of a yacht club for one reason and one reason only. Let's go racing!
Greg Gilmartin is the Mudhead Race Committee Chairman and the author of Crew, a thrilling novel inspired by his many friendships in sailboat racing. To learn more about the Mystic River Mudhead Sailing Association, visit mudhead.org.
Mudhead Memories
"When I first joined the Mudheads, I went on an overnight race on the Olsen 30 Balance. We had a kid doing the bow and Whirly Van Dyke was at the helm and called for the spinnaker. The kid's knees were knocking, so Whirly told me to help out. We were going about 20 knots – the whole boat was pretty much under water. The ¾ spinnaker blew out. We put up the 1.5 kite, and it blew out. We put up the .5, and that blew out. Finally, we put the Heavy One up and put the tack on the spin pole. Then we wondered, 'Where the hell's the mark?' We realized we were at Beaver Tail. We jibed, and the mast went into the water, so we put two reefs in the main and sailed home. I think it was the fastest race I've ever sailed in my life." Toby Halsey, Mudhead Past Commodore
"With six pizzas from Angie's, we left to do the Overnight Race. We rooster-tailed, Donzo and I both holding the tiller…We kept cranking along; had to take the main down, sailing only with the three. We ended up tied to a fishing boat – all the pizzas had gone through 'the washing machine' below. Our clothes were covered in grease for weeks. It was a great overnight race!" Frank Murphy, Mudhead Past Commodore
"In 1998, Split Decision won just about every trophy at Block Island Race Week – we drank mudslides and Dark n' Stormys from the trophies. It was an amazing few days." Andy Stoddard, Mudhead Past Commodore
"My introduction to sailing at the tender age of 27 was in a 14-foot Flying Junior with Reinhard Sarges, who invited me aboard his Pearson 30 Salud to sail the Wednesday Night races. Over the next few summers, the outstanding seamanship and camaraderie of the Mudheads ignited my passion for the sport. I am proud to call myself a Mudhead, and look forward to aiding this organization's mission to support and expand the sport."  Dan Lettiere, Mudhead Commodore