Stories of ten Sunsail owner cruises
By Nancy Kaull & Paul Jacobs, Edited by Daniela Clark, Published by Pleiades Publishing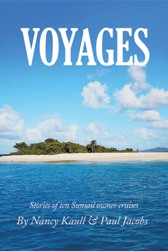 As members of the Sunsail owners program, Nancy Kaull and Paul Jacobs of Saunderstown, RI have cruised many of the world's finest waters together. Among the numerous benefits of purchasing a Sunsail yacht and placing it in the company's charter fleet is the access to other yachts at more than 30 of the company's bases worldwide. Nancy and Paul, who purchased a Sunsail Jeanneau 36i named Sandpiper in 2009, have taken full advantage of this opportunity.
Nancy & Paul are good friends of WindCheck, as is Editor Daniela Clark. They have generously given us permission to publish several excerpts from this interesting, informative and often humorous book before it was published (you'll find those articles linked below), and we've been looking forward to its release.
A compilation of accounts from cruises in the Bahamas, Caribbean, Mediterranean and Pacific, Voyages is an engaging read for sailors and non-sailors alike. Paul provides most of the narrative, with Nancy's journal entries and photographs interspersed throughout. Sailors contemplating a charter vacation in any of the destinations that Nancy & Paul visited will find the "What we learned" lists at the end of each chapter very useful – especially their advice on the paces to avoid!
Nancy Kaull and Paul Jacobs enjoy sailing their Catalina 34 Pleiades on Narragansett Bay and throughout coastal New England. Voyages is available in paperback and eBook format (for Kindle and Nook) through Amazon, and it's highly recommended.
Below are several articles available from Nancy and Paul.