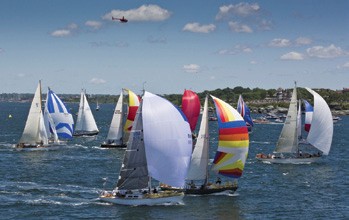 Registration is open for the Cruising Club of America's biennial US Sailing-sanctioned Safety at Sea Seminar, which will be held March 19 & 20 at the Marriott Hotel in Newport, RI. Addressing the needs of participants in the 2016 Newport Bermuda Race, the event also offers considerable information for cruisers, racing crews and skippers, and delivery crews.
© Daniel Forster
Bruce Brown will moderate Saturday's Safety at Sea Seminar, with expert presenters covering topics including lessons learned from recent incidents; changes in offshore regulations, Bermuda Race safety regulations, and new safety equipment; marine weather and sea state; offshore communications; seasickness, dehydration & hypothermia and their effects on seamanship; MOB prevention & recovery, rescue at sea and the ethics of giving assistance; crew preparation & training; essentials of damage control & abandoning ship; and personal safety equipment & life rafts.
An ISAF Offshore Personal Survival Refresher on Saturday allows attendees to renew ISAF certificates and other experienced sailors to acquire their certificate in one day. ISAF Refresher attendees will attend the morning SAS session before being transported to an afternoon pool session. All certificates are valid for five years.
Combined with the Saturday seminar, Practical Hands-On Training on Sunday yields the coveted ISAF Approved Offshore Personal Survival Course certificate. Certification includes hands-on training with your PFD and inflation, pool time with your inflated PFD in offshore clothing, proper use of life rafts, pyrotechnics, and firefighting skills.
A Newport Bermuda Race Preparation Seminar on Sunday, moderated by Kenyon Kellogg, includes a discussion of the race and its prize structure led by Jim Teeters. Others will present on the Gulf Stream, boat preparation, sail selection, and developing a pre-race strategy. A Q&A session will follow.
A Medical Seminar on Sunday, presented by Dr. Jeff Wisch (Bermuda Race Medical Chair) and Dr. Barbara Masser (ER specialist and Bermuda Race consulting physician), will focus on the duties of the boat's medical officer and the unexpected accidents and events this person may face. To register, visit https://sas.cruisingclub.org/.