Despite a "bump in the road," longtime shorthanded sailor hopes to set an unofficial world record.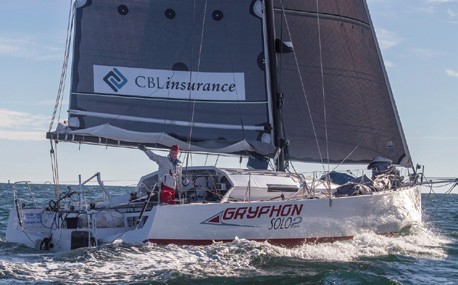 Although gremlins lurking in his Class40 GryphonSolo2's electrical system have scuttled his chances to officially set a new world sailing speed record, Joe Harris, 55, an affable and very accomplished sailor from South Hamilton, MA, is pressing on with a remarkable singlehanded circumnavigation.
Finding himself "all dressed up with nowhere to go" when the Global Ocean Race was cancelled, Joe Harris set his sights on breaking the world record for a  solo circumnavigation on a 40-foot monohull.  © Stephen Cloutier/Photogroup.us
"Yesterday was a tough day," Harris reported on December 23. "It was very stormy, with enormous seas and winds between 30 and 45 knots throwing the boat all over the place. It was hard to simply stand up. In the middle of this, I began to smell something burning. It smelled like melting plastic…and that's what it turned out to be. The 'black box' regulator for my hydro-generator system, which takes the AC current produced from the propellers spinning off the back of the boat and turns it into DC current to charge the batteries, had overheated and fried its circuit board."
"The two hydro-gens hanging off the transom just port and starboard of centerline had provided roughly 90% of all the electricity I have used to date. They are wonderful 'free' energy in that they consume nothing and produce lots of electricity when the boat goes fast. I don't know exactly why the regulator box got so hot and ended up melting the board. The best theory is that since the boat was going very fast, the hydro props were spinning fast and produced more electricity than the regulator and batteries could handle, and that excess energy turned into heat, which melted the circuit board. Unfortunately, I don't have a spare regulator box onboard, nor enough diesel fuel to charge the batteries for the estimated 85 days left in the voyage without the benefit of the hydros' contribution."
Harris had steered GryphonSolo2 past Castle Hill Light in Newport, RI on a southeasterly course on November 18, determined to break the record for a non-stop, solo circumnavigation on a 40-foot monohull. The existing record of 137 days, 20 hours, 1 minute and 57 seconds was set by Chinese sailor Guo Chuan in 2013.
Being forced to divert GryphonSolo2 to Cape Town, South Africa to replace the regulator box means that even if Harris completes the course of approximately 26,700 nautical miles (east-to-west, leaving Antarctica to starboard) in a shorter elapsed time, his attempt will not be ratified by the World Sailing Speed Record Council because he received outside assistance, which is not allowed for a solo, non-stop circumnavigation record attempt.
"My goal began as simply sailing solo around the world safely, with the record piece being a bonus," said Harris. "I am now returning to those basic goals, and feel good about being out here for the right reasons. To be clear, I do intend to pursue the record of 137 days 'unofficially,' as I still think I can beat it, even with lost time to the stopover…and wouldn't that be cool?" To set a new record (albeit unofficially), Harris will need to maintain an average speed of 195 nautical miles per day, or roughly 8.2 knots.
Buoyed by a stream of encouraging messages after his departure, Harris nicknamed GryphonSolo2 'Kharma Bus.' "There have been so many messages of good wishes coming in – it warms my heart – and reminds me that the old sayings 'What goes around comes around' or even better, 'Do unto others as you wish they would do unto you' are really the philosophy of kharma," he said in a Thanksgiving message. "One good turn deserves another – positive energy is returned with positive energy – you be the initiator and then it all rolls downhill. It rolls even better if you get on the Kharma Bus, so I'm gonna let the positive energy flow. It is just radiating outta this little boat!"
Harris has dreamed of racing around the world for 35 years. His sailing CV includes a runner-up finish in the 2004 Transat (Plymouth, UK to Boston, MA; singlehanded), and victories in the 2005 Transat Jacques Vabre (France to Brazil; double-handed), the 2006 Newport Bermuda Race (Open Division), the 2007 Bermuda 1-2 (in which he broke the course record), and the 2014 Atlantic Cup presented by 11th Hour Racing. He hoped to compete in the 2016 Global Ocean Race, and the cancellation of that event led to this record attempt.
The two key people involved in getting Harris to the start of his record attempt are Class40 expert Rob Windsor of Centerport, NY (the North American agent for Owen Clarke Design, LLC), who prepared the boat, and Ken Campbell, President and Director of Marine Services at Commanders' Weather in Nashua, NH, who is providing weather routing around the world. "Thus far the estimates of time, distance and wind conditions made for the first two legs have been accurate, and I am basically on schedule," said Harris. "A big part of each day is devoted to weather forecasting and routing. It is constantly changing. I use a weather/navigation/routing program called Adrena that is excellent – it's used by most of the Vendée Globe skippers – and I also email with Commanders' Weather each day."
Others who had a hand in getting Harris across the starting line include Mark Washeim at Doyle Long Island in Huntington Station, NY, who built the new sail inventory; Martha Parker, the owner of Team One Newport in Newport, RI, who outfitted Harris in Musto gear; and Bainbridge International in Southampton, UK, who supplied harnesses and a lot of extra supplies. Gryphon Solo 2's primary sponsor is CBL Insurance, the oldest and largest provider of credit surety and financial risk insurance in New Zealand. Official suppliers include Harken, Inc., a manufacturer of sailboat hardware in Pewaukee, WI, and Headway, a web solutions company in Marblehead, MA.
Harris has also modified his daily fitness routine. "I am surprised by the level of atrophy in my leg muscles," he said. "I am told that astronauts suffer from the same problem. I do have a nutrition and exercise plan in place, but it is informal and of my own invention. I am eating a healthy diet and feel great, so I am not worried about it…just need to work on leg strength every day."
"I drop the mainsail once a week to check out all the hardware, battens, etc.," said Harris. "I would not go up the mast while underway unless I really had to – it is not easy by yourself! If I broke a halyard or had some other problem I would go up the mast, but would try to wait for calm conditions."
Despite the black box meltdown, Harris says the flow of energy on 'the Bus' remains positive. "I have not seen any trash at all, although not too much wildlife, either," he said. "Dolphins, birds, and flying fish. That's about it. I wish there was more! The coolest thing I've seen so far is the Southern Cross constellation. It reminds me of the Crosby, Stills & Nash song."
Harris is looking forward to returning home to his wife Kimberly and three children (Griffin, 17, Emmett, 11 and Sophie Grace, 8) in the spring. "I hope you will continue to support the 'Team GS2 Totally Excellent Kharma Bus RTW 2015/16 Campaign' (now there's a good t-shirt!)," he quipped. We are tracking Harris' progress as he continues around the world at this link.
Special thanks to Blake Jackson at Headway in Marblehead, MA and Julianna Barbieri at Manuka Sports Event Management in Newport, RI for their assistance with this story.