From an exhibition building at the Museum of America and the Sea and a scholarship that will provide sailing opportunities for young women to a professional match racing event in high performance boats, a youth trophy at North America's premier winter regatta, the return of America's Cup racing to New York Harbor and more, there is much to look forward to this year!
New Exhibition Building at Mystic Seaport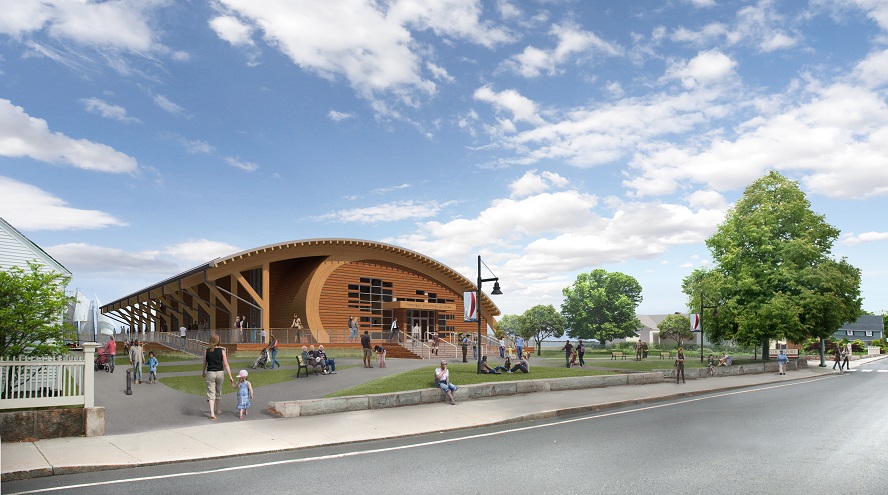 The Museum of America and the Sea, Mystic Seaport in Mystic, CT, plans to complete its new Thompson Exhibition Building in September. Located at the northern end of the museum's 19-acre campus, the 14,000 square-foot building will house a large exhibit hall, a second visitors entrance next to Latitude 41° Restaurant & Tavern, and an event space.
© mysticseaport.org
With a design inspired by ocean waves and the framing and planking of a wooden ship, the Thompson Exhibition Building honors the memory of longtime museum trustee Wade Thompson. The building is being constructed with funds from the Thompson Family Foundation.
"This is the first major addition to the museum's exhibit capacity since the 1960s, and will help the institution transition to a more robust year-round experience for visitors," said Dan McFadden, Mystic Seaport's Director of Communications. "We hope to be able to announce the inaugural exhibits in the near future."
In other Mystic Seaport news, the Gloucester fishing schooner L.A. Dunton is being re-rigged this spring. "Due to some condition issues with her spars and support structure, she has been without her rig for a couple of years," explained McFadden, noting that another of the museum's vessels, the Emma C. Berry, turns 150 years old this year.
"The Berry is the last example of a Noank smack still in existence," said McFadden. "Built in 1866, the 46-foot sloop was equipped with a wet well for the transportation of live fish and lobsters to market. She fished local waters for many years before being sold to an owner in Maine in 1894, where she remained for many years carrying lobsters, bait fish, and cargo. Mystic Seaport acquired her after her centennial return to Noank in 1966. She has been restored to represent her early configuration and has been designated a National Historic Landmark vessel. Specific event plans are being developed, but the museum intends to properly honor the boat at this milestone." Learn more at mysticseaport.org.
America's Cup Racing Returning to New York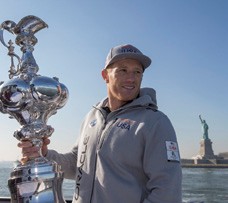 America's Cup Racing will return to the waters of New York, NY for the first time since 1920 with the Louis Vuitton America's Cup World Series racing on May 7 & 8, 2016. The New York event is one of six planned for this year, with six America's Cup teams vying for points that count towards the final competition for the 35th America's Cup, which will be sailed in Bermuda in May and June 2017.
ORACLE TEAM USA skipper Jimmy Spithill with the Cup   © Rob Tringali/America's Cup
This year, Emirates Team New Zealand's star helmsman, Peter Burling, the youngest in the fleet, led his team to the top of the standings over current America's Cup champion ORACLE TEAM USA, and the highly touted Land Rover BAR team led by Olympic hero Ben Ainslie. But the competition was close. In fact, the opening three Louis Vuitton America's Cup World Series events in 2015 featured three different event winners and four different individual race winners. The 2016 calendar promises more hard-fought racing on the foiling AC45F catamarans.
Practice racing in New York is on Friday, May 6, with point-scoring races on May 7 & 8. Four events on the 2016 schedule have been announced to date, including Muscat, Oman (February 26-28); New York (May 6-8); Chicago, IL (June 10-12); and Portsmouth, UK (July 22-24). Two additional Louis Vuitton America's Cup World Series events are anticipated to complete the calendar, likely in Europe in mid-September and Asia in mid-November. For more information, visit americascup.com.
New Route, Sponsors and Teams for The Atlantic Cup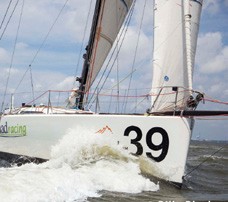 Manuka Sports Event Management (Newport, RI) has announced Sea Bags Maine and We Are Neutral as official partners of the 2016 Atlantic Cup presented by 11th Hour Racing. Both partners are committed to environmental stewardship, a message that aligns with the Atlantic Cup's sustainability mission of being the most environmentally sustainable sailing race in the U.S.
© Billy Black

The fifth edition of the race starts May 28 in Charleston, SC. Teams of two will race their Class40s 648 nautical miles from Charleston to New York City. After a brief stopover in New York, they'll race a second leg of 350 nm to Portland, ME where the race will culminate the weekend of June 11 with the third and final leg, an inshore series.
Headquartered in Portland, ME, Sea Bags is the world's largest retailer of recycled bags and accessories made from used sails. Sea Bags hand makes all of their products locally, using the last thread manufacturer in the U.S. and the only rope manufacturer in New England. During the Atlantic Cup, Sea Bags will hold a sail drive where anyone can drop off used sails at race stopovers. Those sails will be given new life and a portion of the proceeds will be donated to the Atlantic Cup's charitable partners.
We Are Neutral is the Atlantic Cup's official carbon offset supplier. Founded in 2008, We Are Neutral created the first carbon neutral sports program at the University of Florida. The organization's carbon offsets are created by planting indigenous trees on local conservation land, partnering with local landfills to capture methane emissions, and performing free energy retrofits for low income families.
The first four entrants in this year's race are all American teams. #54-Dragon will be the only boat to have competed in every edition of the Atlantic Cup. #39-Pleaid will be racing in its third Atlantic Cup. #116-Oakcliff is the former Bodacious Dream, which won the Atlantic Cup in 2013. The boat was recently donated to Oakcliff Sailing in Oyster Bay, NY with the purpose of putting American sailors back on top of the international leaderboard. #143-Longbow is the newest Class40 in the worldwide fleet, and the race will be the team's first major test.
At 1,000 nautical miles, The Atlantic Cup presented by 11th Hour Racing is the longest offshore race on the eastern seaboard of the United States. The race started in 2011 as a concept event and grew to a multi-stage race with a focus on being the most environmentally responsible sailing race in the country. For more information, visit AtlanticCup.org.
The Finest Hours Premieres January 29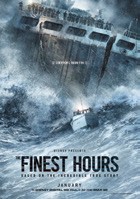 One of the most thrilling maritime disaster stories we've ever read is The Finest Hours: The True Story of the U.S. Coast Guard's Most Daring Sea Rescue. The book was co-written by Michael J. Tougias and Casey Sherman and published by Simon & Schuster, and the film rights were subsequently acquired by Walt Disney Pictures.
New England was hit by a savage nor'easter in 1952, and in the early hours of Monday, February 18, two oil tankers, the Pendleton and the Fort Mercer, came to grief in the freezing waters off Cape Cod. Constructed with "dirty steel," and ill prepared to withstand the mountainous waves, both ships broke in half and left their crews in a desperate fight for survival. Against all odds, the crew of motor lifeboat CG 36500 and the crew of a surfboat from the UCGG Yakutat rescued nearly all the tanker's crewmen.
 © Walt Disney Pictures
Brooklyn Boatworks Expanding Boat Building & Sailing Programs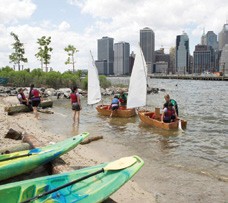 Brooklyn Boatworks in Brooklyn, NY is expanding its boat building and summer sailing programs for 2016, with a goal of serving more New York City middle school students than ever before. Last summer, Brooklyn Boatworks hosted sailing programs for youth. Using the beach near Brooklyn Bridge Park's Pier 5 as home base, participants competed in rigging contests and sculling relay races before taking the mainsheet and tiller into their own hands. All told, 72 new sailors including several Brooklyn Boatworks alumni experienced the unique joy of sailing in New York City's waters.
© Alyssa Ringler
These new sailors weren't the only admirable performers on the water. The fleet of five wooden Optimists, hand built by Brooklyn Boatworks students, handled the workload beautifully. Whether the boats were beach-bound for rigging races or tacking back and forth across the East River, the Optimists did it all and did it well; a testament to the hard work, craftsmanship and perseverance of the young students who built them.
Brooklyn Boatworks returned to the classroom last fall, establishing programs in six schools and serving 60 students. One of their newest partners is the Essence School in East New York, where 12 students began by assembling a paper model of an Optimist to learn about the boat's components. Next, each student created a wooden scale model of an Optimist hull, learning how to loft complex shapes from plans onto plywood, and how to clamp, cut out, and finish their models while becoming proficient with boat building tools. Today, students are working collaboratively at Essence and entering 2016 with the hull sides, transoms, and bottoms cut out and finished, ready to begin assembly in their boat mold. To learn more, visit brooklynboatworks.org.
Keith MacLean at Brooklyn Boatworks contributed to this report.
Springline Yacht Sales Now Representing Catalina, Elan and Impression Yachts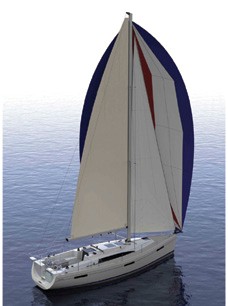 Offering great products and services at exceptional value is standard operating procedure at Springline Yacht Sales (SLYS), which is why they've teamed up with Elan, Impression and Catalina. Adding to the current lineup of Island Packet and Blue Jacket Yachts, Elan, Impression and Catalina are solid examples of boats designed by those who truly have a passion for sailing.
© catalinayachts.com 
"Partnering with Elan and Impression is an ideal fit for Springline," said Rick Dieterich, SLYS President. "What they have done for skiing, they also bring to the boating world with solid technology and technique. We look forward to years of innovation ahead."
Springline is also proud to partner with Catalina Yachts. With a completely redesigned 5 Series includingthe brand New 425, Catalina is attracting new buyers as well as keeping loyal owners moving up. Building sailboats in the U.S. for over 45 years, Catalina Yachts is one of the largest sailboat manufacturers in the world with over 80,000 sailboats manufactured to date.
"My goal was not to become the largest sailboat builder in the United States," said Frank Butler, President of Catalina Yachts. "My goal was, and still is, to build good boats that are a good value. Accomplishing this requires planning, efficient manufacturing and well-designed boats. We are thrilled to have Springline as our newest dealer." Springline has representatives in Mystic, CT, Mamaroneck, NY and Quebec, Canada. For more information, visit SecureYourDream.com or call 860-817-7676.
New Owner For Newport Charter Yacht Show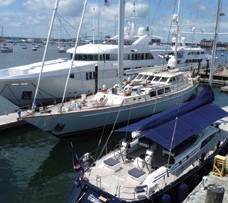 Newport Shipyard in Newport, RI has acquired the Newport Charter Yacht Show from Newport Exhibition Group. The 2016 Newport Charter Show, which will be held June 21-24, showcases luxury charter yachts alongside a display of related goods and services for the charter industry.
© charterwave.com
"We are very pleased to announce that the 2016 Newport Charter Show will be managed and hosted by our team at Newport Shipyard," said General Manager Eli Dana. "We will work closely with the Newport Exhibition Group for a smooth transition and look forward to executing a well-run event for many years to come."
"We plan to carry on many show features that the Newport Exhibition Group started, including chef competitions and tablescape contests, which brings the attendees together in a casual and fun environment," Dana continued. "We plan to have vendors on site throughout the show and we will work closely with sponsors, captains, crew, vendors and charter brokers to be sure this perennial show continues to thrive here in Newport." Visit NewportCharterShow.com for more information.
Menemsha Channel Dredging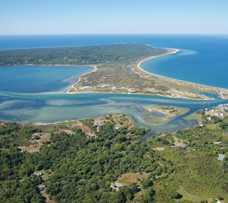 For the first time in more than 40 years, sailboats that draw more than three feet will be able to visit one of New England's most scenic bodies of water, Menemsha Pond on Martha's Vineyard. The U.S. Army Corps of Engineers is dredging the long entrance channel to Menemsha Pond to a depth of eight feet. Work on the $2.16 million project began last October.
© Shoreline Aerial Photography, LLC
A federal waterway, Menemsha Channel was last dredged in 1973. Officials in the towns of Chilmark and Aquinnah, which share the pond, are taking steps to protect it from an expected surge in recreational boat traffic. Because the federal government considers Menemsha Pond a harbor of refuge, it must remain open to vessels, although the two towns plan to exercise local authority by designating small anchorage areas and clearly marking shellfish aquaculture areas. No overnight anchoring is allowed in Menemsha Pond, and all vessels must leave by 7 pm. Furthermore, vessels must have head overboard discharges closed while in the pond and transiting the channel.
New Boating Opportunities in New Haven, CT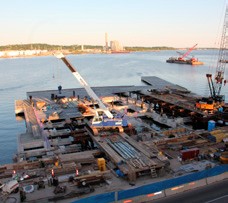 Although the Canal Dock Boathouse in New Haven, CT won't be ready until next year, Canal Dock Boathouse, Inc. (CDBi), a New Haven-based 501(c)(3) non-profit organization with a mission of "opening New Haven's waterfront for adventure, discovery and growth," will be providing public access for rowing, paddling (and hopefully sailing) this season.
© canaldock.org 
Construction of the 48,000-square foot platform that will support the boathouse, located just north of the Long Wharf Pier in New Haven Harbor, was recently completed, although the facility won't open until the spring of 2017. In the meantime, CDBi is operating programs at Quinnipiac River Marina in New Haven, where storage racks and a launching area for rowing shells, kayaks and other watercraft have been installed. With plans to provide public sailing opportunities this summer, CDBi is seeking donations of small sailboats.
"The Canal Dock project will provide a waterfront promenade, boat storage, transient slips, and a handicap accessible ramp for canoes and kayaks, as well as a gathering place in a diverse and urban context unparalleled in the State of Connecticut," said CDBi President John Pescatore. Designed by Gregg Weis & Gardner Architects, LLC, the boathouse will include boat storage, offices and support facilities, as well as a marine science research lab and public education space. Visit canaldock.org for more information.
Port Sailing Opening a New Location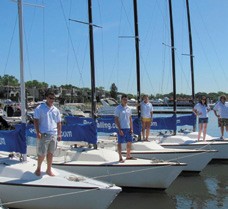 Port Sailing, a sailing school and rental facility headquartered in Port Washington, NY, is opening a new location at New Rochelle Marina in New Rochelle, NY. "With the opening of the new location, we hope to better serve our customers on the other side of the Long Island Sound," said Port Sailing Founder Chris Nihill. "We will be offering lessons and rentals in new Rochelle with a fleet of five Sonars and a Cal 25. Our Gull launch will move to our new location and provide launch service."
© portsailing.com
Port Sailing is affiliated with the American Sailing Association, and the ASA courses offered at their New Rochelle location will include Basic Keelboat 101, Coastal Navigation 105, and Basic Coastal Cruising 103. Family instruction and a summer sailing camp will also be offered.
"We will be moving some staff from Port Washington, as well as hiring local talent," Nihill continued. "All memberships from our original location will be honored at our second location, and rental reservations will follow through our existing iSail reservation database system. New Rochelle Marina also has a restaurant with indoor and outdoor dining overlooking the harbor. We look forward to sailing with you in New Rochelle." For more information, log onto portsailing.com.
New Youth Trophy at Quantum Key West Race Week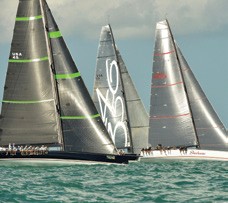 As a gold-level sponsor of Quantum Key West Race Week 2016, hosted by the Storm Trysail Club, Sailing World Magazine's editorial team has created a new trophy to recognize the most outstanding performance of the regatta's youngest team. "For the sport to be sustainable we need younger sailors engaged at all levels, not just in junior sailing but also at top-tier events such as Key West Race Week," said Sailing World Editor Dave Reed. "The intent with this trophy is simple: to recognize owners and teams that provide opportunities for young amateur sailors to keep racing during a period of their lives where they potentially drop out of the sport."
© Allen Clark/PhotoBoat.com 
The Sailing World Trophy will be awarded to the best-performing team in any class whose average age of all crewmembers is less than 30 years old. Selection will be made by the Organizing Authority in consultation with Sailing World based on the average scores for the week, average age of the crew, and the relative difficulty of the competition in the class.
Matt Wake of Sturgis Boat Works in West Yarmouth, MA is a huge proponent of junior sailing who is assembling a team to vie for the Sailing World Trophy.
"I think it's a great idea by Sailing World and aligns perfectly with our goals for encouraging and promoting youth sailing," said Wake, whose company is the North American importer for Fareast Yachts. Sturgis is loaning a Fareast 28R to the St. Petersburg Yacht Club Youth Offshore Program, which hopes to put together a team of four or five junior sailors to race the 28-foot sportboat at Quantum Key West Race Week along with one or two adult coaches. For more information, visit keywestraceweek.com.
Zim Sailing Opening a New Facility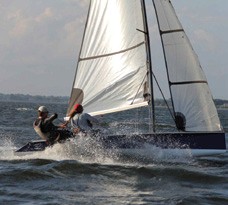 Zim Sailing, a provider of one-design sailboats, parts, accessories, and services to the North American market, is opening a new, larger facility in Warren, RI on March 1. The 24,000-square foot building will more than double the company's manufacturing and warehousing capacity. Zim sailing will build the C420, CFJ, Zim 15 (pictured), Byte and Megabyte at the new facility.
© zimsailing.com 
"Our new facility is more accessible for customers and will feature a newly designed retail space, along with improved production and warehousing facilities, allowing us to ramp up local production across our line and continue fulfilling parts orders with same day shipments," said Bob Adam, VP of Sales. "With this growth comes the need for a larger team, and we are always looking for qualified people for both our production and sales side of the business. As always, Zim Sailing remains committed to helping grow our sport through grassroots youth development with yacht club, community, high school and collegiate programs across the country, and we hope to see you at our new facility." Visit zimsailing.com for more information.
Top Clubs Taking Aim at 2016 Resolute Cup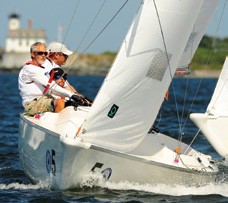 Which United States yacht club has the fastest sailors? That question will be answered in September, when clubs from around the country gather in Newport, RI for four days of intense one-design competition. The Resolute Cup, A Corinthian Championship for U.S. Yacht Clubs hosted by the New York Yacht Club, is an evolution of the U.S. Qualifying Series for the Rolex New York Yacht Club Invitational Cup, which was held on even years starting in 2010. At stake, once again, will be berths in the Rolex New York Yacht Club Invitational Cup, scheduled for September 2017. But the Resolute Cup is much more than a stepping stone to the premiere international Corinthian regatta in the sport.
© Allen Clark/PhotoBoat.com 
"Six years ago, the New York Yacht Club created the U.S. Qualifying Series to handle equitably the overwhelming interest we had from American yacht clubs to compete in the Rolex New York Yacht Club Invitational Cup," explained Dr. Paul Zabetakis, Chair of the NYYC Sailing Committee. "But the event quickly outgrew its original mandate. Clubs around the country saw it as a chance to test their best amateur sailors against those of other clubs. The Resolute Cup can now establish its own identity, one that reflects the considerable time, effort and talent clubs dedicate to winning this competition."
The Resolute Cup emphasizes Corinthian, one-design competition between yacht clubs. Each competitor must be an ISAF Group 1 (amateur) sailor, and a member of the club he or she represents. Teams will compete in two different fleets of identically tuned keelboats during the regatta. The NYYC's Sonar fleet will be used, as will a second design, most likely a 20- to 25-foot sportboat.
On-shore camaraderie is a highlight of the event, with the NYYC opening its Harbour Court clubhouse in Newport to competitors and supporters. There are post-race social activities each day, as well as an opening ceremony and the final awards gala. Invitations for the Resolute Cup will be issued early this year. The regatta will run from September 12 – 17. Visit nyyc.org to learn more.
New York Yacht Club Communications Director Stuart Streuli contributed to this report.
Sue Corl Youth Sailing Scholarship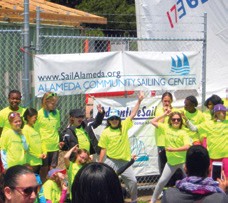 The Board of Directors of the Women's Sailing Foundation (WSF), a non-profit organization dedicated to enriching the lives of women and girls through education and access to the sport of sailing, has established the Sue Corl Youth Sailing Scholarship to provide sailing opportunities for young women.
© womensailing.org
Corl, of Marblehead, MA, was a tireless advocate for WSF programs. Having raised two daughters and having been involved with many volunteer organizations supporting girls, Corl jumped on the opportunity to initiate an AdventureSail® program in Boston Harbor at Courageous Sailing Center in 1997. That event is still going on today. Corl was also the co-chair of the inaugural Women's Sailing Conference in Marblehead in 2001. That event will celebrate its 15th year in 2016. Corl, who passed in 2007, will always be remembered for her give-it all attitude and outreach to companies to get WSF programs started. "We will award this scholarship for unique sailing opportunities as we become aware of them," said WSF President Linda Newland. "This is a special scholarship for a special program."
Tax-deductible donations to the Sue Corl Youth Sailing Scholarship fund may be made payable to the Women's Sailing Foundation and mailed to Scottie Robinson, WSF Treasurer, 4 Turtle Back Road, Essex, MA 01929. For more information, visit womensailing.org.
World Match Racing Tour Coming to Newport, RI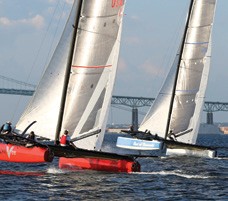 The world's best match racing sailors will compete in Newport, RI from May 31 to June 4, when Sail Newport hosts a World Match Racing Tour (WMRT) event. The racecourse will be set up within yards of the shoreline for optimal spectator viewing, with both the start and finish line located in front of the public area. Live narration will be provided onshore following the action. The event will be open to the public with no admission fee.
© m32series.com
"Since the Volvo Ocean Race Newport and the worldwide press about the enhanced facilities at Fort Adams State Park, major sailing event organizers are increasingly setting their sights on Newport and Rhode Island as the premiere sailing venue in the United States," said Sail Newport Executive Director Brad Read.
The WMRT Newport event will be sailed in M32 catamarans, and it's the last event before the finals in Marstrand, Sweden in July. The sole American skipper in the series, Sally Barkow, will lead an all-female team in pursuit of the WMRT trophy. Visit wmrt.com for more information.
Premiere Sailing League Unveils "Made in the USA" Boat Editions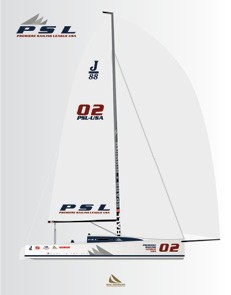 The Premiere Sailing League USA, headquartered in Newport, RI and structured after the enormously successful sailing leagues pioneered in Germany and Denmark, has announced that special edition J/70s and J/88s will be used for the series. The event starts with District Qualification Regattas using J/70s and moves on to the National Finals to be sailed in J/88s. The Premiere Sailing League boat editions are 100% made in the USA, starting with their design by J/Boats (Newport); spars by Hall Spars & Rigging (Bristol, RI); hardware by Harken (Pewaukee, WI.); lines by New England Ropes (Fall River, MA); and hull and sail graphics by Mac Designs (Newport).
© Mac Designs/macdesignsnewport.com 
At the Premiere Sailing League USA introduction during last year's Strictly Sail boat show in Chicago, J/Boats President Jeff Johnstone voiced his support for Klatzka's initiative based on what the overseas sailing leagues have done "to excite and promote grassroots sailing." Johnstone says the philosophy behind the series is fully convergent with that of J/Boats: "to provide a great platform to promote multi-generational sailing via fun and affordable competition between clubs."
Designer of the new logo for Premiere Sailing League USA and the new "look" of the special-edition boats is Mac Designs, which has provided hull and sail graphics for some of the most memorable racing campaigns in recent history. "Since the regattas will be held close to shore, have a stadium-style atmosphere and utilize the latest social media technologies, the visuals will be integral in allowing the sailing and general public to support and encourage their teams," said Mac Designs President Bill MacGowan.
The Premiere Sailing League's purpose is to provide a platform where all sailors can compete in a fun, dynamic fast-paced competition that has been conceived and structured to be easily understood by the media and non-sailing audiences. Sailors from any club, sailing center, school, academy, college or maritime academy are invited to participate. For more information, go to premieresailingleague.com.
Barby MacGowan at Media Pro International contributed to this report.
The Boat Builder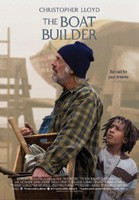 Having premiered January 1, The Boat Builder tells the story of two people at opposite ends of life who find a bond in a shared dream. Written and directed by novelist and non-fiction author Arnold Grossman, the film is about Abner, played by Christopher Lloyd, an embittered old mariner and widower living a solitary life. Withdrawn from his family and the tight-knit community of his small marine town, he's a grumpy, unsociable man who seems to live in the past – only finding comfort in the countless hours spent building a sailboat in his yard. When neglected young orphan Rick, played by Tekola Cornetet, wanders onto Abner's property hiding from bullies, the two form an unlikely bond which changes their lives in unexpected ways. To learn more, visit facebook.com/Theboatbuilder.