Catamaran sailing charters coming to New York and Long Island Sound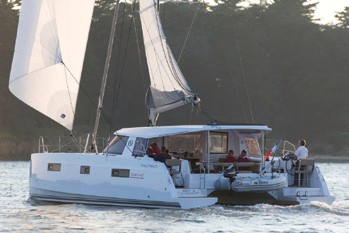 A newly formed partnership between Lime Charters, a Port Jefferson, NY-based charter company, and Aeroyacht Ltd., a veteran yacht dealer specializing in luxury sailing catamarans, will be offering both bareboat and captained yacht charters in waters from New York through Long Island Sound and Cape Cod starting in the spring of 2018. Business operations for Long Island's very first catamaran charter base are centrally located in Port Jefferson.
© BavariaYachts.com
"New York and the Long Island Sound are an untapped charter market loaded with sailing destinations that showcase New England's quaint charm," said Bill Beasley, President of Lime Charters. "Whether sailing under the impressive Manhattan skyline, touring historic Mystic, relaxing on the beaches of Block Island and Martha's Vineyard, or exploring the uniqueness of Newport and Provincetown, we offer the opportunity to see it all and see it at its best – by boat."
"The popularity of catamarans has exploded in the last five years," said Gregor Tarjan, founder and President of Aeroyacht. "They make great sense as a cruising platform as well as a vacation home away from home. Now, through our work with Lime Charters, sailors can get a taste of our beautiful waters on this exciting new breed of sailing yachts. There is no better way to explore the varied coast of New England than from the water aboard FLO, our Nautitech Open 46. She is brand new and fully fitted out for luxury cruising [with] a full-length owner suite, generator, air conditioning, Bose stereo system, dinghy with outboard, and a full electronics suite."
"By collaborating with Aeroyacht, Lime Charters will offer an impressive fleet of luxury catamarans that are both comfortable and fast," said Beasley. Lime Charters can be contacted at 631-743-5600 or by email at sail@limecharters.com.