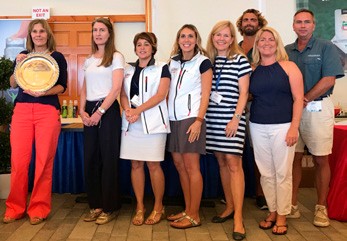 The Rhode Island Marine Trades Association (RIMTA) has honored Newport Exhibition Group as the 2017 recipient of the RIMTA Anchor Award. The award was presented at the RIMTA's annual Industry Partnership Breakfast sponsored by Gowrie Group Saturday, September 16 at the Newport International Boat Show in Newport, RI.
Accepting the RIMTA Anchor Award are Newport Exhibition Group employees (l – r) Nancy Piffard (Newport International Boat Show Manager), Lisa Knowles, Caroline Flynn, Jocelyn Emory, Gail Alofsin, Luke Peckham, Liz Nittmann and Chuck Moffitt.   © rimta.org
Presented each year to an individual or organization that draws international attention and promotion to the state's marine trades, the Anchor Award was given to Newport Exhibition Group for their work in attracting the boaters from around the world to Rhode Island and promoting the state's marine industry. Past Anchor Award recipients include Rhode Island Senator Sheldon Whitehouse, Ken Read, Sail Newport, and Newport Shipyard.
"We are thrilled to recognize Newport Exhibition Group for the work they do in shining a global spotlight on Rhode Island and its hometown industry," said Wendy Mackie, CEO of RIMTA. "Every year, exhibitors and consumers from around the world come to the Newport show and see firsthand our beautiful waters, our facilities, and all that the Ocean State and our industry offers to boaters."
Newport Exhibition Group has owned and produced the Newport International Boat Show for over 30 years, building it into one of the five largest in-water boat shows in the country. The four-day show draws an international crowd, and 20 percent of the exhibitors are from outside the U.S.