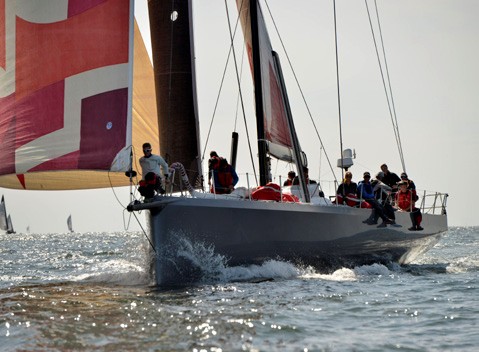 Editor's note: In August, WindCheck Contributing Editor Joe Cooper led the Storm Trysail Foundation's Junior Safety-at-Sea Seminar at Sail Newport in Newport, RI. Those who know this affable Aussie know his passion for creating once-in-a-lifetime opportunities for young sailors aboard big, fast boats. As luck would have it, Coop's mate Ralf Steitz, President of the USSMA Sailing Foundation, was in town with the Warrior Sailing Program's flagship, a Volvo Ocean 70. Two eager sailors who'd just completed the seminar tell the tale of yet another amazing Coop's Kaper.
The flagship racing project for Warrior Sailing and the USMMA Sailing Foundation, Warrior (pictured here in the 2017 Vineyard Race) competed in the Volvo Ocean Race 2011-12  as CAMPER.    ©Allen Clark/PhotoBoat.com
My Warrior Sailing Experience
By Connor Macken, age 15
The Warrior Sailing Program provides maritime education and outreach for wounded, ill and injured service members and veterans. One of the boats that is used for this program is a retired Volvo 70 named Warrior. I was fortunate to join the Warrior Sailing Team for a few days in Newport this past August. After a summer of sailing Lasers, 29ers and C420s, I was looking forward to learning the ropes of a larger, faster boat.
Sailing on Warrior was not just about the sailing, but also about some of the really interesting people I met. On board with me was Coast Guard veteran Dave Caras, a former helicopter pilot who had suffered a leg injury during a mission. While speaking to Dave about his experiences with the Warrior Sailing Program, he mentioned that he found sailboat racing a natural environment, being accustomed to the standard communication and teamwork from his time in service. It was also interesting to hear the crew's stories about sailing, ranging from dinghy sailing to ocean crossings to foiling catamarans around the world.
Connor Macken holds the runners forward as the main is hoisted.  © Joe Cooper/JoeCooperSailing.com
Being a dinghy sailor, the boats I sail are relatively small and simplistic. While out on Warrior, I learned more about big boat racing, especially about how critical it is for the team to be working together in order to make the boat accelerate to top speed. One of the largest adjustments from dinghies to big boat sailing was learning to master the hydraulic sail trimming system connected to the winches. For instance, in order to gybe the boat, instead of just turning the tiller and pulling over the sail, the whole squad had to work together to connect the pedestals to furl the fro, gybe the mainsail and the boat itself, unfurl the fro, and successfully communicate the actions to trim all of the sails to the exact spots, with the boat sailing at the correct angle. This intense teamwork is not only needed in the gybes, but in every aspect of sailing a boat as large as the Volvo 70.
Another aspect of the boat I had to harness was the controls. Instead of using primarily vang tension and cunningham to achieve a certain sail shape, I learned to use alternate controls such as the runners and different stay tensions to work alongside the standard dinghy controls to fine tune the rig. I have been able to use some of that knowledge and apply it to other big boat racing I am now doing. As a result. I have been better equipped to take charge of more positions on any boat.
It was great to have such an incredible experience beyond dinghy sailing and I would like to thank Joe Cooper and Ralf Steitz for making it possible. It was also enlightening to learn that the skills of sailing are universal; not only being vital to sailing, but to the success of the Armed Forces, as Dave conveyed to me in our conversation. The opportunity to sail on Warrior assisted me in taking a larger step into big boat sailing. It has taught me how key teamwork is to success on a larger boat and how all the different stays, sheets and controls work together to push the boat to maximum speed.
The Warrior
By Colin Shearley, age 10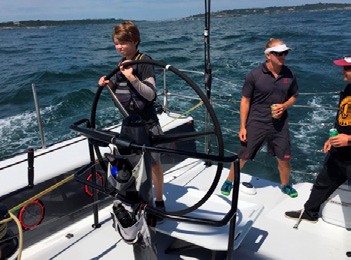 Today I went sailing on Warrior. Last week, my dad signed me and my sister up for the Junior Safety-at-Sea Seminar in Newport and I was allowed to join in even though I am 10. Mr. Cooper helped me a lot, and later asked if I would like to go sailing on Warrior to watch the J- Class racing.
Colin at the helm…© Joe Cooper/ JoeCooperSailing.com
From the moment I got on, it was Pure AWESOMENESS!  Warrior is a Volvo Ocean Race Open 70 sailboat! The hull of the boat is flat with a deep keel that can move from side to side. It also has leeboards to help stay stable. There were about 15 people on the boat and I was the youngest. There are four grinders for the winches. There were way too many winches on the boat to count.
In a race, there are eight people on the grinders to hoist the mainsail, jib or 0g kite, two tailers for the winches, one person for the helm, a whole load of hikers and a chef. Everything on Warrior is carbon fiber, so she is really, really lightweight…even the head is carbon fiber! There are hammocks, which are beds for the crew. Three of the crew sleep at a time out of eight, if the crew are all men.
The U.S. Merchant Marine Academy gave this amazing boat to the Warrior Sailing Program for wounded veterans. This program helps the many people who have been injured serving our country learn how to sail. Sometimes if they have room they let junior sailors come aboard, which is how I got to go…I am very happy I got to see everything.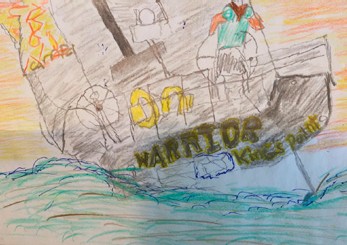 Sailing on Warrior was so amazing. It was the fastest I have ever gone. We were going 20 knots and passing chase boats! I learned so much about racing boats. I got to take the helm and found out that you can almost stop all the noise by going sideways over a wave instead of smashing into it. I also got work grinding the winches. I left this program with knowledge and experience that I did not have before I came here. Also I left with, so cool…an empty LUNCH BOX!!!
Colin Shearley created this very cool rendering of Warrior.