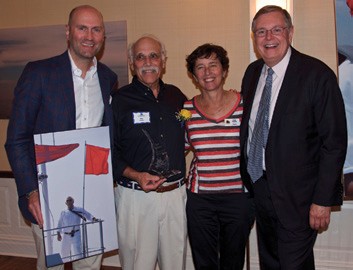 SoundWaters, a Stamford, CT-based non-profit environmental organization with a mission to protect Long Island Sound through education and action, recently launched a new tradition of honoring great friends and advocates for Stamford Harbor and Long Island Sound by naming Stamford native and businessman Raymond L. Redniss as its first HarborFest Commodore. Redniss was honored at the official HarborFest 17 Launch Reception on Friday, August 25 at Stamford Yacht Club.
(l – r) SoundWaters board member Scott Mitchell, HarborFest Commodore Ray Redniss, SoundWaters President Leigh Shemitz, and Stamford Mayor David Martin. © Rick Bannerot

Redniss has a deep history in local sailing, boating safety, and environmental advocacy. He is currently Vice Chairman of the Stamford Harbor Management Commission, and Principal Surveyor of Redniss & Mead, a Stamford-based engineering, surveying and environmental consulting firm. A former board member of the Young Mariners Foundation, an organization dedicated to the education of underserved youth in Stamford, he volunteers with the Stamford Land Conservation Trust and the Sierra Club.
Redniss is a longtime member of the Storm Trysail Club, the Royal Ocean Racing Club and Stamford Yacht Club, where he has served on the board of governors. He's also served as Principal Race Officer for several events including Block Island Race Week, the Vineyard Race, and the Valeur-Jensen Stamford Denmark Race.