Charting the Course for Your Life and Work
By Jeremy Cage
Published by Greenleaf Book Group Press   180 pages   hardcover   $19.95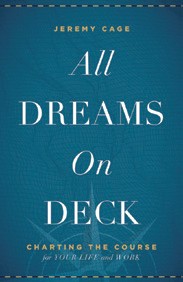 Jeremy Cage asserts that the vast majority of people and the vast majority of businesses will die without ever realizing their full potential. An entrepreneur, executive coach and former Fortune 100 executive, Cage is an expert on turning dreams into reality. Among the more ambitious of Cage's own dreams was to sail around the world with his wife and two children, and the Cage family spent four years preparing for a circumnavigation aboard their 43-foot catamaran Hakuna Matata. Sharing anecdotes from that 16-month, life-changing voyage, the author presents a four-step process that anyone can use to make their dreams a reality.
With nautical metaphors articulating each step of the process, Cage notes that a person's dreams are analogous to the hull of a boat. Intentionality is the rigging and the sails. Planning and preparation are the training necessary to sail and navigate the boat, and courage is the wind that must be harnessed to move it forward. "Dreams are the most powerful force on our planet, and yet they are simultaneously incredibly vulnerable," says Cage. "If not prioritized, protected and nurtured, they wither and die."

Jeremy Cage has held senior management positions at Procter & Gamble and PepsiCo, and was CEO of The Lighting Science Group. He is President of The Cage Group (thecagegroup.org), which he founded to help businesses and individuals unleash their full potential, and also a co-founder of several start-up companies in the areas of healthy foods and nutrition. He and his family live in Darien, CT.
Watch his TED talk here.