By Teresa L. Carey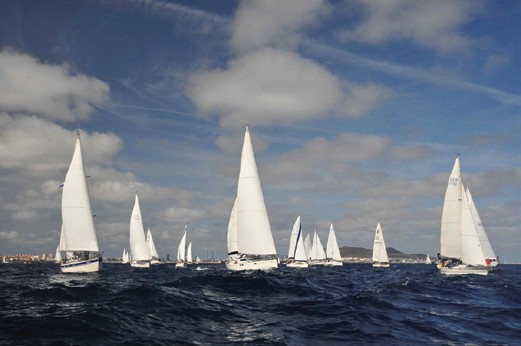 I left Las Palmas feeling like I had let everyone down. Windy was hoisting its sails for a transatlantic, and instead I was boarding the plane home. During the previous days my anxiety over the passage was building to an overwhelming point, but I couldn't pinpoint the problem. In hindsight, I see clearly what happened.
With misgivings about the skipper and vessel with whom she'd signed on, the author let the Atlantic Rally for Cruisers depart without her.  ©worldcruising.com
Ten days earlier, I flew to the Canary Islands where I was greeted by Skipper Jake and received a friendly welcome aboard Windy. Jake had purchased a new 40-foot yacht and completed a west to east transatlantic with a hired licensed captain. This passage would be his first role as skipper. The Atlantic Rally for Cruisers was scheduled to depart in exactly ten days. Ryan and Vanessa, an experienced cruising couple, would complete the crew by joining us a few days before departure.
I expected to spend the next ten days provisioning the boat, testing the systems, doing shakedown sails and safety drills, and discussing how the crew would work together. Having had many miles aboard Windy under his belt, Jake decided to wait for the rest of the crew to arrive to complete most tasks. "Can we test the systems together?" I asked, to which the skipper explained that Ryan would take care of that, and we would all provision together. As the days wore on, and Jake and I lounged under the stars in the cockpit each evening, I started to feel less prepared for the impending departure. I even considered testing the systems myself, but the skipper reprimanded me and told me to wait.
A few days before our departure, the weather report indicated there would be strong opposing winds at the start of the ARC. I decided I would muster the courage to express my concerns. "Don't worry, we'll be fine," Jake answered when I asked what our backup plan was. I respected his role as skipper. I was sure he was right. "If the weather is really awful and I feel unsafe, I'll have to speak up," I told myself, not recognizing a feeling of apprehension beginning to form after his blasé response.
When Ryan and Vanessa arrived, my anxiety had grown. Having only two days until departure heightened my concerns. Sailing never works on a schedule, especially when waiting until the last minute. However, I was hopeful that with the entire crew present, concerns would be addressed one by one as we prepared for the long passage ahead.
As I walked the docks I saw people loading crates of fresh fruits and veggies, jugs of water, and carts full of dried and canned goods. Our provisions looked like anthills next to their mountains. "Only fifteen red apples," I thought, "That's less than one apple per day for the four of us to share." And that's only if they last that long. Green apples are better for long passages. I understand the consequences of body and mind when people are undernourished or eating mostly dried food, and I worried that during the latter half of our voyage we might not be as sharp and prepared to address issues or stress that might arise. Because Jake paid the bill, I asked him if we should get more food. "Don't you worry, there is plenty," he said, persuading me to focus instead on the rest of our preparations. "I shouldn't get stressed over food," I thought and brushed away my anxiety.
The next day Ryan began to test the systems. The ARC rally has many ways of supporting the cruisers, including sending out daily weather faxes and providing a blogging platform. But with one day before departure, we needed to make sure all our electronics were working. Ryan worked diligently at the navigation desk, sending test emails and trying to download GRIB files and weather faxes from multiple sources. "Well, I'm not sure why this isn't working," I overheard him mumble while Vanessa and I were stowing food in the lockers.
Jake returned from the skipper's meeting and announced that the organizers had delayed the departure due to bad weather. We now had one more day to get prepared. I breathed a sigh of relief and continued organizing and reorganizing lockers when I noticed that the hanging locker had water in it. Dark streaks penetrated the wood lining. "There is water in this locker. Maybe we should trace where it's coming from," I thought out loud. "Naw. It's not a big deal. Someone probably left a port open," I was told. It had rained earlier that day. Since the boat was relatively new, and I didn't want to overstep my role as deckhand, I accepted their explanation and told myself that the odds were slim that there was a leak.
Having worked as a professional mariner for years, I was conscious of being respectful of the hierarchy. Jake felt very strongly about his new role as skipper. "I am the captain and I have the final say," he announced early on and repeated often. I wanted to respect that. Besides, I was happy being just a part of the crew for once.
I was assigned the role of the fourth and "least experienced" crewmember, a role that was impressed upon me with such authority that I began to believe my thoughts weren't valid; that my anxiety was an overreaction. I actually felt guilty for making suggestions or asking too many questions.
Small issues compounded into a growing feeling of helplessness until finally nerves and homesickness overcame me. A day before departure, Jake recognized my anxiety and kindly offered me an opportunity to leave, which I accepted. I would not be participating in the passage. A weight was lifted off my shoulders, and for 24 hours I was happy running errands for the crew, scrubbing the deck, and doing it all with a sense of ease.
For the next few months, feeling relieved yet saddened by my departure, I turned the events over in my thoughts. Experiences without processing don't help us grow. They have to be considered openly and from all angles. Despite not sailing, my journey with Windy was one of the biggest seamanship lessons I could receive. I failed to effectively express my concerns so that the skipper took them seriously. Instead, I made only polite suggestions but wasn't insistent and didn't push it too far, believing I was being respectful of leadership. Jake was a skipper that had little experience on other boats. This was the first – and last – time I would ever agree to sail under the leadership of someone with that background.
After 36 hours of return flights, I finally arrived home and was greeted at the airport by my friend. "You're a soothsayer. You should always trust your intuition," he said when he picked me up at the airport. "About a day after Windy departed, they had to turn around due to a leak that they described on their blog as 'waterfalls in the locker,' that apparently was filling their boat. But it wasn't intuition that guided me. The signs were there. I wasn't surprised, nor did I feel proud for my decision to leave the passage. I felt relieved to be home, sympathy for the crew, disappointed that I saw signs of the problem yet failed to make myself heard, and curious to know if the leak was related to the soggy wood in the locker I saw earlier.
Lessons Learned:
No matter what my role is, I should learn to strike a balance between clearly stating my concerns whilst still maintaining respect for leadership.
A good skipper facilitates a conversation that welcomes every crewmember's thoughts and concerns.
The highest functioning crews have regular crew meetings where reserved people are encouraged to speak, and overbearing people are required to listen.
The role of "sailor" isn't ever achieved. It is a continuous process where much can be gained from all crewmembers.
Don't blindly "trust your intuition." Learn to recognize and address the circumstances that are giving you that "gut feeling" because most "intuition" is a result of subconscious reasoning.
A Morse Alpha Expeditions student steers a course with guidance from the author's husband, Ben Eriksen.   ©MorseAlpha.com
Now, many years and many ocean passages later, my husband and I offer sail-training expeditions aboard our Norseman 447. Our courses are founded on years of leadership training, and captain experience. We base our lessons and activities on several sound communication models, such as Bridge Resource Management and others. We train people not just in the technical aspects, but also in communication and the role of the captain. Inevitably, I choke back my pride and always tell this story as a discussion point on how poor communication can lead to feelings of being unsafe or real issues being overlooked.
To find out more about our sail-training program, visit MorseAlpha.com.