By F. K. George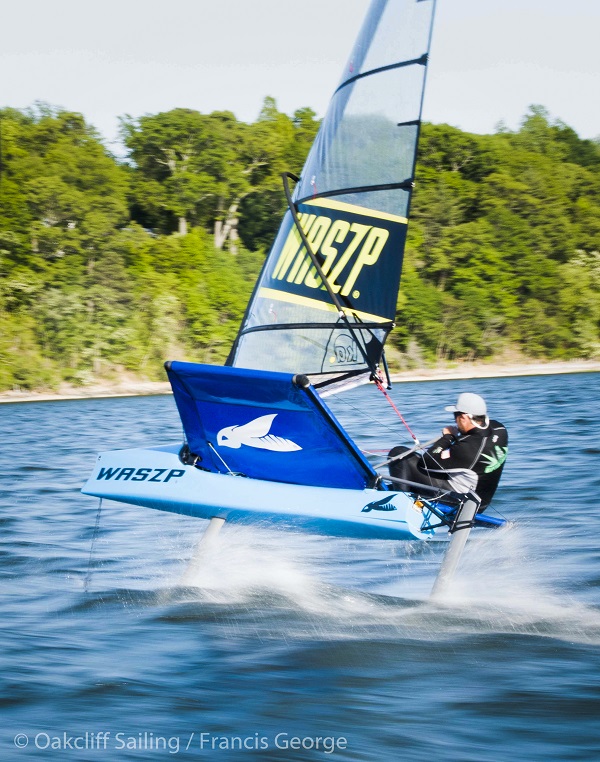 With the introduction of affordable boats like the Waszp, foiling is coming to the masses and Oakcliff Sailing in Oyster Bay, NY is leading the charge. The 15 participants in Oakcliff's inaugural Foiling Camp in August were once among the many starry-eyed sailors who watched the America's Cup and dreamed of what it was like to defy gravity and lift out of the water. Now, thanks to Oakcliff, they no longer have to imagine; they're doing it!
Chris Poole shreds the waters of Oyster Bay.   © Oakcliff Sailing/Francis George
"No one else in the world is pushing [foiling] like Oakcliff," said coach Shaun Masonn, who was fresh from Bermuda where he was the boat captain for Softbank Team Japan in the 35th America's Cup. "The set up here and the boats we have access to is really something special," he enthused, referring to Oakcliff's spacious, newly renovated bunkhouse and foil-borne fleet comprising four converted Nacra 17s, two Nacra 20s and six Waszps.
Shaun teamed up alongside Reed Baldridge, winner of the Inaugural International Waszp Games, to coach the camp. Participants ranged from 16 to 70 years old and Reed and Shaun were determined to get all of them flying. They didn't disappoint; after only four days out of six, everybody had gotten up on the foils at least once.
That's the first milestone in learning to foil: getting up. Once you do, there's a moment of pure elation where you celebrate and give yourself a mental high five, only to realize you have no idea what to do next and then crash, often spectacularly.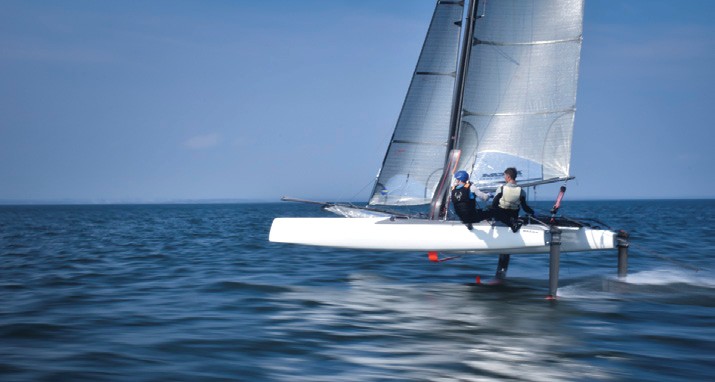 Ludicrous Speed! Harry Hall (right), an Oakcliff Sapling from Australia, and Andres Guerra-Font, a full-time Oakcliff staffer from Spain, fly a Nacra 20 in Oyster Bay.  © Oakcliff Sailing/Francis George
The next step is staying up and foiling stably. "It's good to have an expert telling you what's going wrong instead of spending weeks and weeks just crashing and figuring it out," said Oakcliff staff Andres Guerra-Font. "The best part of the camp is having Shaun yelling, 'Yes! Yes!' when you're finally foiling. It's like he gets more excited than you!"
And that's the magic ingredient that made the camp so successful. Reed and Shaun didn't just bring their technical expertise; they brought their enthusiasm. It's easy to get frustrated learning to foil, but it was hard to stay that way for long with the positivity they radiated. It was contagious. Everybody was in high spirits and it felt like one big family.
Each night after foiling, a barrage of wet, tired sailors raced back to the Oakcliff Bunkhouse, eager to claim a shower. After that, everyone gathered around the TV for a debrief that was invariably riddled with laughter. Whether it was poking jabs at the coaches or making fun of themselves in the videos, the atmosphere was electric. Afterwards all contributed to cooking a healthy dinner in the massive kitchen, but that was almost immediately negated by the group's efforts to support the local ice cream industry.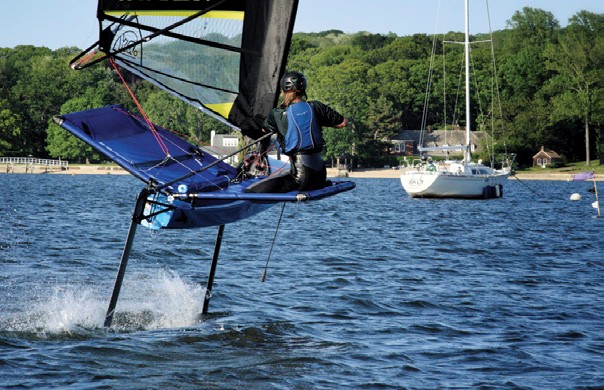 Look out boys, I got a license to fly!  Robyn Lesh earned her wings at Oakcliff Sailing's inaugural Foiling Camp.   ©Oakcliff Sailing/Francis George
Day four of the camp was the golden day. With sunny skies and 12 knots gusting 15, the weather hit the sweet spot for learning to foil. Everybody was foiling at least marginally and some were even attempting foiling gybes. The local Oyster Bay boaters watched all of the flying with curiosity and awe. One group of kids even ran down the dock, trying to go faster than the Waszps that were reaching back and forth: future foilers in the making.
At the end of the camp, the coaches ran a pinning ceremony for those who "earned their wings" with one minute of continuous foiling. Every single participant achieved that, even Ed Chimney, the only 70-year old brave enough to tackle the challenge of learning to fly on a sailboat.
Think you have what it takes to earn your wings? Sign up for Oakcliff's newsletter at oakcliffsailing.org to stay updated on Foiling Camp 2018!
F. K. George is Oakcliff Sailing's MarComm Manager.