By Joe Cooper
How did it get to be Autumn already? Seems like just last week I was drifting around in the Block Island Race. Then there was the NYYC Annual Regatta or Race Week, I forget which, wherein I sailed on a mate's boat with symmetrical spinnakers. Boy, THAT tested the memory. In mid-July, the Marblehead to Halifax was ALL downwind. We had the kite up at the start and the same kite came down at the finish. Breeze SW, 6-17 for 50-odd hours. At the end of July there was the Candy Store Cup, during which, thanks to the hospitality of the captain, Matt Hearsum, I was able to rotate through some of the Prout Sailing Team. Over to the CJ Buckley Regatta a day or so later, only to discover the remarkable story of CJ Buckley that led to meeting his parents and an article (A Pebble in a Pond) in September's edition.
In August, I ran the Storm Trysail Foundation Junior Safety-at-Sea Seminar, reported on last month. One detail I neglected to mention was my very informal questionnaire of the participants: From the choice of America's Cup, Volvo Ocean Race, Olympics or the Vendée Globe, which would be your Go To regatta?  The VOR won over the AC by a nose with the Olympics trailing on third, and I got a couple Vendée answers…interesting. Two seminar attendees struck me as quite remarkable young men, and so joined me for a couple of days sailing on a VOR 70.
The day after the Jr SAS, the Ida Lewis Distance Race was held in pretty seriously crappy conditions. My favorite part of this year's race was the young men and women of the Young American Junior Big Boat Team from American Yacht Club power reaching from Fort Adams to the finish at Goat Island, looking much like a professional crew on a TP52. I posted a live video on my Joe Cooper Sailing FB page that was about 20 minutes of seriously rough and ready, man-in-the-boat footage including me crash landing into the Young American's J/105 from the Ida Lewis YC RIB that greets the finishers with a bottle of Champers…well, apple cider in this case. All told, that video had something like 30,000 views.
My favorite quote from this video is from Maddy Ploch, the boat's nominal skipper and a member of the High Noon crew that crushed the Newport Bermuda Race last year. Speaking about the rain, squalls, hard wind, waves and so on, attendant to The Ida over Friday night, I remarked, "Practicing for the Volvo, eh?" Quick as a flash, Maddy responded, "Always practicing for the Volvo." Maddy was actually the only young sailor I queried who said she wanted to do all three events: AC, VOR and Olympics. She thought there was no reason why she could not. Maddy is 16 and a junior in high school. Let THAT sink in, folks.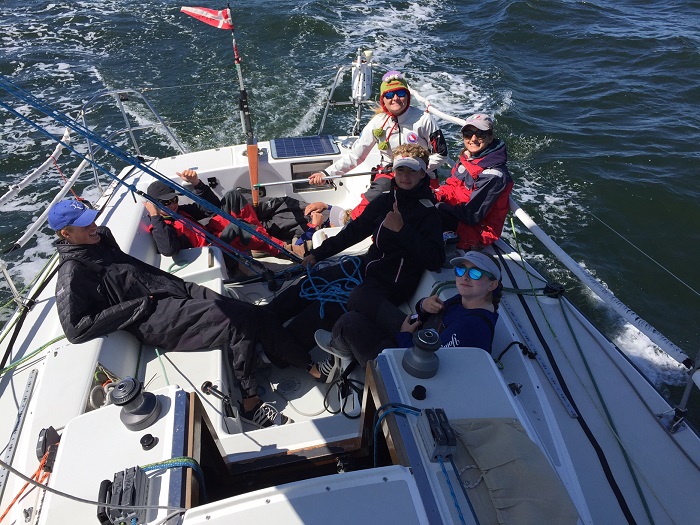 Young America Team during the Vineyard Race.
As it turns out, I had the great pleasure to see Maddy and her shipmates in action a couple weeks later. Peter Becker, a principal in the YA program and longtime friend and shipmate of mine, called and asked if I could fill in for him on the Vineyard Race. "Sure," I said. So, the Thursday night prior to the Vineyard Race saw me at Stamford Yacht Club, mingling with the usual suspects and swapping sea stories.
Friday's forecast for the weekend projected light reaching winds. Well, reaching was right. Along with Maddy and I were: Gabby DelBello (16), Eric Dowd (15), Nicholas Hein (15), Meg Leary (15), Constantyn (aka Clem) van der Voort (16), and Mathew Wallace (15). After blitzing the start and sailing away from longer boats with a small, flat reaching kite, I decided I was more or less superfluous. I did not steer, trim, contribute very much to tactics or strategy, or navigate. The most I got to contribute was a couple of comments on risk-reward to do with sail changes. Speaking of which, the crew executed something like 35 spinnaker peels, with a success rate ranging from pretty slick to flawless. If the boat was not sailing to its polars for the wind speed and angle, someone – sometimes a couple of them at the same time – would remark on it and start the conversation on changing sails. Most of the time it did not take long to reach a decision. There were only a couple of times the 'five minute' rule was used.
As with all yacht racing, there are moments of pressure and times when there is not much going on. In the former, these young sailors were as calm and poised as any crew I have sailed with. In the latter, they were certainly as funny as any I have sailed with. Stories of regattas, coaching tales, school disasters or fun times were all free range on the simple rule of What Happens on YA Stays on YA. I wish I had written down some of the ripostes volleyed back at stories, but the one that sticks out was a tale of some disaster whereupon someone responded (and I paraphrase), "Ohhh, hashtag awful." How can you not love that sense of humor?
Becker had spent two evenings coaching Clem and Matt on the Expedition routing software, a couple hours per session. As befitting their overall MO, these two guys were able to have it just about make coffee, so proficient are they with this stuff. On at least two occasions, Clem won versus me in discussion of where a mark was.
The worst part was trying to get back through the Race Saturday afternoon (into evening around dusk) in no wind and against the last three hours of the ebb. Maybe that was the hashtag awful line… Eventually the forecast southeaster slowly filled in, but not before I had done my Chef du Bateau routine, boiling water for the freeze-dried meal they had. Otherwise, the main meals seemed to be gummy bears, power bars, fruit and Triscuits. Looking at the slowly greying sky to the SE, I figured a full and warm tummy would be an OK thing for the last 70-odd miles of the race.
True to the clouds, the breeze filled in from the SE bringing with it rain squalls, most of which were harboring biggish shifts in wind speed and direction. As the evening wore on and the classic markers of Long Island Sound surged astern, the breeze steadily filled.
By about 2200 we were west of New Haven aboard a tiller steered J/105, crewed by a collection of high school sailors, blasting along downwind with the biggest kite up, in squalls over 30 knots and rain. Several of the crew took turns steering. My memory is the top speed down a wave was around 16 knots. The young crew was completely at home in the conditions, Matt in particular exercising his Laser background in the steadily increasing sea state. He was happy as a clam at high tide steering the boat up, down and around the waves.
As we closed in on the Cows, we started thinking about the angles into the finish. Clem had it nailed and in reasonably quick succession we – they – peeled off five flawless gybes in fresh breeze, in the dark in rainsqualls and an unpleasant sea state.
The angle from the Cows, west of the red can then up to the breakwater finish dictated a two-sail reach. Yet another near flawless letterbox drop as the bow passed the Cows Bell and Maddy headed up while the rest of us looked for that elusive Can. Three quarters of the way to the Breakwater we finally nailed it, under the lee bow, and after an appropriate course adjustment, came back onto the Stamford Harbor range, crossing the line around 0030.
Turns out all that hard work these teenagers did (again) garnered a second in PHRF class and second in PHRF fleet.
I am told that I have done 18 Vineyard Races. I cannot really remember all of them…well, the time Gordy Wagner and I won the DH class in a borrowed Olson 30 does stand out, but I cannot think of a time when I did less, had the most sleep, and had such a grand result. Somehow, the word got out that I "Sure did sleep a lot." Well, when there is nothing to do, what else IS there to do? After sailing with this crew, I can honestly say it was a race where winning the Golden Pillow award was an honor and a privilege.
Australian born, Joe 'Coop' Cooper stayed in the US after the 1980 America's Cup where he was the boat captain and sailed as Grinder/Sewer-man on Australia. His whole career has focused on sailing, especially the short-handed aspects of it. He lives in Middletown, RI where he coaches, consults and writes on his blog, joecoopersailing.com, when not paying attention to his wife, teenage son, dog, two cats and several, mainly small, boats.