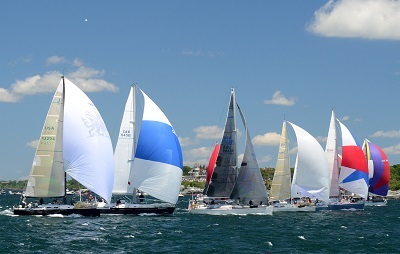 The Bermuda Race Organizing Committee (BROC) has named Safe Harbor Marinas as the Official Boat Preparation Resource for the 2018 Newport Bermuda Race.  Said Bermuda Race Organizing Committee Chairman Jonathan Brewin, "We are very happy to welcome back Brewer Yacht Yards, now owned by Safe Harbor Marinas, as members of the sponsor family for the 51st Bermuda Race.  BROC is especially pleased that Safe Harbor Marinas will again bring its expertise to sailors with its race-preparation seminar."
The Safe Harbor Offshore Boat Preparation Seminar will be held Saturday, October 21, 2017 at the Brewer Pilots Point Marina North Yard clubhouse in Westbrook, CT.  Speakers will include Rives Potts, owner-skipper of the 2010 and 2012 St. David's Lighthouse Trophy winner Carina, and Newport Bermuda Race Chief Inspector James Phyfe.
The team of Safe Harbor experts will discuss the elements of the most commonly used offshore safety standards, including the US Safety Equipment Requirements (US SERs).  Using images and demonstrations, presenters will discuss the intent behind each requirement and straightforward methods of compliance that won't break the bank.  New for the 2018 race is the addition of multihull vessels which will also be addressed in the seminar.
While particular emphasis will be placed on the requirements for the 2018 Newport Bermuda Race, common provisions of all offshore racing requirements will be discussed and ample time will be allowed for questions and answers.  Topics will include: hull construction and stability; rigging and sail selection (including storm sails); safety and emergency equipment; training and Safety at Sea credentials; and, navigation and communications devices.
Of value to both racers and cruisers alike, this series will give anyone preparing their boat for extended voyaging the peace of mind that comes with hearing from the most experienced advisors in the industry.
The cost of $149 per boat entitles all crew members to attend.  For more information on the seminar and to register, please visit https://byy.com/boatseminar . For questions, contact Lynn Oliver at loliver@shmarinas.com.
Safe Harbor Marinas is the Official Boat Preparation Resource of the Newport Bermuda Race.  Experienced staff at Safe Harbor locations will help you and your crew plan and prepare for a successful race. http://www.byy.com/