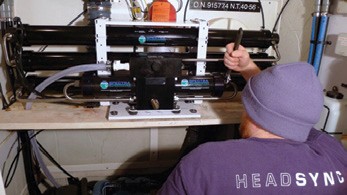 Katadyn Desalination LLC has selected Headsync, LLC, a Newport, RI-based marine service company that specializes in marine plumbing systems, as the sole distributor for Spectra Watermakers in New Jersey. This expands Headsync's distributorship of the systems from Rhode Island southward and into New Jersey. Boaters favor Spectra Watermakers for their ease of use and energy efficiency. Headsync has extensive experience with these systems, following a decade of service, and installations for customers throughout the Northeast.
"We were serving many customers in New York already so New Jersey made perfect sense because many boaters work in New York but live in northern New Jersey," said Bryan Cooney, Headsync LLC's founder and president. "We can now be more effective with our regional marketing efforts, boat shows, and customer service. Mid Coast Marine will serve as Headsync's as Spectra Watermaker dealer in southern New Jersey. Owner and president, Mark Schrenk, is already versed in the installation and service of these machines."
Spectra specializes in energy-efficient desalination systems, said Cooney, and more boat owners are switching DC-powered systems. "The combination of equipment, quality workmanship, and a great group of distributors and tech support around the country makes working with Spectra a true joy for us and our customers," he said. "To ensure our customer's satisfaction, it's important for us to be able to have direct contact with the company's products we represent, and with Spectra we have it." For more information, call Cooney at 401-619-3800, fax 401-619-3801, email bryan@headsync.com, or log onto headsync.com.