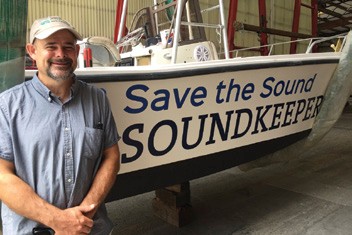 Save the Sound has announced that William G. Lucey is Long Island Sound's new Soundkeeper. Long Island Sound had been without its iconic on-the-water watchdog since Soundkeeper, Inc. co-founder Terry Backer passed away in late 2015. In anticipation of its upcoming merger with Soundkeeper, Inc., Save the Sound is putting the new Soundkeeper on the water.
Bill Lucey   © Save the Sound
Lucey, a native of Wilton, CT, is a fish and wildlife biologist, a former commercial fisherman, and an experienced advocate. He led a coalition to successfully contest a timber sale on tribal lands in Alaska, lobbied federal agencies in Washington, DC, and coordinated the writing and passage of a 2017 invasive species bill in Hawaii. Most recently, he served as project manager for the Kauai Invasive Species Committee at the Research Corporation University of Hawaii. After three decades of conservation work across North America, he decided the time was right to bring his expertise back to benefit Long Island Sound.
"The woods and the waters where you grow up…it kind of gets in your blood," said Lucey. "You never feel truly at home again until you return to your childhood habitat. A lot of progress has been made since I was younger, and I want to be a part of it."
"We're thrilled to welcome Bill back to Long Island Sound," said Curt Johnson, Executive Director of Connecticut Fund for the Environment/Save the Sound. "He has the passion, experience, and technical know-how to continue Terry's legacy by patrolling bays and harbors around the entire Sound and by acting as the Sound's voice in Hartford and Albany."
In addition to regular patrols, the Soundkeeper acts an advocate, organizer, and resource. Lucey will be supported by Save the Sound's water quality team, policy experts, communications staff and environmental attorneys who enforce the Clean Water Act. The Soundkeeper will work for a new non-profit organization that operates as a subsidiary to Save the Sound. To learn more, log onto savethesound.org/soundkeeper.