By Joe Cooper
Consumer warning: This month's column is all over the lot. There's a lot of sailing going on here in the Ocean State, and it's hard to keep it all in order.
The returned volley from my mates in Annapolis after last month's "Sailing Capital of the World" column was surprisingly light. I had some traffic with Bill Sandberg, who veteran WindCheck'ers will remember was the Contributing Editor who, on his decamping to Annapolis, I had the honor to take over from and become the freethinking voice of WindCheck. Bill's remarks were soothing: Maintaining that Annapolis is the Sailing Capital, he conceded that Newport's the Yachting Capital of the World. Well, I was still not convinced. Newport has its fair share of Yachts (definition to come), but it's hard to get "yacht," Spindrift, IMOCA 60s and Class40s in the same sentence.
And one last volley: On the Monday after the Candy Store Cup (cf joecoopersailing.com), one of the young women who sailed with me on a Saturday aboard a 56-meter Perini was, less than 40 hours later, sailing a 420 in the CJ Buckley Regatta, the National Junior Team Race Championship. That's 56 meters to 4.2 meters within two days. I would be more than happy to hear of similar huge swings in boat sizes in such a short time…
Moving along: CJ Buckley. The adults at WindCheck had to, regrettably, limit me to 2,000 words for the piece on this remarkable young man. There is so much about this story that is wondrous. Go and read it, a couple times, for this young man led a life that many of us wish we could have.
You should all know by now that I have a great passion for sailing, not only for myself, but also for introducing high school kids to the sport in any way I can. (WindCheck Ed-in-Chief Gill once told me I was passionate about sailing and I thought he was nuts…turns out he was right.)
A few weeks ago, I had an even better chance to infect someone for life. The folks down the end of our street have a couple of young kids, one at five years old. Perhaps two years ago, the wife asked me about sailing lessons. My default is Sail Newport, and so off she went. A short time later, she asked us if we would send a note to the Ida Lewis Yacht Club supporting her having the young'un take the club's really, really early start Opti class. Done and in. Then, about a week ago she sent us a note saying the kid's final day and cookout was to be on such and such a day and would we come? Me: "Of course."
So, Jill and I got out there and were introduced to the young fellow. I sat down on the deck in front of him, a move I have found important, valuable in fact, in speaking with kids because you're down at their eye level, and they don't have to get a crick in their neck looking up at you. "Giday, mate," I started, "How was the sailing?" "Great!" he replied. "I want to go sailing!" Check off another box.
Last month, I ran what was perhaps the tenth Storm Trysail Foundation Junior Safety-at-Sea Seminar to be held in Newport. These introductions to big boats for high school sailors were started, probably pushing 25 years ago, by Rich duMoulin and some of the Usual Suspects out of Larchmont Yacht Club. The idea was, and remains, to give teenagers a run on Big Boats with the idea that some of them might stick around and be available to crew for you…if not next week, within a few years. It works pretty well.
The curriculum is pretty thorough, and over the years several young sailors have put the drills into practice. In 1996, the Larchmont Junior Racing Team received US Sailing's Arthur B. Hanson Rescue Medal in recognition of a successful man overboard recovery during the Dorade Annual Day Race, and a few years ago I wrote here about a similar episode on Raritan Bay.
The day after the Safety-at-Sea Seminar was the 13th running of the Ida Lewis Distance Race. This race has become a fixture on the local calendar, with many boats returning over multiple years. It's a fun race, easy to do, with good competition and nice surroundings. The party ain't bad either, as is the bottle of Champers presented to every finisher as they cross the line in Newport Harbor. About five years ago, The Ida implemented a Youth Challenge Class as another plank in the goal of educating, training and inspiring the next generation of young sailors.
Requirements for entering this class are a minimum of 40% of the crew between age 14 and 20, with two adults aboard, one of whom has current grown up Safety-at-Sea certification. The number of Youth Challenge entries varies. A couple years ago, we had six boats and the Youth Challenge winners were half a dozen Newport sailors, men and women, sailing a J/111. They were sixth in PHRF overall, so did really well. I have had Prout School sailors in The Ida a few times, three I think, including one year on a Class40 loaned to me by Ralfie Steitz of the USMMA Sailing Foundation…funny how the same guys keep popping up in this field.
Speaking of which, under the leadership of Peter Becker the Young American Junior Big Boat Sailing Team just won their class in this year's Ida, adding another race to the long list these young sailors from American Yacht Club have won. (Hey, wons were on special today…I bought a box.)
During a break in the action at the Junior Safety-at Sea Seminar on Thursday, I was standing under a tent at the ferry dock at Fort Adams when a couple asked me something like, "What regatta is going on this weekend?" I had to think for a minute but eventually came up with, "Which one?" Seeing their puzzlement, I quickly added, "Hey, you're in Newport in the summer!" The two major ones I could immediately think of were the Melges 20 Nationals and the J Class World Championship, which was starting the following week.
Back to the Junior Safety-at Sea Seminar. It is a part of these seminars to arrange for a guest speaker – someone who can put some meat around the discussions and activities of the day. On 15 August 2011, Rambler 100 capsized after the keel structure failed just after they had rounded Fastnet Rock in the Rolex Fastnet Race. What might have been one of the most tragic one-boat accidents in the history of offshore sailing ended up not only not killing anyone – although there was a close shave with hypothermia – but produced an entirely new palette of things to think about when ocean racing.
One of the crew in this incident was an Aussie guy, now a Newport local, named Mick Harvey. I asked Mick to be the guest speaker and he agreed. I suggested that he could speak about the Rambler 100 incident, or really anything to do with his (considerable) experiences. After the on-the-water portion of the seminar, the young students and a few parents and volunteers decamped to the Sail Newport conference room to munch on some pizza and settle in for Mick's presentation. I introduced Mick, and let him go.
Two pretty rare things followed. One, 11 teenagers sat in a room, dead quiet, for 20 minutes. And second, an Aussie spoke about sailing and recounted a situation where so many people came within an ace of losing their lives. Mick started with describing being in his bunk when the 100-foot long, 20-foot wide boat rolled to 90 degrees, then upside down. He and four others were obliged to make their way aft, inside the dark, inverted boat, to the aft hatch to get out. The remaining 20 minutes of so of his presentation brought home, in really serious terms, the kinds of things that the young'uns would need to be thinking about as they progress in their sailing careers, especially if they want to sail offshore.
…and we still have a few weeks of summer sailing in Newport.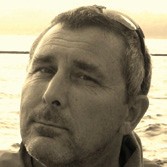 Australian born, Joe 'Coop' Cooper stayed in the US after the 1980 America's Cup where he was the boat captain and sailed as Grinder/Sewer-man on Australia. His whole career has focused on sailing, especially the short-handed aspects of it. He lives in Middletown, RI where he coaches, consults and writes on his blog, joecoopersailing.com, when not paying attention to his wife, teenage son, dog, two cats and several, mainly small, boats.