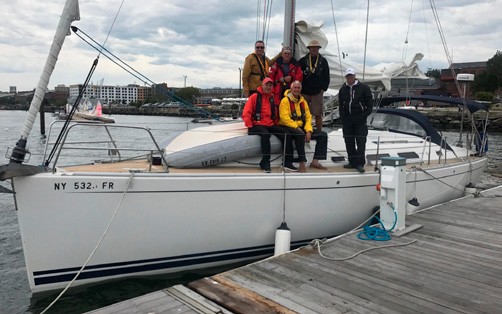 On Wednesday, July 26, 2017 a group of students and two instructors from Sound Sailing Center in Norwalk, CT were en route to Portland, ME on the Hanse 400 Disco Volante when co-captain Wim Jessup, one of the instructors, spotted an overturned powerboat and a large group of people in the water off Wareham, MA. Jessup sent out a Mayday call while the second instructor, Sound Sailing Center President Martin van Breems, and the four adult students started a rescue operation.
The crew of the Disco Volante rescued nine boaters whose boat had overturned near the Cape Cod Canal.   © Sound Sailing Center
The class had spent the afternoon reviewing how to bring a MOB on board, using the method van Breems has written about, and were approaching the Cape Cod Canal breakwater where the strong current against the 15- to 17-knot southwesterly was kicking up steep, breaking seas. The powerboat was carrying three adults and nine children when it capsized around 4:40 pm near Hog Island Channel. "They were all screaming at us, as another boat had already passed them by," said van Breems. "We sailed past and assured them we would be right back to pick them up, then turned upwind and got our sails down. Next we deployed our Lifesling, and dragged it over to where a group of eight kids and one adult were."
"In practicing MOB drills, of course there is typically just one person in the water. Pulling in nine people takes a fair amount of effort, so we had two or three guys pulling the Lifesling line and two guys lifting each person out of the water. In choppy seas like those the stern often pounds in the waves, so we always bring MOBs aboard amidships."
An 8-year-old boy was still unaccounted for, and two adults were in the water next to the overturned boat. "They kept screaming, 'There's a kid under the boat!'" said van Breems, explaining that they made the decision to get everyone else onto the Disco Volante before sending someone into the water to look for the boy.
"I was going to go in, and already had my lifejacket off," van Breems continued, "but police and harbormaster boats had arrived as we were hauling in the last kid and they took over the rescue. The kids on our boat were screaming, crying and shivering, and one was hyperventilating. They were all in bathing suits with lifejackets on, so we took them below and wrapped them in blankets. One of the rescue boats cut our Lifesling line, and was very close to us. Our motor was off at that point, so we could not maneuver and it was of course chaotic."
The U.S. Coast Guard then arrived with a rescue boat and a Sikorsky MH-60 Jayhawk helicopter. "We made the decision to get the kids we had on board to shore," said van Breems. "With several boats on the scene, we started our motor and pulled away."
Professional diver Mike Margulis heard the distress call and was nearby, so he responded and dove under the boat. "I was reaching and searching through debris," said Margulis. "I saw the lifejacket, and was able to get the boy from underneath a bow section." It was Margulis' first rescue dive. An Environmental Police officer and the Marion Assistant Harbormaster performed CPR on 8-year-old Harry O'Connor, who was taken to Tobey Hospital and subsequently airlifted to Boston. He died Saturday, July 29 at Boston Children's Hospital. None of the other boaters sustained serious injuries.
Reflecting on the incident, van Breems added, "One other point which I have drilled my kids on is the importance of getting out of a lifejacket if trapped under an overturned boat, as the flotation will keep you pinned inside." He also believes he might have been able to use the Disco Volante's halyards to right the boat. "By laying alongside the overturned boat, wrapping the halyard outside and under the boat, it should be possible to roll the boat over," he explained. "I intend to test this the next time Norwalk Cove Marina is cutting up a derelict motorboat – we will first launch, scuttle, and roll it over. My guess is that righting a small, semi-submerged motorboat will not be difficult, and might be a useful technique if a sailboat is on the scene as we were."
Kudos to the Disco Volante crew and the other first responders for this heroic rescue! More information about Sound Sailing Center can be found at soundsailingcenter.com.