CJ Buckley and the ripples he created
By Joe Cooper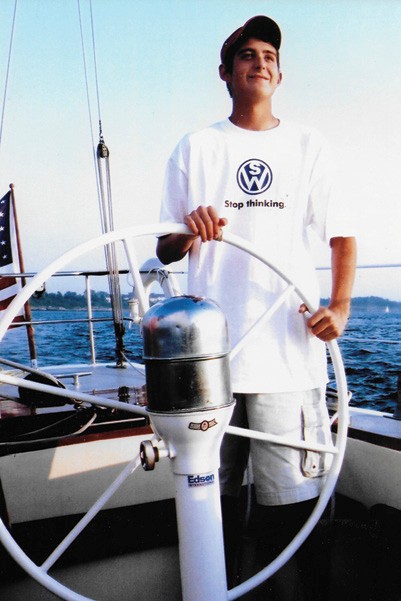 A pebble dropped into a pond propagates ripples, spreading outward and visible long after the pebble has disappeared. So it is with the memory of a young man named CJ Buckley. The ripples he created are still spreading out today, literally across the country. And if ever you were to consider helping your local community sailing program, CJ's story is exactly the reason you should.
Fifteen years after his passing, CJ Buckley continues to inspire.   Photo courtesy of Lucy & Carter Buckley
In the early 1990s, Community Boating Center in Providence, RI, was just getting going. One day in the spring of 1994, Lucy and Carter Buckley, with the young CJ in tow, were at a craft fair at India Point Park, the property on which CBC was being developed. There was a fellow from Community Boating using a megaphone to invite visitors to come and 'try sailing.' CJ took him up on his offer and the rest, as they say, is history.
CJ loved sailing from the get go. He was, as Lucy said, 'hooked.' 'Immediately,' Carter chimed in as we talked and sipped coffee on the deck at the East Greenwich Yacht Club in East Greenwich, RI, a biscuit toss from the Greenwich Bay Sailing Association (GBSA) and the sailing center named in CJ's memory. From that first 'try sailing' moment, all CJ wanted to do was sail. He was 9 years old. From this serendipitous beginning, CJ went on to become a skilled and successful sailor in fleet and team racing, the latter a format popular in high school sailing and in which CJ was regarded as a natural by his coach at Tabor Academy.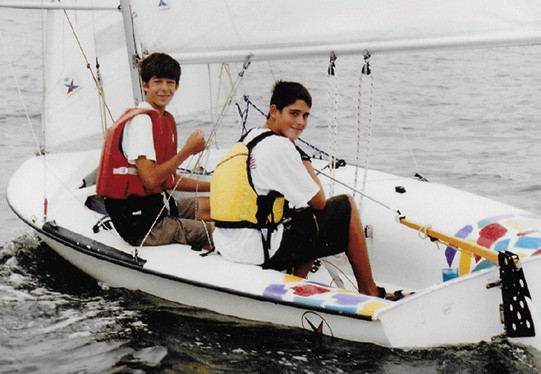 A couple years on, CJ started sailing at Greenwich Bay Sailing Association. By this time he was pretty good and getting better. He would spend the eight weeks of summer down at the waterfront, helping the younger kids, learning about fixing boats, cleaning the shed. In short, anything to do with boats and sailing…a fully qualified Wharf Rat.
CJ, pictured with crew Tom Jacobellis, had a particular affinity and talent for team racing. A longtime friend, Tom stood by CJ to the end. Photo courtesy of Lucy & Carter Buckley
In the summer of 2001, after returning from winning a regatta, CJ was heading out to a movie with a mate when he remarked to his mum that he had a headache. He downed a Tylenol and went off to the movie. The short version of the next 16 months is that this bright and engaging young man, who had already impacted the lives of almost everyone he met through sailing had developed brain cancer and crossed the bar on December 10, 2002. During that time, CJ's drive to sail never diminished. He sailed and continued to win. His time with his mates did not revolve around the arcane sciences of cancer medicines. Rather his talk was of sail trim, racing rules, and the fun of sailing. The pleasure, joy, fun and satisfaction he got from sailing transmitted, like the rings from the pebble in the pond, everywhere he went.
In the time between diagnosis and sailing off, hull down over the horizon, CJ continued to sail as often as his condition and the treatments allowed. The string of anecdotes that Carter and Lucy shared with me about CJ during the illness far outstrips the space available for this essay, but they include many, many examples of courage in the face of this appalling illness. He always had willingness to help others, a drive to improve his sailing, and a light and joy that's rare even in those of us not battling a deadly disease. Pictures from this time show an impish smile with bright eyes, gazing out from under a thatch of black hair.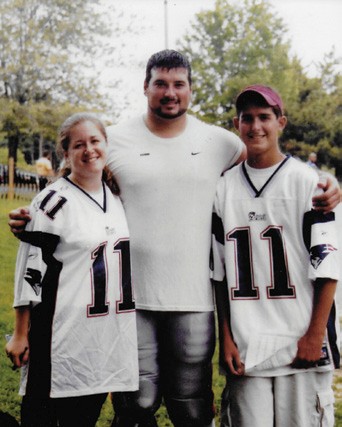 The circle of rings across CJ's pond is wide. A professional football player, two strangers in the Boston Marathon, Indian, Russian and African émigrés, a child in Australia, a highly successful and much lauded documentary film company, three local schools, and junior sailors from around the country have all been inspired by CJ and his shining light, even 15 years on. After meeting CJ and his family and spending time with them through CJ's trials, Joe Andruzzi, who won three Super Bowl rings with the New England Patriots, and his wife Jen established the CJ Buckley Brain Cancer Research Fund at Boston Children's Hospital. Jen & Joe's fifth child is named for CJ.
CJ and his sister Helen share a moment with New England Patriots offensive guard Joe Andruzzi, who co-founded the CJ Buckley Brain Cancer Research Fund. Photo courtesy of Lucy & Carter Buckley
In early 2003, a few months after CJ left them, a group of his mates, teenagers, gathered with the goal of doing something to remember CJ. These discussions brought in their parents, and resulted in a modest sized regatta, 20 420s, out of GBSA in the summer of 2003. It was called the Video Regatta, because the coach boats had video cameras so that sailors could watch the replay of the day. The coaches also used the footage to help the young sailors improve their game. In 2004, the format changed to team racing to reflect CJ's passion for and skill in this format. This event, now called the CJ Buckley Team Race Regatta, grew over the next few years. In 2009, the Club 420 Association requested that it become the National Junior Team Race Championship, a status it has retained to this day.
A line item in the early discussions about 'doing something' was whether to use money raised to help fund cancer research. Carter, Lucy and CJ's sister Helen decided that since CJ's life was sailing, so much more than his cancer, the money would be put into a scholarship foundation for sailors on Narragansett Bay. The goal was, and remains, to help fund young sailors with the skills, drive and desire to succeed, not just for a regatta or a season, but for the term of the sailor's participation or until they aged out. The first recipient of the CJ Buckley Scholarship was a young woman from Russia, Olga Goretoy, who went on to be a GBSA program director and a tireless volunteer at the regatta.
In 2015 Lucy Buckley mentioned to her neighbor, Gary Glassman, that she had written letters to GoPro about getting some cameras donated so kids could do a rematch of the original Video Regatta. Gary, a principal at Providence Pictures, said, "Let me make some calls." Gary knew the father of the founder of GoPro, and told him the CJ story. The dad, Dean Woodman, is a sailor and he said, "Yup, this has gotta happen." Twelve GoPros were gifted to the Moses Brown School in Providence – Dean's an alumnus – with the stipulation they be loaned yearly to the CJ Buckley Regatta.
The cameras were mounted on the 420s for the 2015 CJ Buckley Regatta, and Gary lassoed several film students from Providence College and Moses Brown School, and Providence Pictures's producer Ben Sweeney directed the shooting. Manya Glassman, Gary's daughter and a budding filmmaker herself, did a masterful job of editing, interestingly without being at the regatta. The video can be viewed at cjbuckleyregatta.net.
I had heard about 'The CJ' or 'The Buckley Regatta' for a while but it was background, white noise given the hectic schedule junior sailors have on Narragansett Bay. This year, I paid more attention because some of my sailors from The Prout School were competing. In advance of this I spent a lot of time on the CJ Buckley website and had my first exposure to this young man.
After finding my way to the beach at Goddard State Park in East Greenwich on July 31, I was introduced to the Buckleys by a mate of mine from GBSA. They were sitting at a table inside the now deserted rotunda, the kids having had the skippers meeting earlier. Lucy and Carter were smiling and gracious, even after I remarked, "What a great regatta you have here." As these words were leaving my mouth I regretted saying them because, well, it was a lovely day with a summer southwesterly coming on, but given the loss of their child, at just 17 from brain cancer, just how great could it really be? Well, actually pretty great, considering. The adage about lemons and lemonade might use a picture of the Buckleys to articulate the idea that life must go on, regardless. That picture could also double as an image of parental pride in a son, so terribly taken from them, but who remains with them in ways many who leave us are not.
Walking down to the parking lot, filled with double, triple and quad trailers towed by cars with tags from all around the country, I knew I was at a significant regatta. The really telling element, however – quite different from fleet regattas where there is more of a 'Get out there and win' and 'Be focused' atmosphere – was the sense of fun and of happiness in the air. The kids were joshing each other, laughing and smiling, and looking not the least bit stressed.
I was fortunate to get out on the Saunderstown Yacht Club coach boat, Saunderstown being the club the Prout sailors were representing. Team racing is pretty intense and happens really fast, but if you goof you have another chance to do better in 10 minutes or so. There are usually a couple college coaches available for low-key, on-the-water judging, and the CJ has attracted notable and successful coaches from Tufts, U.S. Naval Academy, U.S. Coast Guard Academy and Stanford.
Hosted by GBSA and East Greenwich YC, the CJ has been contracted from the previous 36 teams down to a more manageable 24. Six sailors per team plus subs, coaches and the occasional parents add up to close to 200 souls. All of these people are, whether they know it or not (and I only just learned) memorializing the joy that a young man found, quite literally by chance, in sailing.
The five families who established what became the CJ Buckley Regatta, the Assads, Baeders, Langellas, Millards and Murthas, as well as more recent additions the Coughlins, Elsons and Wehrs, remain deeply committed to CJ's spirit and the event held in his name every year. Justin Assad, who coached CJ, serves as Principal Race Officer, and his brother Kyle Assad, a team member at GBSA during CJ's time there, is the Chief Technical Officer. Families from that period plan summer holidays around returning to East Greenwich to volunteer at the CJ.
Seventy-five dedicated volunteers do everything from running the start and mark boats (on two circles), registration, sorting awards (including ones for seamanship and sportsmanship), and preparing the event's signature "flying lunches." Sandwiches are packed in Ziploc bags and pitched to sailors between races, eliminating the need for a shore break for lunch. There is a T-shirt design contest, with the winning design being that year's official shirt, and samples of these shirts going back 15 years are hung in the rotunda at Goddard Park beach. Sailors receive reusable water bottles each year, emblazoned with the same design as the T-shirts. There seems to be no diminution in interest by the reduction in the number of teams the regatta hosts. Registration previously opened towards the end of May. This year's registration opened in early April and by late May was fully subscribed with a wait list.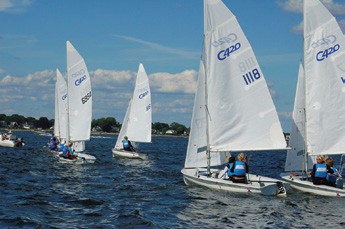 The building from which GBSA operates is called the CJ Buckley Sailing Center. GBSA is one of the more prominent sailing centers on Narragansett Bay, and every year hundreds, possibly thousands, of youngsters are introduced to the joys of sailing in a building named for one young man whose dedication to sailing has spread far and wide, just like ripples from a pebble dropped in a pond.
Two hundred and thirty-seven team racers from as far away as the USVI, Mexico, England and Turkey sailed in this year's "CJ," hosted by GBSA and East Greenwich YC July 31 & August 1. ©cjbuckleyregatta.net