47th Annual Newport International Boat Show
September 14 – 17, 2017 in Newport, RI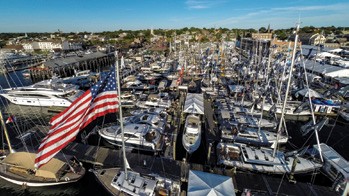 The Newport International Boat Show kicks off the 2017 fall boat show season.   ©NewportBoatShow.com
One of the largest and most prestigious boat shows in the country, the Newport International Boat Show spans 13 acres of the City by the Sea's downtown waterfront. Hundreds of domestic and international companies participate and offer a full range of powerboats and sailboats, plus an extensive array of marine products and services to enhance the nautical lifestyle. Special events, educational seminars and hands-on training courses for the whole family are offered throughout the show.
CruiserPort University, presented by PassageMaker, SAIL, Soundings, Power & Motoryacht and the producers of TrawlerFest boat shows, returns to Newport with a seminar series designed for Northeast mariners seeking to extend their horizons. CruiserPort University: The Bluewater Edition features a package of 11 seminars to hone the offshore skills of sailors and powerboaters alike.
The seminars, two and 3½ hours in length, take place Wednesday through Saturday, September 13 – 16 at the Newport Blues Café, located directly across Thames Street from the entrance to the show. You can participate in all 11 sessions over four days for $799 (includes box lunches), or purchase individual seminars priced at $75 or $150. Participants will receive certificates of completion that can lower insurance rates.
Expert presenters will discuss such topics as Troubleshooting & Repairing Diesel Engines Underway; Offshore Weather; First Aid & Emergency Preparedness at Sea; Old School Navigation; To Bermuda, the Caribbean & Beyond; Survival at Sea; Storm Tactics: Power & Sail; and more. Further information on CruiserPort University at the Newport International Boat Show can be found at PassageMaker.com or via email at CruiserPort@PassageMaker.com.
There's nothing more valuable than hands-on training to make you a better, safer and more confident boater, and Confident Captain/Ocean Pros is once again offering their popular At the Helm courses at the show. Take the helm of a powerboat or sailboat with a professional USCG-licensed captain who will lead you through engaging lessons and strategies to help improve your confidence and ability and make your time on the water fun. All experience levels are welcome, and you'll never feel pressured to buy a boat because Confident Captain instructors are professional captains, not salesmen. The courses are offered all four days of the show for both powerboat and sailboat, and are open to all show attendees. Advance online registration via the show website is recommended, as these courses sell out quickly.
Presented in partnership with Cruising World, Sailing World and Yachting magazines, Newport For New Products (NFNP) showcases new 2018 foreign and domestic boats and products that are making their U.S. debut at the show. "Best of" awards are given by expert judges on Friday, recognizing creativity, innovation and practicality in nautical solutions and design. New for 2017 is a "Green" category, with awards given to one boat and one product based on the ecological benefits and features of each entry. Look for the NFNP decals and balloons signifying each new debut, and be one of the first to view and explore these exciting new models while speaking firsthand with the experts who know them best.
If you're in the market for an electric vehicle, Tesla invites you to experience their award-winning Model X and Model S at Easton's Beach during the show. You'll have the opportunity to learn about Tesla's active safety and convenience features, how to charge your Tesla at home or on the road, and how an EV can fit seamlessly into your lifestyle. To make a 30-minute appointment that includes a 15-minute driving session, RSVP at tesla.com/event/experience-tesla-newport.
Show hours are Thursday, Friday and Saturday from 10 am to 6 pm, and Sunday from 10 am to 5 pm. Advance discount tickets are available online. Thursday, September 14 is VIP Day, and attendees will receive special attention from exhibitors. VIP Day tickets are $35. Admission on Friday, Saturday or Sunday is $19 ($15 in advance). Two-day standard and VIP packages are also available. Children under 12 are free every day when accompanied by an adult, and a free shuttle bus runs between the show and Easton's Beach. For more information, visit NewportBoatShow.com.
Newport Brokerage Boat Show
September 14 – 17, 2017 at Newport Shipyard, Newport, RI
Running concurrently with the Newport International Boat Show, the Newport Brokerage Boat Show is the largest in-water display of quality brokerage yachts north of South Florida. Don't miss the chance to view more than 100 sail and power yachts from 40 to 180 feet, represented by more than 30 brokerage firms. Admission to this show is complimentary, and you can take a water shuttle to the International Boat Show (where you'll need to purchase a ticket for admission). For more information including a list of yachts on display, log onto BrokerageBoatShow.com.
2nd Annual Bowen's Wharf Newport Wooden Boat Show
September 14 – 17 at Bowen's Wharf Ferry Landing Marina, Newport, RI
Concurrent with the Newport International Boat Show and the Newport Brokerage Boat Show, this event features powerboats, sailboats and other wooden craft from Bristol Boat Company, First Light Boatworks, Concordia Company, Arey's Pond, Newport Nautical Timbers, McMillen Yachts, IYRS School of Technology & Trades, the Shannon River Marine Heritage Foundation's replica of Ernest Hemingway's 1934 sportfishing boat Pilar (handicap accessible), and others.
Show hours are 10 am to 6 pm Thursday, Friday and Saturday, and 10 am to 5 pm Sunday. Come enjoy live Caribbean Music and a waterfront bar where proceeds support a local non-profit organization. For more details, visit bowenswharf.com or check Facebook for "Newport Wooden Boat Show."
42nd Annual Progressive® Insurance Norwalk Boat Show
September 21 – 24, 2017 at Norwalk Cove Marina, Norwalk, CT
The Northeast's premier boat show offers something for boaters of every stripe, with educational seminars, boat handling workshops, on-the water demos, entertainment, special attractions, kids' activities, and more.
For seminars taught by professional captions from the Annapolis School of Seamanship, head to the Boat Confident tent to learn practical skills and get one-on-one advice. Down on the docks, the Boat Confident training boat will be in the water for hourly docking demonstrations, clinics and hands-on training.
If you want to learn what it takes to maintain, repair or upgrade your boat or engine, head to Fred's Shed Interactive Learning Center. These free DIY seminars will cover a variety of topics, and will include demonstrations and Q&A sessions. Be sure to come with projects and questions to discuss – and leave with the know-how, confidence and inspiration to do it yourself.
If you'd like to Try Power Boating, relax and enjoy a free ride on Long Island Sound aboard a bowrider, compliments of Rex Boating Club. In the Try It Cove, you and your family can try stand up paddle boarding and kayaking. Three Belles Outfitters will offer demos, or you can relax on the Solstice Floating Dock.
Tropical troubadour Eric Stone will be performing from 11 am to 7 pm daily in the Water Club Lounge, playing his unique blend of rock, pop and country inspired by the islands and his love of the water.
At the Kids' Create a Boat workshop, young attendees can build a one-of-a-kind nautical masterpiece, and in the Kids' Boating booth they can navigate a mini lake in a paddleboat (life jackets are supplied). Perhaps best of all, they'll have an opportunity on Saturday and Sunday from 12 to 4 pm to meet the girl who is determined, positive, helpful, caring and always ready for adventure, Dora the Explorer!
Show hours are 10 am to 7 pm daily. Adult tickets are $15, and ages 15 and under are admitted free when accompanied by an adult. For more information including seminar and special event schedules, and to save $2 by purchasing tickets in advance, visit BoatShowNorwalk.com.
48th Annual United States Sailboat Show
October 5 – 9, 2017 at City Dock, Annapolis, MD
For nearly half a century, sailors from around the globe have traveled to historic downtown Annapolis each fall for the world's largest, most prestigious, and oldest in-water sailboat show.
The First Sail Workshop, sponsored by Annapolis Boat Shows, Beneteau America, the American Sailing Association and SailTime, is a hands-on workshop designed for beginning sailors. You'll experience the joy of sailing on a Beneteau First 22 with a certified instructor. The Two Can Sail Couples Cruising Seminar, sponsored by Two Can Sail, Blue Water Sailing, SeaTech Systems, Massey Yachts and Weems & Plath, is a forum in which Team Jeff & Jean will share the knowledge they have gained in the unique aspects that are found with one couple on a cruising boat, and their experience from over 60 combined years of cruising, racing and teaching couples.
Blue Water Sailing presents the Mahina Offshore Cruising Seminar, an all-day workshop created to help you save years and thousands of dollars as you prepare for your cruising adventures. The Catamaran Cruising Seminar presented by Multihulls Quarterly will help you go from talking about buying a catamaran to living aboard your dream yacht. The Make Your Escape seminar, presented by Cruising World, comprises six workshops designed to help you make your cruise a reality.
If you're looking for the sailboat of your dreams, the Take the Wheel Interactive Workshop/Boat Demo is an opportunity for couples to try the boats of their choice, compare one against the other, and narrow the search for your new boat. Additionally, The Annapolis School of Seamanship and Chesapeake Bay magazines are presenting a series of Free Seminars on Sailing for novices and experienced sailors alike.
Show hours are 10 am to 6 pm Thursday (VIP Preview Day), 10 am to 6:30 pm Friday, Saturday and Sunday, and 10 am – 5 pm Monday. All tickets are $35 on Thursday, and adult tickets are $18 on Friday through Monday. Tickets for children ages 7 – 12 are $5, and kids 6 and under are admitted free when accompanied by an adult. For more information and to purchase advance tickets, visit AnnapolisBoatShows.com.
46th Annual United States Powerboat Show
October 12 – 15, 2017 at City Dock, Annapolis, MD
You'll find everything from luxurious motor yachts and trawlers to high-performance boats and offshore fishing machines at the world's oldest and largest in-water powerboat show, including the largest power catamaran section in the world.
Show hours are 10 am to 6 pm Thursday (VIP Preview Day), 10 am to 6:30 pm Friday and Saturday, and 10 am to 5 pm Sunday. All tickets are $35 on Thursday, and adult tickets are $18 on Friday, Saturday and Sunday. Children's tickets are $5 on Friday, Saturday and Sunday, and kids 6 and under are admitted free when accompanied by an adult. For more information, visit AnnapolisBoatShows.com.