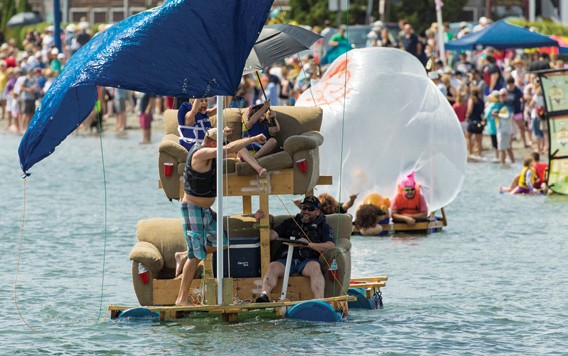 The 40th Annual Fools' Rules Regatta was held, for only the second time ever, on the rain date, Sunday, August 13, in Jamestown, RI. This is the largest, most enjoyable event (free to participants and spectators) held in Jamestown each summer, and is sponsored by Jamestown Yacht Club. Several hundred spectators lined the beach this year to watch the construction of 31 "vessels," then watched their crews attempt to complete a 500-yard downwind race.
We don't know if the steering on this Homer Simpson-inspired entry actually worked, but we love the precision placement of the cooler on the "center line"…and the custom cup holders!   © Onne van der Wal/vanderwal.com
"Boats" must be wind-powered, and constructed from non-marine items within two hours on the beach the morning of the event. Past entries have been made of blocks of ice, beds, picnic tables, Perdue chicken boxes, doghouses, sandboxes, trashcans, hay bales, and even a Volkswagen, with bedsheets, tarps, umbrellas, and a trampoline used for sails. This year's contenders included one made with sofas and another from a golf putting green attached to a barge. "Every time we think we've seen it all, another ingenious or silly idea surfaces," commented one committee member. Unsurprisingly, many entries never reach the finish line…and this year two barely crossed the starting line before sinking.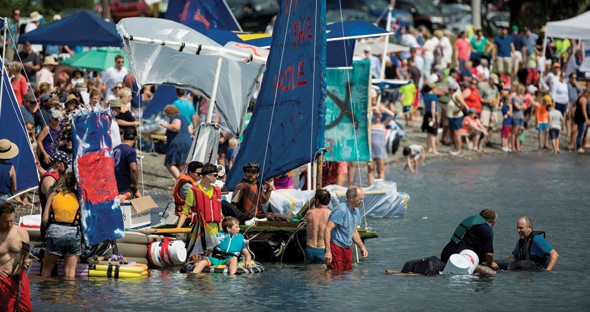 It's easy to see why Newport Life named this event the Best Regatta on Narragansett Bay…although we're guessing the crew on the right was scored "DNS."   © Onne van der Wal/vanderwal.com
Ribbons are awarded to the first, second and third place finishers in each of five classes, with Classes 1 through 4 determined by the number of crew. The Unlimited class entries are crewed by five or more, and are often quite large. Three special awards are given annually. The "Karl Smith Most Ingenious Design" is named after the man who founded the regatta in 1978. "The Worst Example of Naval Architecture" is typically claimed by an entry that sinks or falls apart. The "Frank Newman Judges' Award" is named after the former President of URI whose "vessels" always had wonderful themes. One of this year's entries hailed from Peekskill, NY, and the others from Rhode Island (primarily Jamestown). As a celebration of the 40th year, reggae band Soulshot performed Saturday in downtown Jamestown.
Chris Powell has served as "Chief Fool" since 1981, regaling the crowd with his blue blazer, red shorts, nautical socks (one green, one red) and ever-present bullhorn. This year was his last, however, and he's turned over the title of "Chief Fool" to longtime participant Greg Hunter, whose wife Lynne is taking over publicity duties from Chris' wife Candy. For more foolishness, log onto jyc.org/FoolsRules/ThisYearsFoolsRules.htm.