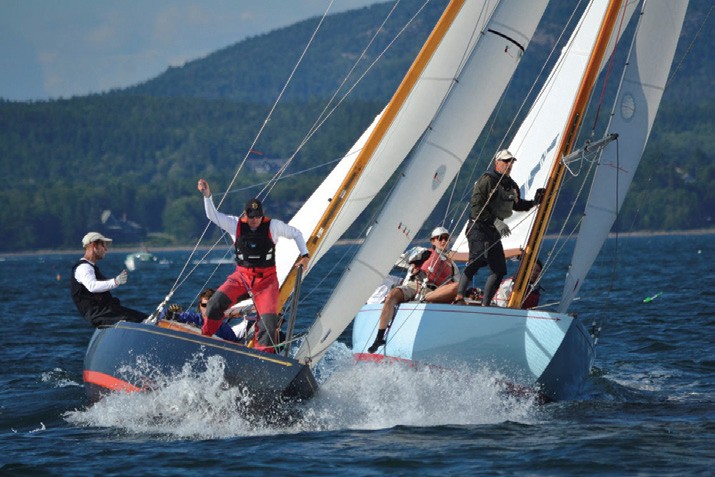 Eight past world champions showed up within a 20-boat fleet in late August to race in the International One-Design World Championship at Northeast Harbor, ME. Five days and 10 races later, the team led by Isabelle & Jonathan Farrar of Fishers Island, NY outlasted the rest of the Norwegians, Swedes, Bermudians, Canadians, and other Americans to capture the championship—their second victory in three years.
Twenty teams from Norway, Sweden, Bermuda, Canada and the USA contested the 2017 IOD Worlds.   © Sue Charles
The Northeast Harbor IOD fleet dates back to the 1930s, and in keeping with the class format, all teams rotated through 10 different boats for the 10 races with no owners sailing their own boats. Most impressive is the fact that most of these well-maintained boats are Norwegian-built wood hulls built from the '30s through early '60s, and all have wooden spars.
Teams from the Fishers Island Yacht Club were well positioned all regatta, with the co-skipper team of Peter Rugg and John Burnham leading most of the way. It was "chutes and ladders" type of racing for everyone, with massive windshifts and lulls. By midweek, everyone had one or more double-digit finishes on their scoreline.
Another two-time champion, Elliott Wislar, from Long Island Sound, made a run at the lead early in the week, and then local Northeast Harbor ace John Henry moved into contention with one day to go. But the Farrars stayed closest, especially after making a big comeback to win the second race of the final day when the southwester replaced the northerly.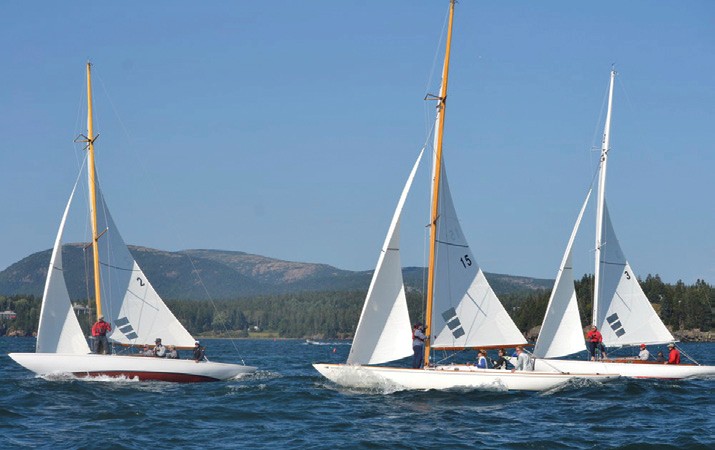 The Northeast Harbor Fleet hosted the regatta in one of most beautiful places in the world to sail.   © Sue Charles
In the finale, started just before the time limit for racing expired, the Farrars, with crew Kevin Gilman, Mike McNamara, and Kevin Wyp, finished far enough ahead to take the championship by a point. The lead widened comfortably after racers came ashore when Burnham and Rugg took a 6-point scoring penalty for a right-of-way collision in the ninth race.
John Henry finished well enough on Friday to earn the third spot on the podium for Northeast Harbor, and his fellow fleet competitor, David Rockefeller, Jr., finished well enough on the last day to earn fourth place just ahead of Patrick Cooper (Bermuda), and Peter Wickwire (Chester, Canada).
The International One-Design Class turned 80 years old in 2017 and celebrated with the addition of a new five-boat fleet at the Manhattan Yacht Club in New York City. The fleet was represented by Eric Leitner and Luigi Galbiati, who finished 8th and served notice that they'd be back as they won a pair of races.