By Tyson Bottenus, At-Large Ambassador for Sailors for the Sea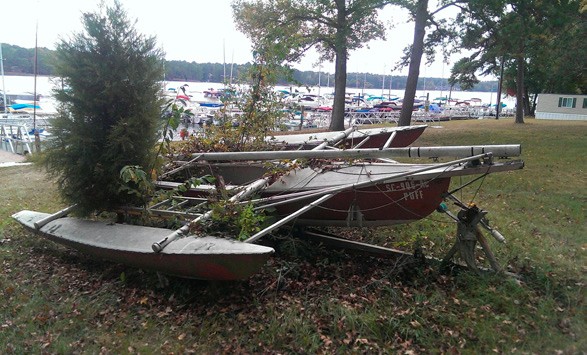 Old boats are a dime a dozen in the Northeast, and every year the problem keeps compounding. After a few years off the market, a used boat's value drops precipitously and eventually it always seems to find itself under a tarp in someone's backyard, or laying in waste at the back of a boatyard; its fiberglass hull slowly turning black and waterlogged, its lines fraying from ultraviolet radiation.
She used to be somebody's dream, but this derelict boat might have a future as an alternative kiln fuel in the cement industry.
Many of these boats will make their way to the landfill. But the path there is an expensive and time extensive process. It's estimated that it would cost $20 million to dispose of the estimated 1,500 abandoned or derelict boats in Florida alone. In Rhode Island, the smallest state with an almost-full landfill, the question of what to do with derelict fiberglass boats is a pressing concern.
"It's not like you can recycle fiberglass like you can recycle a plastic bottle," says Evan Ridley, a Research Assistant at the Rhode Island Sea Grant. "With fiberglass, you're breaking down that fiber resin matrix and then when you try to separate the resin from the fiber, you're going to lose a lot of the tensile strength that makes fiberglass a really valuable and useful material."
But while a fiberglass boat can't be recycled in the traditional sense, its "end of life", says Ridley, doesn't need to be in the landfill. "We need to start thinking about more sustainable solutions for material that's potentially useful, like fiberglass. The global demand for fiberglass is going up and the production is going up and to be throwing it away is counterintuitive."
The breakthrough for Ridley and Rhode Island Sea Grant came when they began investigating the European wind industry. Since 2004, most European Union member states passed laws forbidding the disposal of carbon fiber composites. For a growing industry such as wind, this presented a challenge as rotor blades frequently break or need to be replaced. One study conducted by the University of Bremen found that at the current rate of growth in the wind industry, nearly 225,000 tons of rotor blade waste would be generated by 2034.
To eliminate this obstacle, an unlikely partnership was formed between different industries in Europe. "What we found," says Ridley, "is that fiberglass has been adopted as this wonder material by the European cement industry as a basis for what's considered an 'alternative kiln fuel.'"
Cement is manufactured when crushed rock and other ingredients are ground, mixed, and fed into a cement kiln. The kiln heats up these ingredients to 2,700 degrees Fahrenheit. Traditionally, this procedure requires an enormous amount of energy, and coincidentally, is responsible for being one of the largest emitters of greenhouse gasses, but many large cement producers are actively considering alternative ways to fuel their kilns in ways that reduce their carbon footprint.
To investigate whether derelict fiberglass boats might make a good candidate as an alternative fuel, Ridley cut up pieces of an old 20-foot Cape Dory that he found access to in Rhode Island.
"Fiberglass, as it turns out, has this thermal property that retains heat when it's burned inside a kiln," says Ridley. "The other interesting thing about fiberglass is that when you use it in the right amounts there's potential for the other ingredients in the glass and the fiber and in the resin itself to supplement some of the raw materials that go into making cement; stuff like the limestone and the silica and the alumina [aluminum oxide]."
This development has set Ridley off in new directions now, most notably aimed at figuring out the logistics of how to supply the cement industry with enough derelict fiberglass boats in a way that's feasible and not cost prohibitive.
"One of the questions we're tracking down is how can we ensure a level of quality from recycled boat material when you've got one boat that's from 1960 that's got a bunch of extra resin and one from the 1980s that's very thin and has balsa wood in the core," says Ridley. "Obviously there are concerns about whether or not they will be receiving a material with a consistent level of quality because that's very important when you're selling a product such as cement."
Provided they can make that kind of guarantee, there are other challenges as well. How will the boats get collected? Where will they get collected? Who will grind down fiberglass boats to manageable sizes and transport this material to cement companies? What about health and safety? These are just a handful of questions Ridley is working on currently.
To fund a pilot project aimed at connecting the cement industry with the marine industry, Ridley recognizes that he will need some sort of legislative support and possibly an increase in the bi-annual registration fees recreational boat owners pay on their vessels. "There are a lot of steps that are happening at once," says Ridley, "and part of that is figuring out how the business model works and then part of that is continuing to coordinate on the technical side with the other parties while continuing to look for partners here in Rhode Island and in New England potentially."
Ridley, who is also a graduate student in the University of Rhode Island Marine Affairs department, started this project two years ago when he was offered a research assistantship with Rhode Island Sea Grant. In six months, he's set to graduate, but he says that if the Rhode Island Marine Trade Association and the cement industry haven't explicitly told him 'No,' he's willing to stick around to further the burgeoning relationship.
"The great thing that we're doing at Sea Grant, since it's a national program, is that if we can get a strategic plan written for developing a pilot program in Rhode Island, we could then share that with all the other Sea Grant programs in the network; all 33 states that, no doubt have these same issues, but have better access to cement markets than the East Coast. It's potentially a national solution if we can get it off the ground in our own little laboratory, so to speak."
Take Action
Landfills are filling up. Think twice about dropping your grandfather's old boat at the transfer station, but remember, never sink or abandon your old boat!
Call your marina, local college sailing team, maritime museum or search "boat donation" to learn about possible donation organizations in your area. One person's trash is another person's treasure.
Think creatively about repurposing your old dinghy. Small boats make for a terrific raised bed garden!
This Sailors for the Sea Ocean Watch Essay is reprinted with permission. For more information, visit sailorsforthesea.org. To learn more about Sea Grant, log onto seagrant.noaa.gov.