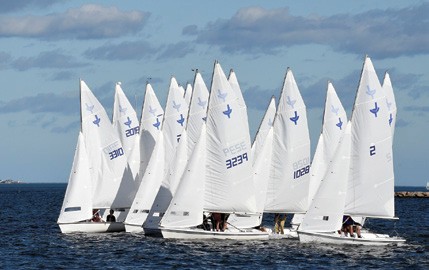 The JY15 Class held its 28th consecutive North American Championships at Duck Island Yacht Club in Westbrook, CT on September 23 & 24, 2017. Two recent Dartmouth sailing team graduates, Scott Houck and Hollis von Summer, brought great talent to the class and dominated the 18-boat fleet to take the 2017 North American title.
Eighteen boats contested the 28th JY15 North American Championships. © Fred Beckham
"Not only was Scott Houck new to the class, it was his first time in the boat which makes it an even more impressive victory against JY15 veterans such as Paul-Jon Patin, Mark McCarthy, Mark Allen, Bud Rogers, Seth Barrows, Chris Vann and many more," said JY15 Class President Bill Nightingale.
"As newcomers to the fleet, Hollis and I focused on the basics – clean start, hike hard, head out of the boat, and stay on the lifted tack," said Houck. "The pressure and direction was super visible on the water, making it critical to 'connect the dots' between each new breeze line. Being able to hold your lane for a while off the line was crucial as starboard seemed to be the favored tack most of the day. After racing, we enjoyed copious refreshments and a tasty Italian dinner before a video highlight/strategy sesh, which was awesome. I haven't sailed in any other classes that do that!"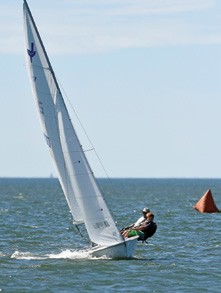 Mark McCarthy and his 12-year-old son Will sailed Karma to a fifth place finish. © Fred Beckham
Sunday brought a light southwesterly breeze, with shifts that were much longer and less dramatic than the day before. "Starts were arguably even more crucial than on Saturday, and Hollis and I finished more or less in the position we started in," Houck continued. "The current was flowing upwind all day, creating brutally long and painful downwind legs. Though we never attempted this, a few brave teams sought current relief by sailing a long course out toward Duck Island before gybing back on a reach to the leeward mark…a strategy that paid off if done correctly! Hollis and I were not so adventurous and focused on sailing on a reach toward the next pressure and using the puffs to go wing-on toward the mark. I cannot thank everyone who organized and/or competed in the event enough for the hospitality. Also big thanks to Bill Nightingale, who generously hooked us up with a boat for the regatta. Looking forward to more time in the boat, next year's event, and spreading the good word about the class!"
"The JY15 Class strives to be open to new sailors and for family and friendly fun," said Nightingale. "It is a great class for improving basic racing skills as well as for those seeking top level competition. Please find a local summer fleet or frostbite fleet and join the fun!" Complete results are posted at YachtScoring.com.