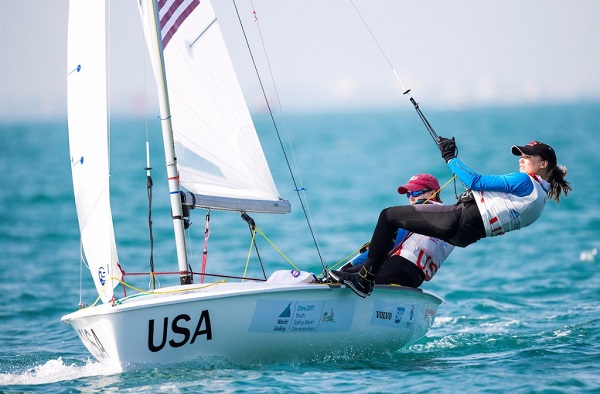 Twin sisters Carmen and Emma Cowles of Larchmont, NY scored a decisive victory in the Girls 420 division at the 2017 Youth World Sailing Championship, which was held in Sanya, China December 11 – 16, 2017. "It's still sinking in," said the sisters in unison. "We're going to tell our mother and sister; they've been following it from afar, even though it's midnight there. They're probably really excited right now."
Carmen and Emma Cowles are World Champions!  © Sailing Energy/World Sailing
Carmen (helm) and Emma had a clear lead in points going into the final race, although their overall position was precarious due to a Race 1 disqualification. While many athletes would have proceeded cautiously, the Cowles notched a third bullet to clinch the gold medal by 26 points.
In a successful week for the U.S. Youth Worlds Team, Charlotte Rose of Houston, TX won five of the nine races in the Girls Laser Radial, claiming the gold in a tiebreaker. In the Boys 420, Thomas Rice (Garden City, NY) and Trevor Bornath (Stuart, FL) won silver. The U.S. Youth Worlds Team finished third in the Nation's Trophy standings, their highest placing in many years. The event also highlighted the progress of US Sailing's Olympic Development Program (ODP), which includes among its core missions an annual effort to prepare the U.S. team to compete at the world's premier youth sailing event.
"I'm extremely proud of the kids and coaches," said Leandro Spina, US Sailing's Olympic Development Director and U.S. Team Leader in Sanya. "They stuck to our performance plan, and they came out really strong." Also coaching at the event were Steve Keen (Stamford, CT) and Rosie Chapman (Cornwall, England). Complete results are posted at worldsailingywc.org.