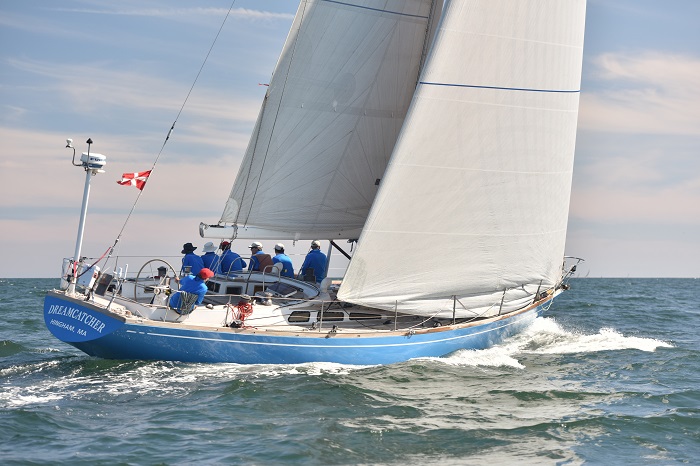 With the surprise donation of a proven 48-footer, MudRatz, an organization based in Southeastern Connecticut with a mission to complement local youth sailing programs by enabling enthusiastic sailors to practice together as a team and travel to regattas around the country, is taking a leap into the world of offshore racing.
With the donation of this Swan 48, the MudRatz have set their sights on the Newport Bermuda Race and beyond.    © Allen Clark/PhotoBoat.com
"Life changing moments can happen so fast that we often call them 'sparks,'" said MudRatz founder Brandon Flack. In just four years, the MudRatz have been formed around such moments. Who knew that a few kids meeting on a dock to go sailing would lead to the formation of a full-blown race team? And we might say our first boat donation [a Melges 24] was simply a "Why not us?" moment, but it launched the young team deep into the sportboat world."
"Looking back through all the big and little sparks, it's hard to point to a single moment that we knew was about to change so many lives," Flack continued. "That is, until we read a recent email that began, 'I contact you with respect to finding a good home for my S&S Swan 48, Dreamcatcher.' Needless to say, this spark came at us like a full-blown flamethrower as we read on in disbelief…'I have successfully raced and cruised Dreamcatcher for the past 16 seasons and kept her in great shape, never sparing work with keeping safety and competitiveness in mind. I think she is the perfect boat for any group looking to have a great platform for long distance and offshore racing.' The note went on to share how the boat had won last year's Block Island Race and finished at the top of her Newport Bermuda Race class in most of the recent editions. After letting the scale of this all sink in, there was only one reply we could make: 'We would love to work with you, and a boat like this would be a life changer for a lot of kids now and for years to come!'"
"The MudRatz have embarked on a new adventure to sail over the horizons," said Flack. "Understanding this is a massive undertaking, we intend to form a team to prepare and compete in the Stephens Brothers Youth Division in the 2018 Newport Bermuda Race. An initial advisory committee has been formed made up of Stephan Kylander, Dreamcatcher's previous owner and amazing donor, our newly appointed MudRatz Offshore Coordinator Anne Wilkinson, and two Bermuda Race Ambassadors who are huge supporters of youth sailing, John Winder and H.L. DeVore."
"Donations are already rolling in, just on the rumors of the MudRatz doing the race. McMichael Yacht Brokers have signed on as the first donor to cover the full entry fee plus additional cash support. Veteran Volvo Ocean Race navigator and Whitbread winner Nick White has donated his tactical and navigation software from Expedition Marine, and Prudent Publishing has also volunteered significant cash support to help jumpstart the teams funds. We are proud to add that Mystic Shipyard, through a generous donation by Jeff Marshall, will be the home for the offshore team and our new yacht this spring.
If you would like to be part of the campaign, please visit MudRatz.com/donations. Our first goal is to race to Bermuda; beyond that, we'll have to just see where the next spark takes us."