From exciting educational opportunities and the builder of some of the loveliest boats on the water being acquired by a marine industry veteran to the return of a favorite biennial race week, new partners for the longest offshore race in the Western Atlantic and the announcement of a campaign to bring the America's Cup back where it belongs, there are plenty of great stories for the new year…..
Peter Johnstone Takes the Helm at Alerion Yachts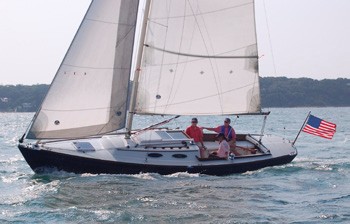 Alerion Yachts, the luxury daysailing brand renowned for its combination of stunning, traditional lines and modern sailing performance, is now owned by Peter Johnstone, a marine industry veteran who brings a wealth of knowledge and passion to the brand.
The lovely Alerion Express 28 is one of five models built in Warren, RI by Alerion Yachts, which was recently acquired by Peter Johnstone.
"It felt natural to do this," said Johnstone. "Alerion Yachts' timeless design and New England build quality are unmatched in the market. The Alerion style of sailing is perfectly suited for today's time constraints. They are uncomplicated, easy to sail, and simply beautiful. You only need an hour but it makes a lifetime worthwhile."
Johnstone has always felt a personal connection to the Alerion design aesthetic and brand. He enjoyed owning and sailing a classic Herreshoff 26-footer named Feather, a sistership to Nathanael Herreshoff's personal daysailer from 1912 named Alerion, the inspiration for the modern Alerion Yachts.
Alerion Yachts officially launched in 1991 with the Carl Schumacher-designed Alerion Express 28. Garry Hoyt established the brand and the modern daysailer yacht category when he assumed leadership of the brand shortly after its formation. His Hoyt Jib Boom has become synonymous with easier sailing and is a popular option on all Alerion models. In the early days, Hoyt lent his personal Alerion Express 28 to Johnstone to daysail, and later, the two worked closely together on the best-selling Escape brand of sailboats in the late 1990s. "I've always admired Garry's contribution to the Alerion Express brand and to the sport of sailing," said Johnstone. "The Alerion Yacht brand has a great story and purpose. Passionate sailors need a great daysailer in their lives."
Alerion Yachts' builder will be Randy Borges, who has established a new factory in North Kingstown, RI, to produce Alerion Yachts exclusively. Borges may be known for building and preparing world champion racing yachts, but his true strength is lesser known as the builder for the Alerion brand for the past five years. "He's produced gorgeous yachts, epitomized by the stunning flagship Alerion Express 41," said Johnstone. "Randy and his core team are the reason for Alerion Yachts' renown quality. I saw this years ago. My Herreshoff 26 Feather was beautifully built by Randy."
Only eight Alerion Yachts will be built in 2018. The focus will be on extraordinary yachts produced by the finest craftsmen. The new model lineup comprises the Alerion Express 20, 28, 30, 33 and 41. Sales are being handled by Peter Johnstone and Kristan McClintock of the Alerion Yachts sales team. "We look forward to seeing Alerion Yachts continue to thrive," said Johnstone. "Life is short. Let's make every hour of sailing extraordinary." More information is available at alerionyachts.com or by contacting sales@alerionyachts.com.
Kristan McClintock, Director of Marketing at Alerion Yachts, contributed to this report.
2018 will be an Adventurous Year for SSV Oliver Hazard Perry!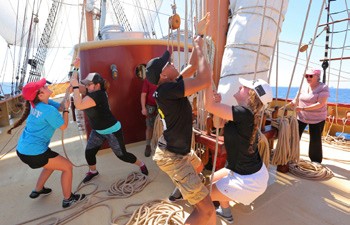 America's newest Tall Ship and Rhode Island's Official Sailing Education Vessel, The 200-foot Tall Ship SSV Oliver Hazard Perry is preparing for her 2018 adventures, which will take her to Savannah, GA and St. Petersburg, FL before she sails south to Cuba and Jamaica.
No one is a passenger aboard the Perry. ©Mark Russell
Explorers can register for the all-ages voyage (18+) from Savannah to St. Petersburg over January 28 – February 11, and an open-enrollment round-trip Cuba program, targeted towards high school students, will take place March 4 – 17.
The Perry is participating in the Tall Ships Challenge Gulf Coast 2018, where she'll join a Parade of Sail in Galveston, TX, Pensacola, FL and New Orleans, LA before hosting public deck tours from April 5 – 8, April 13 – 15 and April 20 – 22, respectively, in each city. A second all-ages voyage from New Orleans to Annapolis, MD is being offered April 25 – May 10. Spots on the ship's 2018 summer programs are also now for sale, including a two week voyage from Newport, RI (July 2 – 14) for teens ages 14 – 18 that will sail up coastal Maine to Nova Scotia, Canada before ending in Boston, MA. Another open enrollment teen program (August 12 – 17) will sail from Boston to Portland, ME.
"We are so proud of how far our programs have come and the variety of programs ahead of us," said Oliver Hazard Perry Rhode Island (OHPRI) Executive Director Jessica Wurzbacher. "For 2018, we are offering more adult voyages like the ones that were so successful in 2017. We are bringing back partners as well as innovative school programs, and we are heading to new and exciting destinations."
Perry is a U.S. Coast Guard-approved Sailing School Vessel, and all sailing program participants become part of the crew. Everyone lives aboard and works side-by-side with professional crew to learn square-rig seamanship, including bracing the yards, steering the ship and even going aloft if they wish.
OHPRI's mission is to provide innovative, empowering education-at-sea programs that promote personal and professional growth. This is achieved by partnering with schools, organizations and universities for experiential learning opportunities that incorporate STEAM (science, technology, engineering, arts, and mathematics) educational concepts. The non-profit organization offers a variety of onboard learning experiences to reinforce the importance of and interest in Rhode Island's and America's maritime history. For more information, visit ohpri.org or contact bethany@ohpri.org or 401-841-0080.
Barby MacGowan at Media Pro International contributed to this report.
Block Island Race Week Returns for 2018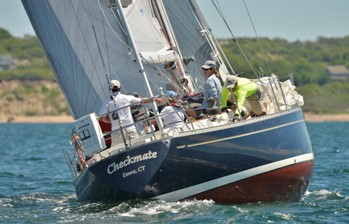 After a brief hiatus, Block Island Race Week (the one held in even-numbered years) returns this June, thanks to the enthusiastic memberships of Duck Island Yacht Club in Westbrook, CT and Block Island Yacht Club in Block Island, RI. BIYC members Jim Fiorato, James Gallacher and Ray Torrey have teamed up with DIYC Commodore Todd Berman to rejuvenate this biennial event.  Block Island Race Week 2018 is scheduled for June 17 – 22.
© Allen Clark/PhotoBoat.com
"[Block]'s a great place to be racing, and to be when you're not on the boat," said Berman in an interview with Lars Trodson of The Block Island Times. Recalling his first visit to the island as a teenager, he added, "I slept in the bow of a J/24 and thought I was king of the world. For me, [Race Week] is the beginning of summer."
With time at a premium in most sailors' lives, many are unable or unwilling to devote a full week to sailboat racing, especially in regattas that have early start times and long days on the water. "We were faced with the prospect that a lot of these regattas turn into a grind," Berman continued. "You're on the boat early and off the boat late. Some crews want that, while others would prefer a less rigorous schedule."
The organizers also hope to attract more young sailors, a growing number of whom cannot take a week off work to go sailing. "Sailors will still have the option to do a 10-race series, and we're also offering an opportunity to get one race in per day, starting at 2 pm, leaving the morning open to go to the beach, get a nice breakfast, or even get some work done," said Gallacher. "Some classes have even approached us about racing two or three days, which we will be more than happy to accommodate."
The traditional 'round the island' race will still be a feature, while a 'wind farm race' will be added," Gallacher continued. "Classic yachts and multihulls have been invited, and we'll have a class for novice racers who want some pointers to get around the course. Details are being developed, and North U has tentatively signed on to help with on- and off-the-water coaching complete with video debriefing."
Daily shoreside activities, perhaps including dinghy races and an island tour, will be available to non-racing family members and friends. Noting that the partnership between the BIYC and DIYC is integral to this event, Fiorato said, "They bring an enormous amount of sailing and racing experience. We bring local knowledge – the island demographics, what works, and what is problematic. Sue Reilly will be the Principal Race Officer and Henry duPont will serve as Chair of On-Water Logistics."
As with all regattas, volunteers are needed for Block Island Race Week 2018. To learn about volunteer opportunities, contact Fiorato at biyc02807@gmail.com or 401-466-3000. The event will alternate with the Storm Trysail Club's Block Island Race Week, which runs in odd-numbered years and returns in 2019. For more information, log onto birw2018, email info@birw2018.com, or visit facebook.com/birw2018.
Sail Newport and Pell School Combine Science, Social Studies and Sailing for Innovative Program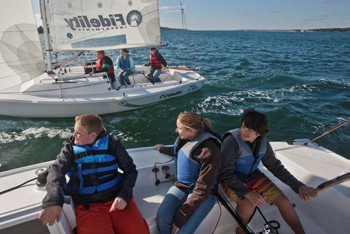 In a partnership between the Pell Elementary School in Newport, RI and Sail Newport, 178 fourth-graders are enjoying a unique experiential learning opportunity at Rhode Island's Public Center.
Students from Pell Elementary School are learning to sail at Sail Newport as part of their regular school day, tying in parallel elements from the STEM curriculum including science, technology, math and sustainability.   © SailNewport.org
In this program (which began last September), students visit Sail Newport during their academic day to board J/22s and learn the basics of sailing including boat rigging, boat handling and navigation. With Sail Newport's certified instructors on board, students sail in Newport Harbor and Narragansett Bay and participate in shoreside classroom learning.
"Not only do the students learn sailing fundamentals, but the instructors and teachers tie the content of their shoreside lesson into their on-the-water experience," said Kim Hapgood, Sail Newport Program Director. "Getting out of the traditional classroom to engage with nature and the environment greatly enhances their learning."
While at Sail Newport, one half of the class is on the water while the other is inside the new Marine Education and Recreation Center, studying topics that align with Next Generation Science Standards. Classroom learning modules include weather, erosion, mapping, landforms and geology, which are subjects in line with public school curriculum standards.
"The Newport Public Schools, our teachers, and students are so appreciative of this amazing experience and opportunity," said Colleen Burns Jermain, Newport's Superintendent of Schools. "We are just in the beginning stages and the impact this program has already had on our students and learning community is priceless."
The Sail Newport Pell School Sailing Program was created by Donna Kelly, the Education Committee Chair at Sail Newport, and Hapgood. Kelly has taught in the Newport Public Schools for nearly 15 years and is taking an academic year off to implement the program with Sail Newport. "To be able to offer our students an opportunity to step outside their traditional classroom setting and connect with nature has been remarkable," said Kelly.
The Sail Newport Pell School Sailing Program will continue in the spring when the fourth-graders are expected to finish the second half of the 16-week program. The entire program is funded by Sail Newport, who held a fundraiser and recruited donations for the program in order to provide it free to the public elementary school.
"This program exemplifies the power of community and partnership," Jermain added. "Sail Newport, [Executive Director] Brad Read, Kim Hapgood, and our own Donna Kelly are 'being the change' by making a difference in so many lives and proving anything is possible in the Newport Public Schools and this City by the Sea." More information can be found at SailNewport.org.
New Race Partners for The Atlantic Cup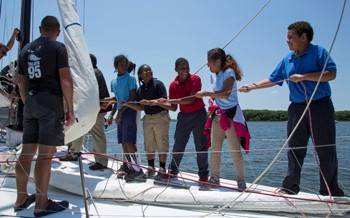 The 2018 Atlantic Cup starts May 26 in Charleston, SC, and event organizers Manuka Sports Event Management in Newport, RI have announced a new Sponsor and two new Official Partners. United Airlines Mileage Plus Exclusives, Hyatt Place Charleston, and Code Zero will provide a variety of opportunities for the race and its fans.
With Kids Days in each of the host cities (Charleston, SC, Brooklyn, NY and Portland, ME), education is an integral part of The Atlantic Cup.   © Billy Black
MileagePlus Exclusives (exclusives.mileageplus.com) provides members with top access to some of the world's best events and experiences across the widest range of mileage levels. As a Sponsor of The Atlantic Cup, they'll be offering a one-of-a-kind experience to race in the New York City Pro-Am Race and as a VIP in Portland, ME.
Located in the heart of the Upper King Historic District in Charleston, SC and within walking distance to attractions, historic homes and over 30 restaurants, Hyatt Place Charleston joins the Hyatt Place Portland as the Official Hotel Partner for the 2018 race.
Code Zero, a nautical and lifestyle brand designed and endorsed by professional sailors, is the Official Apparel Partner for the 2018 race. With innovations inspired by global yacht racing, Code Zero (code-zero.com) integrates high performance wear into 24/7 lifestyle.
Official entries opened last October, and at press time four teams had confirmed that they'll be vying for the race's top spot. They are are six-time race veteran Michael Hennessy on board Dragon Ocean Racing; Oakcliff Racing and its youth team from Oyster Bay, NY, Toothface II, an Akilaria RC3 campaigned by Atlantic Cup veterans Mike Dreese and Tristan Mouligne; and Privateer, a Kiwi 40FC which has recently been bought by American sailor and OSTAR winner Jonathon Green.
"The 2018 race is shaping up to be terrific, both on and off the water," said Manuka Sports Event Management Co-Founder and Atlantic Cup Race Director Hugh Piggin. "We're really excited about the teams that have already committed. Off the water, The Atlantic Cup continues to demonstrate its strength in providing commercial opportunities to a variety of partners. We couldn't be happier to have United, Hyatt Place in both Charleston and Portland, and Code Zero with us."
With over 1,000 nautical miles of ocean racing, The Atlantic Cup is the longest offshore race in the Western Atlantic, the only race that includes both Cape Hatteras and Cape Cod, and the only short-handed offshore race dedicated to the Class40. The race starts in Charleston on May 26. The race will visit Brooklyn, NY May 28 – June 2, before departing for Portland, ME. The event concludes in Portland June 4 -10 with a two-day inshore series. The Atlantic Cup has been carbon neutral since 2012 and was the first and is the only sports event in the U.S. to be compliant with ISO 20121, an international standard for sustainable event management.
Other sponsors of The Atlantic Cup include 11th Hour Racing and Bainbridge International. Supporters include Billy Black Photography, Class40, Centerboard Yacht Club (South Portland, ME), Friends of the Eastern Promenade (Portland, ME), Sailors for the Sea, Tall Ships® Portland, and Warrior Sailing. For more information, log onto AtlanticCup.org.
Opportunities for High School Students at the U.S. Coast Guard Academy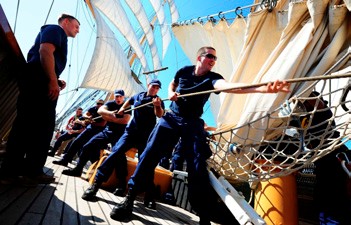 A unique summer program is available for high school juniors at the U.S. Coast Guard Academy in New London, CT. The program, Academy Introduction Mission (AIM), offers a six-day summer curriculum for a select group of students prior to their senior year. Aimed at students who would like to consider the opportunities for a no-expense, four-year college study at the Academy, this exceptional, brief summer activity allows them to experience life at the Academy.
Raising the sails aboard the U.S. Coast Guard Academy's Barque Eagle
AIM is considered the most realistic service academy summer orientation program in the country and will test and inspire those interested in serving their country as officers in the nation's oldest continuous maritime service. In these intense few days, students are immersed in Academy tradition and cadet life. Most notably, AIM will help the student to discover if he/she possesses the mind, body, and character to succeed at the U.S. Coast Guard Academy.
The mission of the Coast Guard Academy is "to graduate young men and women with sound bodies, stout hearts and alert minds, with a liking for the sea and its lore, with that high sense of honor, loyalty and obedience which goes with trained initiative and leadership; well grounded in seamanship, the sciences and amenities, and strong in the resolve to be worthy of the traditions of commissioned officers in the United States Coast Guard in the service of their country and humanity."
The Academy's four-year curriculum of study offers an outstanding degree program with majors in a wide variety of subject areas. Academic departments include engineering, humanities, management, and the sciences. The 7:1 student/faculty ratio represents exceptional attention to each student's needs and scholarly interests. The faculty of 149 distinguished educators have designed a core curriculum based on the humanities and sciences with wide technical and professional exposure that serves as the nucleus of each academic major.
Detailed information on this program and the Academy can be found online at cga.edu. Interested students and parents can contact Herb Herman, a member of the U.S. Coast Guard Auxiliary's Port Jefferson Flotilla, at 631-473-0538 or hherman30@gmail.com.
SLV Storage Solutions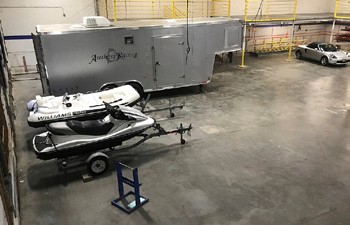 As Contributing Editor Joe Cooper asserted in a recent issue, Newport, Rhode Island is indeed the Sailing Capital of the World, although options for indoor storage of boats, rigs, race trailers and other equipment in the Newport area were quite limited until recently. Now, SLV Storage Solutions operates a 10,000 square foot warehouse in the Portsmouth Industrial Park in nearby Portsmouth.
Located at 200 Highpoint Avenue in Portsmouth, RI, SLV Storage Solutions is Aquidneck Island's only indoor mast storage facility.   © slvstorage.com
"We specialize in the transport and storage of large masts and their associated rigging, though we also accommodate other equipment including tenders, sails, containers, cars, rudders, foils, etc.," said SLV Storage Solutions co-owner Bill Haynie. "We are Aquidneck Island's only indoor do-it-yourself, open-access storage facility, and the only indoor storage center of this size within 1.5 hours' drive from Newport. We have the capability to store larger/longer mast sections than anyone else currently operating in Rhode Island."
"The warehouse operates on an open workspace policy," Haynie continued. "We do not sell or offer any services other than storage, and we offer unrestricted access to captains, owners, and insured third party contractors. We ourselves carry a hefty insurance policy and also offer excess coverage options to clients if required. Inside the warehouse, you'll have access to all the equipment you may need for paintwork, laminate/composite work, cleaning, and general maintenance. This includes a forklift, a crane hoist, rolling dollies, work benches, a large paint booth, full-length tents, overhead storage, and ground-level storage options. Transport of the masts or equipment to and from the warehouse may be arranged on your own, or we are happy to offer referrals, logistical support, and preferential rates via one of our preferred trucking companies.
​"SLV Storage Solutions is owned and operated by a small group of professional superyacht captains/managers," said Haynie. "We have decades of combined experience with managing yacht refits and all of the associated logistics. Thanks to this, we have intimate and unique knowledge of the needs and requirements of large yacht programs, along with the skills and resources to accommodate them." For more information, call 401-314-2124 or visit slvstorage.com.
New York Yacht Club and Bella Mente Quantum Racing Association to Challenge for the 36th America's Cup
 …and the AC75 concept is a foiling flyer.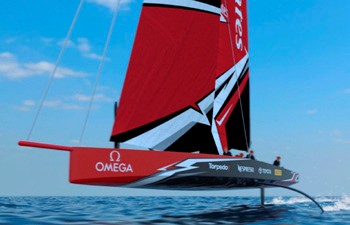 After evaluating a wide range of monohull concepts, the Emirates Team New Zealand and Luna Rossa design teams (Defender and Challenger of Record, respectively), have selected this fully foiling monohull for the 36th America's Cup. The AC75 combines extremely high performance sailing and great match racing with the safety of a boat that can right itself in the event of a capsize. The groundbreaking concept is achieved through the use of twin canting T-foils, ballasted to provide righting-moment when sailing, and roll stability at low speed.
After a decade and a half away from sailing's flagship competition, the New York Yacht Club, represented by Bella Mente Quantum Racing Association, will challenge for the 36th America's Cup. The NYYC held the ornate silver trophy from 1851, when it was won by the yacht America, through 1983 – a run often known as the longest winning streak in sports. The club regularly challenged for the trophy in the years that followed the historic loss to Australia II off the coast of Newport, but had remained on the sidelines since its last challenge with Team Dennis Conner for the 2002-'03 America's Cup.
The challenging syndicate will be led by two of the most successful American yachtsmen of the last decade: John J. "Hap" Fauth (Naples, FL) and Doug DeVos (Grand Rapids, MI). Since 2005, at the helm of three successive yachts named Bella Mente, Fauth and his team have reached the top of the podium in numerous distance and buoy races at venues in North America, Europe and the Caribbean. Fauth is a three-time world champion in the Maxi72 class.
DeVos and the Quantum Racing program have set the standard for excellence on the 52 Super Series circuit, and its predecessor, the MedCup, with overall series wins in 2008, '11, '13, '14 and '16. One common link between the two teams is Bella Mente Quantum Racing Association Skipper and CEO Terry Hutchinson, a two-time Rolex Yachtsman of the Year and America's Cup veteran. Hutchinson, like Fauth, is a longtime NYYC member.
"The America's Cup has always remained close to the heart of the New York Yacht Club, even in the years where we didn't participate as a challenger or defender," said Commodore Philip A. Lotz (Fort Lauderdale, FL). "For this cycle, a lot of elements have come together in the correct way for the Club to enter another challenge. First and foremost is the desire of two great American sailors and businessmen, Hap Fauth and Doug DeVos, to take aim at sailing's ultimate competition. We know they will mount a competitive effort that is respectful of the Club's long history with the Cup and the competition itself."
"Winning the America's Cup takes a complete team effort, and I've always found tremendous satisfaction in bringing together a group of individuals in pursuit of one goal," said Fauth. "With a return to a more traditional style of yacht and the windward-leeward courses with which the vast majority of racing sailors are intimately familiar, the 36th America's Cup represents a unique opportunity to re-engage the grassroots of the sport and re-energize American sailing."
"Building Quantum Racing from scratch into a program synonymous with hard work, team spirit and success has been tremendously satisfying, and I'm eager to take everything we've learned there and apply it toward sailing's ultimate test," said DeVos. "Between Hap, Terry and myself, we have the nucleus of a successful campaign, both on the water and off. We're honored to represent the New York Yacht Club in this historic competition."
Although the class rule for the AC75 won't be finalized until early spring, there are many pivotal decisions ahead for this team. The return to monohulls will enable the team to pool the technological resources of two elite sailing programs and get a jump on the competition.
"The decisions we make over the next six months will play a significant role in determining the ultimate success of our campaign," said Hutchinson, who sailed as tactician for Emirates Team New Zealand in the 2007 America's Cup match, the last to be contested in monohulls. "The early support of Hap, Doug and the New York Yacht Club puts us in a very strong position, but we can't take anything for granted. The race for the 36th America's Cup has already begun."
New York Yacht Club Communications Director Stuart Streuli contributed to this report.
Volvo Ocean Race Edition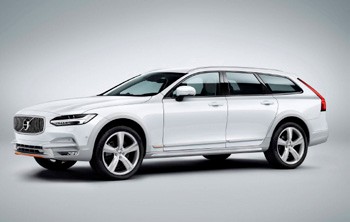 The Volvo Group, a multinational manufacturing company headquartered in Gothenburg, Sweden, has sponsored the Volvo Ocean Race since 2001. Volvo Cars builds limited edition models to celebrate each round-the-world race, and for the current race they've created an Ocean Race Edition of its V90 Cross Country T6 wagon.
In keeping with the Volvo Ocean Race 2017-18's mission of sustainability, the 2018 Volvo Ocean Race Edition has carpeting made from recycled nylon and fishing nets.   © VolvoCars.com
Special features of the all-wheel-drive V90 Ocean Race Edition include Crystal White paint with a matte gray finish for the lower body cladding, special alloy wheels, a mesh grille, orange detailing on the front and rear skid plates, and Volvo Ocean Race decor. The color scheme continues inside with gray-accented seats, orange seatbelts, orange piping on the seats and floor mats, carbon fiber trim, and illuminated 'Volvo Ocean Race' sill molding. The turbocharged and supercharged 2.0 liter 4-cylinder engine produces 316 horsepower. Ocean Race Edition accessories include a rechargeable flashlight and extra power outlets.
The theme of the Volvo Ocean Race 2017-18, which started last October in Alicante, Spain, is monitoring and reducing plastics and other trash in our oceans. Volvo is building 3,000 V90 Cross Country Ocean Race Editions, and will donate $117 to the Volvo Ocean Race Science Program for each one purchased (a total of nearly $350,000). The car is expected to arrive in Volvo dealerships this spring…coinciding nicely with the race's stopover in Newport, RI in May. You'll find more information at VolvoCars.com/us.