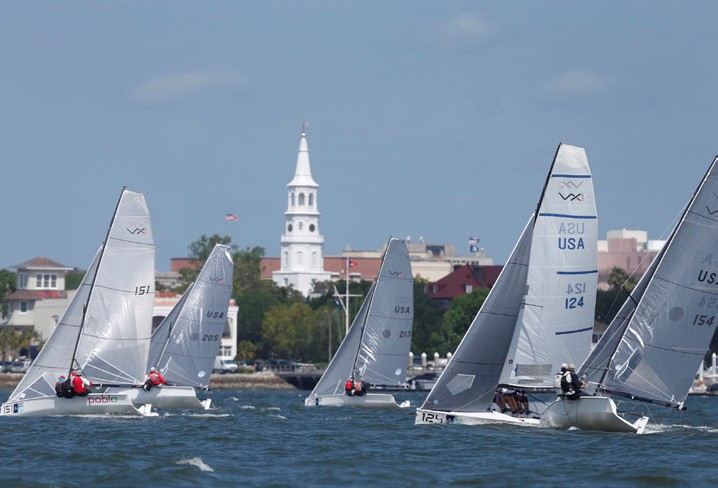 There's a popular maxim that goes something like this: 'Like a fine wine, some things get better with age.' That notion could easily apply to sailing regattas – or at least those events whose organizers pay the same close attention to their product as the best vintners. Sperry Charleston Race Week, organized by the Charleston Ocean Racing Association and scheduled for April 12 -15 in beautiful Charleston, South Carolina, is definitely one of those events.
These VX Ones are just a few of the 211 boats that competed at Sperry Charleston Race Week last year.  © Tim Wilkes/Sperry Charleston Race Week
Now in its 23rd year, this mega-regatta has grown to become the biggest multiclass event in the U.S., and a mecca for sportboats in particular. Over 70 J/70s competed in 2017, along with fleets of Melges 24s, VX Ones, Viper 640s and J/80s, and smaller groups of B-25s, Ultimate 24s and GP 26s. Race Week attracts an amazing caliber of talent to beautiful Charleston, SC from around the world. For the 2017 edition, competitors traveled from 12 countries and 27 U.S. states, coming from as far away as Texas, California, Canada, Seattle, Chile, Mexico, Brazil, Italy and the Cayman Islands.
But what really makes this event a fine-wine affair? In a word, according to Event Director Randy Draftz, it's innovation. "That's truly one of Race Week's key watchwords," said Draftz. "Our organizing committee, supported by our area yacht clubs and our local municipalities, spends a lot of effort trying to keep this regatta fresh and relevant for its participants. That means we scrutinize and re-evaluate our programming in the offseason, tweaking some aspects and adding new ones from time to time."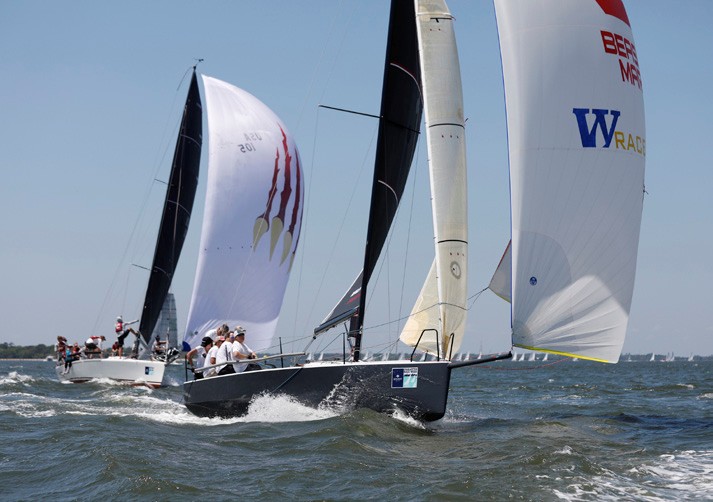 Chief among what's new for 2018 will be an innovation for offshore competitors, something the organizers are calling the Open Course Format (OCF). According to Draftz, OCF will combine the best aspects of distance and buoy racing, essentially expanding the typical course format to put as much emphasis on navigation and weather routing as typical around-the-buoys courses put on boathandling, rules knowledge and tactics.
Mike Beasley's GP 26 Rattle 'n' Rum (Annapolis, MD) notched five bullets on her way to victory in ORC Division C in 2017. © Tim Wilkes/Sperry Charleston Race Week
"For as long as I've been involved with this regatta," said Draftz, "I've wanted to see our offshore boats racing neck-and-neck down the channel to finish right in front of Race Week's event venue at the Charleston Harbor Resort & Marina. With OCF, 2018 could be the year we witness that scenario!"
Draftz and his fellow organizers are working on another new twist that they'll announce in the coming weeks. This one will pertain to easier launching and hauling for out-of-town boat owners. It would be premature to offer details now, but interested parties should know that what's in the works won't only benefit the event's customers, it will also serve as a fundraiser for one of the regatta's non-profit partners as well. Now that's genuine innovation. (For a primer on Sperry Charleston Race Week logistics, log onto windcheckmagazine.com/a_sperry_charleston_race_week_primer.) "We're doing everything we can to help ensure that the event remain accessible and as affordable as possible regarding the ancillary costs of competing in Charleston," said Draftz. "We don't want anyone to feel as though they're priced out of Race Week."
That statement embodies a long-held tenet of this event – every decision the organizing committee makes considers the competitors. "That outlook is written into this regatta's DNA," Draftz explained. "Pretty much everyone on the committee comes from a sailboat racing background, so it's in our group's nature to put the interest of the competitors first."
Each year, the organizers do that by establishing a baseline that starts with bringing in the best race management personnel. For each of the past three years, Hank Stuart (the current Chairman of US Sailing's Race Administration Division and an International Race Officer) has served as Principal Race Officer. He guides the work of his fellow race officers, a cadre of well-respected PROs. It's this top-quality team that enables the organizers to simultaneously run six different racecourses.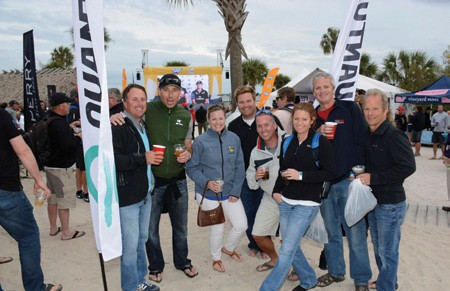 To complement their top-caliber race management, Draftz and his team arrange plentiful support on the water and on shore. Last year, over 200 volunteers pitched in to manage the competition on the water, and roughly 100 more kept things running smoothly on shore. You'd be hard pressed to name another annual sailing event in the U.S. that assembles a volunteer labor force of that magnitude.
Along with the racing there are beach parties every night! © Tim Wilkes
This emphasis on what's important for the racers doesn't mean that the event planners aren't also focused on the needs of their sponsors. In fact, the organizing committee expressly identifies at least one member each year to serve as a sponsor liaison. This person stays in close touch with sponsor representatives to ensure that the regatta simultaneously meets their companies' expectations. Over three quarters of Race Week's sponsors have been with the event for more than five years, a strong testament that these companies regard the regatta as a great opportunity for building their brands.
Other organizations likewise see this event as an opportunity to establish or maintain a strong foothold in the sport. In 2017, Sperry Charleston Race Week served as the baptismal regatta for Offshore Racing Council (ORC) handicapping in the U.S., with 27 boats comprising four different classes were scored under this rating system. This year, a relatively new one-design class will make its inaugural pilgrimage to Charleston – the Flying Tiger 7.5. As of mid-December, 10 Tiger owners had signed up. "Attracting new classes and having a new rating system seek out our event for its U.S. debut validates the work we put into this regatta," said Draftz. "Once we see that our innovations are working, we double down on those."
For 2018, doubling down means that last year's highlight – the Pro-Am Regatta – will be back and bigger than before. In 2017, ten of the top racers in the country competed head-to-head on Saturday evening in the College of Charleston's fleet of J/22s. This event within an event served not only as entertainment for the regatta's customers, but also as a fundraiser for the College's sailing program.
The organizers are also bringing back two other popular twists from last year – a fourth inshore racecourse set right in front of the event's host marina and inshore racing for smaller ORC boats such as the B-25s and GP 26s. "The feedback we received from racers last year made it clear that both of those innovations were very well received," Draftz said, "so we'll be offering them again." Another repeat offering is the early registration discount of $100 off for any team that registers before January 31.
"Our mission from the very beginning has been to grow the sport and make it better. That's what's behind the innovations you see," explained Draftz. "That's why we refine the formula each year." That's how Sperry Charleston Race Week – like a fine wine – gets better with age. Come see for yourself. For more information, log onto charlestonraceweek.com.
Get Up to Speed in Charleston with North U and 1D Sailing's Regatta Experience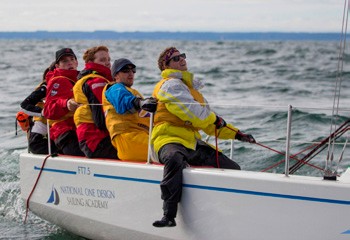 Sperry Charleston Race Week is just one of the upcoming events at which racers can hone their skills at the new 'Regatta Experience' presented by the National One Design Sailing Academy (1D Sailing) in partnership with North U and Bill Gladstone. The other events include Sailing World's Helly Hansen NOOD Regatta in St. Petersburg, FL (February 16 – 18); Miami Sailing Week in Coconut Grove, FL (March 8 – 10); and Sailing World's Helly Hansen NOOD Regatta in Annapolis, MD (May 4 – 6).
© 1DSailing.com
1D Sailing will be delivering its fleet of ten Flying Tiger 7.5s to each regatta venue, and the 25-foot sportboats will be in the water, fully rigged with North Sails, tuned and race ready. At each event, Gladstone's team of North U professional coaches will run 2-day clinics, teaching participants to be better and more knowledgeable racers through on-water drills and expert coaching, followed by daily de-briefs.
Three levels of coaching are available. The Full Time Coaching option includes a coach on board throughout the 2-day clinic and the 3-day regatta, with daily shoreside sessions each day prior to sailing; organized clinic drills, practice and races during the clinic; and daily video debriefs during the clinic and regatta. The Clinic Only Coaching option provides a coach on board during the 2-day clinic only, with daily shoreside sessions each day prior to sailing; organized clinic drills, practice and races during the clinic; and daily video debriefs during the clinic and regatta.
With the No Coaching option, your FT 7.5 will be available for two days for practice before the regatta and for the three regatta days. You are welcome to participate in the shoreside class and debrief sessions and sail in the on-the-water clinic (without a coach), or practice on your own if you prefer. For more information, call 1D Sailing at 905-847-8000 or email event coordinator Jim Pollock at jim.pollock@1dsailing.com. To learn more about North U, visit NorthU.com.