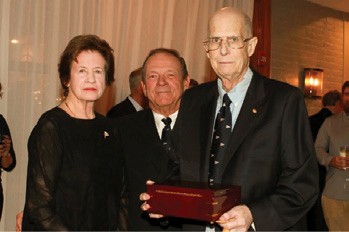 Captain Henry Marx of Stamford, CT is the recipient of the Storm Trysail Club's 2018 Owen C. Torrey Memorial Trophy. The presentation was made at the club's Long Island Sound Station Holiday Party in Larchmont, NY. The trophy is awarded annually to the person who, in the opinion of the Flag Officers and Board of Governors, has rendered "Outstanding Service" to the Storm Trysail Club.
Leggie Torrey, Storm Trysail Club Commodore Lenny Sitar, and Captain Henry Marx with the 2018 Owen C. Torrey Memorial Trophy   © Howard McMichael
STC Past Commodore Charles Ulmer, on behalf of a large group of donors, originally presented the Owen C. Torrey Memorial Trophy to the club in memory of former member Owen Torrey. The trophy has an honored place among those given to the STC over the years in memory of members who have made important contributions to the club and to sailing. Torrey made many contributions to our sport, often behind the scenes, and was often not fully recognized.
The award was presented to Captain Marx by Torrey's widow, STC member Leggie Torrey, who noted that his service extends far beyond the STC across the sport of offshore sailing. Countless sailors are safer because of his work. Captain Marx has long been a familiar face and voice at safety-at-sea seminars up and down the East Coast, as well as at his store, Landfall in Stamford, where he has sold offshore safety equipment for many years. As is typical of a STC member worth his salt, Captain Marx continues to deliver valuable lessons based on his offshore sailing experience with a bit of punchy humor.