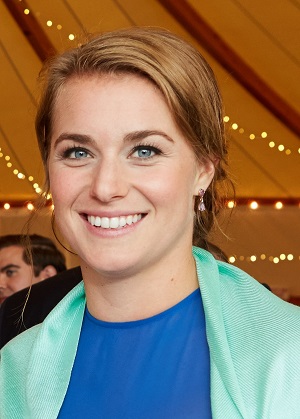 When she started racing on her family's Peterson 42 Settler at age 5, Abby Smith was known as the "GLC"(Good Luck Charm), and she hasn't stopped fulfilling and building upon that role. "The first boat I went sailing on and drove – with someone else pretending not to have their hand on the wheel while I was 'steering' – was Settler," says Abby.
A resident of Seekonk, MA, Abby cites her father, Tom Rich, as her most significant sailing mentor. "I've learned so much from him over the years, but the most important lesson he taught me is to get on board early and help out, no matter who you're sailing with or what boat you're on. Not only does that make you more likely to get invited back, but running sheets and moving sails before racing helps you get oriented on a new boat."
"Most of my time spent sailing has been racing, and every story that comes to mind is when something went wrong," Abby chuckles. "I guess those times stick out the most! Once, racing around Conanicut Island on a beautiful day, we rounded the northern end of the island with our brand new half-ounce spinnaker into 20+ knots. I looked back from the pit at Dad's face as he mentally begged that new kite to not blow up…I don't think it did."
Abby works at her family's business, New England Boatworks (NEB) in Portsmouth, RI. "I've hopped in and out of this industry since I started at NEB at 14," she says. "After a summer helping in the office, occasionally answering phones, and what felt like an awful lot of time weeding around the marina, I spent the next summer cleaning boats, mostly for family friends. After a couple summers doing other things, I taught sailing at Sail Newport, then returned to the industry again when I left Corporate America and rejoined NEB in 2014."
"New England Boatworks is about as truly a 'full-service' marina as they come. NEB started out building custom boats and doing major refits, which we still do today, but over the years we've grown to encompass a 300+ slip marina with a fuel dock, pumpout, hauling and launching capabilities, storage, and a diverse team of service technicians that allows us cover almost all marine trades in-house. Wearing many hats and knowing every aspect of the business is important. My responsibilities can be summed up into marketing and internal projects. I manage all of our marketing and social media efforts and track labor demand across all departments, and I've tackled a variety of internal projects. For most of last year, much of my time was (and continues to be) dedicated to leading a transition to a new cloud-based, marine-specific business management system."
The craftsmen at NEB have built some of the fastest sailboats on the water including 'round the world racers and America's Cup contenders, and several beautiful motoryachts. "It seems like there are always exciting projects at NEB," Abby enthuses. "One of the most memorable since I started was Rambler 88. She's one of the largest and most complex boats we've built, and the hype at the time around Comanche vs. Rambler made it fun to be part of that project. We recently refit a Frers 44 that was built in 1980. This one sticks out because I like the classic lines and brightwork, and the topsides color the owners chose works perfectly. I have a soft spot for boats built in the early '80s because the Settler I learned to sail on was built in 1981."
Serving on the board of the Rhode Island Marine Trades Association (RIMTA) Abby is the representative for RIMTA Future. "RIMTA Future is a newer group that was started by a group of young professionals in the industry with guidance from RIMTA's leadership," she explains. "We provide networking and career development opportunities for young professionals in Rhode Island's marine industry, and help the next generation develop a voice within RIMTA."
NEB is the largest facility in Rhode Island to be designated a Clean Marina by the RI Coastal Resources Management Council. "We encourage all of our customers to use environmentally friendly products such as low-VOC [volatile organic compounds] paints, we improved signage at the fuel dock, around drains, and at all dumpsters to improve recycling, and have a Clean Marina information board where they can learn about the certification," says Abby.  
"Internally, we do our best to follow all regulations and best practices around hazardous waste and wastewater collection. We've transitioned to green cleaning products, installed timers on lights, implemented new best practices in our mechanical department to prevent fuel spills, and improved our vegetation buffer between paved areas and the water. We were also able to go above and beyond the requirements by installing a Trash Skimmer thanks to Clean Ocean Access, who purchased the unit for installation at NEB through a grant from 11th Hour Racing. The support we received from RIMTA and local elected officials was incredible!"
Abby enjoys the Ida Lewis Distance Race, an overnighter hosted by Ida Lewis Yacht Club in Newport. "On my first Ida," she recalls, "we were off Montauk just before sunrise and we heard (but didn't see) a whale surface and release air from its blowhole. Apparently, we still smelled like that stale air when we got back to shore. That first year was fun because my father and his sailing buddy Geoff Prior were the only crewmembers over age 19. Most of the crew were still in high school (or just graduated) and were friends of my sister, friends of mine, and friends of Geoff's son and daughter, who were also onboard."
Abby's favorite part of racing is the start. "I love the anticipation of the race to come and vying for the perfect spot on the line," she says. "As for sailing in general, it's the tranquility of being on the water with just the sounds of the boat and the water. I also love encountering dolphins. Watching them ride the bow wave never gets old!"