From the Backyard Pool to the Open Ocean
How to Avoid and Survive Water Emergencies
By Ben Rayner
Published by iUniverse   112 pages   paperback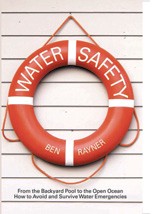 Every year, approximately 3,500 people drown in the United States. According to the Centers for Disease Control, drowning is the leading cause of accidental death in children under age 14, and it's also one of the top causes of death for young men in their teens and twenties. This reviewer came very close to drowning during an ill-conceived adventure nearly 40 years ago, and counts three acquaintances (each a very experienced boater) among those who did not survive an unexpected immersion.
Having been at the scene of several drownings, Ben Rayner, the Executive Director of Water Emergency Training, Inc. (WET), a Groton, CT-based non-profit organization dedicated to saving lives in and on the water, has made it his life goal to prevent these needless tragedies. Based on Rayner's vast experience as a water safety expert and packed with up-to-date safety advice from the leading experts in the fields of hypothermia prevention and survivor psychology, Water Safety is integral to that mission.
Topics covered include how to avoid and survive cold water immersion, how to use the HELP position, boating safety rules and the proper use of safety equipment, the dangers of rip currents and swift water, and the reasons why some drowning victims survive and others do not. Tailored to everyone from a babysitter bringing kids to a swimming pool to the experienced mariner, Water Safety is the definitive guide to preventing and surviving water emergencies.
A former underwater egress and sea survival instructor with Survival Systems USA, Inc., Ben Rayner is a lifelong waterman who has experienced many remote marine environments as a surfer, traveler, and researcher. An award-winning investigative journalist as senior staff writer at Shore Publishing in Madison, CT, his articles have appeared in Sailing, Air Beat, Atlantic Coast Fisheries News, and the Block Island Times.
WET offers a variety of water safety courses that can be customized to fit any age group or size, and to accommodate clients' schedules and budgets. For more information and to order a copy of this invaluable book, log onto wateremergencytraining.org.