By Donovan McSorley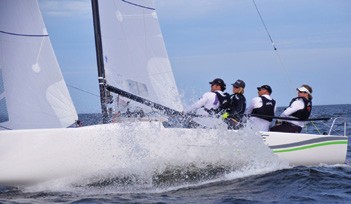 American Yacht Club in Rye, NY hosted the 14th Annual High Performance Regatta (HPR) on October 7 & 8, 2017. Previously known as the High Performance Dinghy Open, the High Performance Regatta has consistently been one of the most unique fall regattas held annually on the Long Island Sound.
Heather Gregg and Joe Bardenheier's Muse finished third in the J/70 class. © Donovan McSorley
This international event brought competitors from different parts of the United States, Canada, and Ireland. The mix of sailors along with the unique blend of boat classes created an exciting atmosphere both on and off the water.
The HPR has continued to evolve with the introduction of new classes including Waszp and International 420. Returning classes from previous years included the Viper 640, J/70, , K6, Moth Flying Dutchman and VX One.
After a short morning delay on shore, seven fleets launched into the easterly conditions on Saturday. Despite some challenging, tactical upwind legs, both circles were able to get great racing in. The Orange and Yellow circles delivered five races for the majority of the fleets. The American Yacht Club Safety and Rescue team worked diligently throughout the event to ensure any and all distressed vessels got back to the harbor.
On Sunday the breeze lightened throughout the day, but the waves continued to make sailors work hard to maintain boat speed throughout the course. With a relatively consistent wind direction, boat speed was paramount to high performance on the Orange circle. The top boats were able to find a higher gear and power around the marks.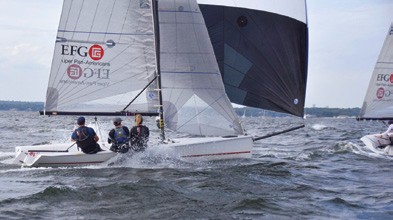 Gabe Jostrom, Patrick Mauro and Charlotte Austin sailed Tomoka to 11th place in the Viper 640 class.   © Donovan McSorley
The Viper 640 Class has enjoyed a steady growth within the United States over the past ten years, and there were 24 Vipers competing in this regatta. JTT, helmed by Cardwell Potts (Larchmont YC) finished first in the Viper 640 class with Moxie skippered by Zeke Horowitz (College of Charleston YC/Eastern YC) finishing second. Moxie had several 2017 AYC Fall Series winners aboard who showcased their abilities to adapt to a different class. Jay Rhame's Great Scott! (Larchmont YC) took third.
The J/70 class again had over 20 competitors gearing up for the 2017 J/70 North American Championship, which were hosted by AYC later in October. Rimette, skippered by John Brim (Fishers Island YC), won the class, with Ovind Lorentzen's Nine (Indian Harbor YC) finishing second and Muse, co-skippered by Joe Bardenheier and Heather Gregg (New York YC) third.
The 8-boat K6 division was dominated by American Yacht Club, with AYC teams claiming the top three spots. Trading Partners skippered by Rob Fear (New York, NY) took first, with Minimax helmed by Commodore William Ketcham (Greenwich, CT) finishing second, and the husband and wife team of Carolyn & Christopher Russell (Greenwich, CT) finishing third.
In the 7-boat I420 class, Carmen Cowles (Larchmont (YC) was first, with JC Hermus second and Michele Lahrkamp (AYC/LISOT) third. Three Flying Dutchmen and two VX Ones raced in the Portsmouth division, with Tim Sayles' FD (Warrington, PA) taking the win. Kate Coupland's FD Domestic Dispute (Bristol, ME) was second, with Ian Mancini's VX One Blue Lobster (Jamestown, RI) third.
The 2017 HPR saw a resurgence in foiling classes. Scott Bursor (AYC) flew Rosebud to victory in the Moth class, and the WASZP class won by Aaron Alexander's 300 (Rye, NY). Both foiling classes have been building momentum on western Long Island Sound, and watching them mix it up with dinghies and keelboats was one of the many reasons why HPR is such a memorable regatta. American Yacht Club looks forward to another chapter of the HPR next year. Complete results are posted at YachtScoring.com.