By Zvi Richard Dor-Ner & Zvi Frank
Published by Schiffer Publishing, Ltd.  148 pages   spiral bound   $50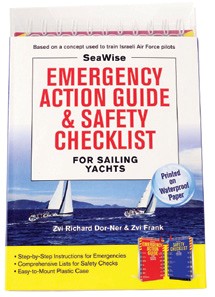 Based on a concept used to train Israeli Air Force pilots, the SeaWise Emergency Action Guide & Safety Checklist for Sailing Yachts has a tab-based flip book design that makes it easy to use for emergencies at sea that demand fast and effective responses. The two-sided guide is printed on waterproof paper, with the Emergency Action side providing step-by-step instructions for dealing with everything from fire and flooding to collision, man overboard, rig failure and extreme weather. On the flip side, the Safety Checklist comprises tabbed sections on offshore voyage preparation, sail plan, deck plan and stow plan, critical immediate-access equipment, and much more. The 6" X 9" book is packaged in a sturdy clear plastic case with hook & loop strips so that it can be mounted at a nav station or on a bulkhead.
Zvi Richard Dor-Ner has sailed all his life on a variety of craft. He is qualified as a Yachtmaster Offshore by the Royal Yachting Association, and holds a U.S. Coast Guard 100-Ton Master license with Sail Endorsement. Much of this guide was written aboard his 43-foot ketch Nina. Zvi Frank is a high-tech entrepreneur and, like Dor-Ner, an award-winning filmmaker. He served as an officer and an F-16 fighter pilot and flight instructor in the Israeli Air Force.
He sails extensively with his family on his 54-foot sloop Genesis, where the remaining parts of this guide were written.
Worthy of a place aboard every boat sailing out of sight of land (a companion guide for motor yachts is also available), the SeaWise Emergency Action Guide & Safety Checklist for Sailing Yachts can be ordered at schifferbooks.com.