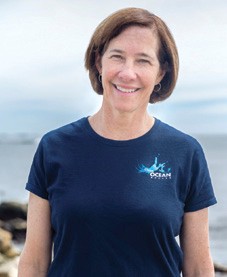 Clean Ocean Access (COA), a Middletown, RI-based environmental organization, has announced the selection of its new Director of Development, Elena T. Kissel. Kissel, who officially started on July 21, is guiding all of COA's fundraising initiatives and developing new relationships to build the organization's visibility, impact, and financial resources.
Before coming to COA, Kissel served as Director of Donor Relations for the Green Schools Alliance in New York, NY. She received a B.A. from Brown University and a J.D. from the University of Bridgeport. With a legal and development background, she has worked for environmental organizations including the Surfrider Foundation, the U.S. Green Building Council, and the Audubon Society.
"We met Elena this past spring at a blustery shoreline cleanup at Fort Adams State Park," said COA Executive Director Dave McLaughlin. "She was so excited to see us doing our work, and she jumped right in to help protect our oceans and beaches. The combination of her sincere interest in our mission, personal enjoyment of the ocean, and development background makes her a perfect fit to advance our development efforts and build long term financial solvency."
"I have a long family history in Rhode Island, yet only recently moved my work life here from New York City," said Kissel, who serves on the Board of Directors of the Potter League for Animals, the Parent's Leadership Council at Brown, and the Board of Visitors of St. George's School. "I was looking for a way to make a connection to Aquidneck Island, its coastline and the ocean. COA made that connection for me. I am motivated every day to further COA's mission of action today so future generations can enjoy ocean activities. I swim in Narragansett Bay from June to September, and I want my children's children to be able to swim here too."
To learn more, visit cleanoceanaccess.org.