Reaching for Success at the Clagett/Oakcliff Match Race
By F. K. George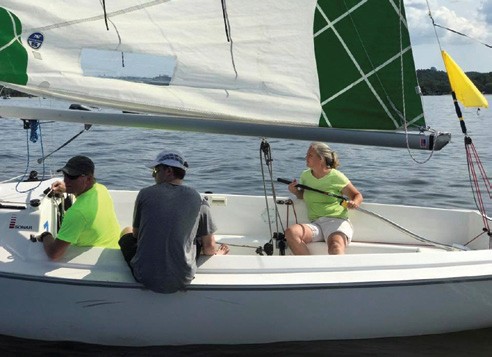 Winning skipper Pauline Dowell  receives helming instructions from sighted crew Kay VanValkenburgh (lime shirt), who also guides her during coaching sessions and briefings.   © Oakcliff Sailing/Francis George
Twenty-seven competitors on 9 teams were served a mixed bag of conditions at the second annual Clagett/Oakcliff Match Race for sailors with adaptive needs, hosted by The WaterFront Center in Oyster Bay, NY August 25 – 27. Pauline Dowell (Boston, MA) and her crew of Christian Thaxton (Sommerville, MA) and Kay VanValkenburgh (Boston), who are returning racers at this event, clinched victory without a single loss on their scoreline. They even bested Rio Paralympic silver medalist Rick Doerr (Clifton, NJ), who made his debut in match racing at the Clagett/Oakcliff and earned a second place spot after a tiebreaker with Charles Rosenfield (Woodstock, CT).
Day one was challenging, with no more than four knots of breeze, but day two saw 6 knots gusting 8, which was perfect for the competitors who were coached all weekend by two America's Cup legends, Dave Perry and Dave Dellenbaugh (Southport and Easton, CT, respectively). Congratulating Dowell's team after their winning race, Perry said, "Your sailing was fundamentally sound and consistent; you let the other teams make the mistakes. I'm so proud of you guys."
Dowell, who is heading to the Blind World Sailing Championships in Sheboygan, WI later this year, has sailed with Thaxton for two years and VanValkenburgh for three. "We have very specific communication on the boat; like a specific sailing language," Dowell explained. When they're on the water, VanWalkenurgh feeds driving commands back to Dowell. They are so in sync that she's able to read the tone and volume of his command to determine how fast and how much to turn.
"This year I sailed with my regular crew and that made a big difference," Dowell continued, "I also sailed at the Blind Nationals where Dave Perry was coaching, and we are constantly referring to the notes and his coaching information." During Perry's debriefs, she is also reliant on VanValkenburgh's sight. He moves her hands around on a board with little boats to mirror the situation being discussed in the video or on the whiteboard.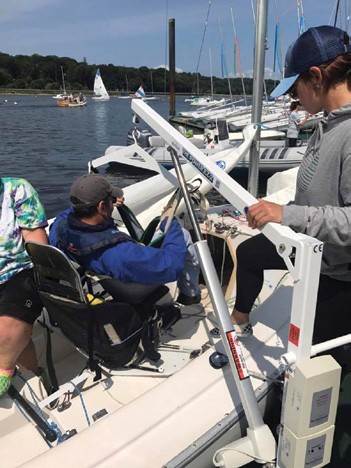 If you think steering a boat blind sounds hard, take a look at Dave Whalen of Y-Knot Sailing in Kattskill Bay, NY. He does it with no hands! After being paralyzed from the neck down in a skiing accident at age 19, Whalen helms using a method called "sip-n-puff." By blowing into a tube, he controls a hydraulic steering mechanism that turns the boat. Whalen is known for his positive attitude and joyful personality.
Skipper Dave Whalen takes the driver's seat with assistance from Clagett/Oakcliff Match Race volunteers at The WaterFront Center.
Rick Doerr, who became paraplegic in a car crash in 1992, still has use of his arms but he needs a special arch to help him move back and forth across the boat. Julia Dorset (Boca Raton, FL), a former member of the US Paralymic Team who finished 4th at the Oakcliff/Clagett, is also paraplegic and needs an arch. Warrior Sailing, a program of the USMMA Sailing Foundation, rigged all of The WaterFront Center's Sonars with the adaptive equipment sailors needed, including Whalen's sip-n-puff system.
"This has been a tremendous opportunity," Doerr commented, "and I've really enjoyed the clinic and regatta." He won the silver medal in the Sonar in the 2016 Paralympic Games but found that match racing took his skills to the next level. Doerr's crew for the Clagett/Oakcliff were Charles McClure (Brookline, MA) and Betsy Perry (Southport). "We've learned so much about boat handling and sailing in really tight quarters while applying rules to those situations," Doerr continued. "This was mine and Charles' first match racing regatta and I will absolutely be back next year!"
Returning to take part in the clinic and regatta were Clagett fleet racing regulars Charlie Rosenfield and Tim Ripley (Randolph, NJ), who teamed up in the Sonar after spending many years in the singlehanded 2.4mR. Joining Ripley and Rosenfield for this regatta was Ripley's childhood sailing coach, Stu Caplan (Larchmont, NY), who taught him how to sail at the Sea Legs program in City Island. "It has been a great regatta and I enjoyed the company on the boat!" Rosenfield commented. "We had great boat handling and I enjoyed the better breeze from last year. I will be back next year for sure and hope that Stu will be able to sail with us again."
More information about the C. Thomas Clagett, Jr. Memorial Clinic & Regatta and Oakcliff Sailing can be found at clagettregatta.org and oakcliffsailing.org.
F. K. George is Oakcliff Sailing's MarComm Manager.