The Science and Stories Behind the Greatest Force on Earth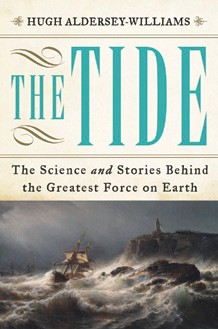 By Hugh Aldersey-Williams
Published by W.W. Norton & Company   368 pages   hardcover   $27.95
Half of the world's population lives along ocean coastlines where the tides ebb and flow every day, yet most of us do not fully understand the natural mechanisms that keep an incomprehensible volume of water in constant motion. Essential for millennia for timekeeping, navigation and commerce, the tide has determined the course of history from the biblical story of Moses parting the Red Sea and the conquests of Julius Caesar to the Battle of Maldon, the Boston Tea Party and the Allied invasion of Normandy. Similarly, the quest to understand what moves the tide has preoccupied great minds including Plato, Aristotle, Galileo and Newton.
In this companionable guide to understanding the oceans' rhythms, celebrated science writer Hugh Aldersey-Williams takes the reader along on his travels to Nova Scotia's Bay of Fundy, where the strongest tides in the world flow daily; arctic Norway, home of the raging tidal whirlpool known as the maelstrom; and Venice, to examine the efforts to defend the city from the acqua alta.
Interweaving centuries of scientific thinking with literature and folklore, the author examines portrayals of the tide from such writers as Shakespeare, Dickens, Melville and Verne. An engaging exploration of an inexorable force, The Tide is fascinating, enjoyable and highly recommenced.
Hugh Aldersey-Williams is the author of many books including Anatomies, Periodic Tales, and The Most Beautiful Molecule, a finalist for the Los Angeles Times Book Prize. He lives in Norfolk, England.