By Joe Cooper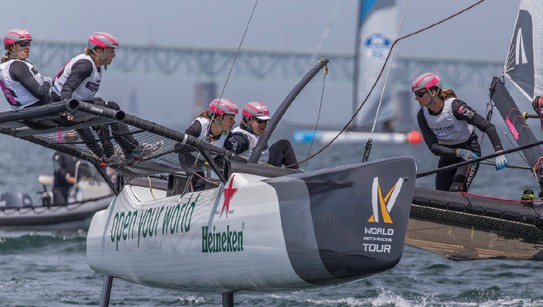 Regular loiterers in this corner will be aware of my interest in the idea that sailing teaches much more than merely sailing. In the case of a number of young women of my acquaintance, sailing, or more accurately being around all the things that sailing requires, builds confidence.
Team Magenta 32 (shown here at the World Match Racing Tour Newport) enjoyed a successful season in the M32 Series.   © Stephen Cloutier/photogroup.us
After you have been a Women's champion in college, been to the Olympics, won a few major regattas, been Rolex Yachtswoman of the Year a couple of times, been a regular on the World Match Racing Tour and sailed in the Volvo Ocean Race, well really what do you do next? Play it forward and share the confidence.
Such is the mission that Sally Barkow and some of her mates from the (former) Team SCA Volvo Ocean Race program are up to now. I was able to get Sally to sit still for 20 minutes over coffee in late August so I could learn a bit more about what she and The Magenta Project ladies are up to. Short version? Work to get more women into professional sailing.
As with many such kapers, the idea for The Magenta Project came about organically. As Team SCA was winding down after the Volvo, a few of the ladies figured there had to be a way to use the experiences and the energy they developed in the Volvo for something bigger. So much of what comes out of sailing is confidence that bleeds over into other aspects of your life. If you can work through headsail changes, or fix the halyard lock 80 feet up the rig when it's blowing fifty in the Southern Ocean, almost anything else pales by comparison. The goal of what became The Magenta Project is to establish pathways for young women to enter the world of professional sailing, to develop their confidence and skills in the sailing world, and very broadly to empower young women in their societies around the world.
The Magenta Project is working on this in a few ways. There is a cohort of young women who come from the usual suspects list of sailing countries such as Australia, New Zealand, France and Great Britain, as well as a few less waterlogged countries. And as an example of their reach, Team Magenta has an Ambassador from the fledgling sailing land of China, one Lijia Xu. A Laser Radial sailor from Shanghai, she won the bronze medal in the Beijing Olympics in 2008 and the gold medal in London in 2012, but unfortunately augured in for an 18th in Rio 2016.
The idea for the Ambassadors is to spread the word in their respective countries and communities. In some countries, like for instance NZL, this may be a tad easier than in, say Brazil…or China. In the U.S., sailing is broadly confused by the general non-sailing public with 'yachting' and although we know better, imagine how difficult it might be talking about the joys to the soul and the benefits of personal development that stem from sailing to a villager 1,000 miles inland from Shanghai on the edge of the Gobi Desert. But ya gotta start somewhere, and China does have a long coastline and a Chinese company owns Volvo.
There is another cohort of women sailors, perhaps best viewed as the Senior Ranking Members of the SCA boat (And do not under any circumstances translate this appellation as 'old'). Go Google their sailing CVs. They are absolutely up there with any of the guys.
In practice, all of the Team Magenta ladies are cross-pollinating over several sailing styles and events. There is the Magenta 32 crew, who took two young ladies from The Prout School out on an M32 catamaran during the World Match Racing Tour Newport and totally changed their lives. One has been soloing in my Laser for part of the summer, and the other has been taking younger kids from her sailing club out in 420s.
All of the 'senior ranking' women from Team SCA are accomplished and arguably more 'well known' sailors from half a dozen countries, and they're leading the charge in their own lands. For instance, in concert with the M32s the ladies have been holding clinics for women to help them come to grips with these boats and the speeds these things travel at. They were coaching young girls in Optis in Holland, after being at Cowes Week with 8,000 other sailors and some huge number of spectators and after they had finished their Tour du UK speaking at schools, sailing clubs and so on.
In one of the disciplines I love, solo sailing, The Magenta Project established a five-woman group to sail in the Solitaire du Figaro series in France (one at a time). This is really like going to bat in a Major League Baseball game. It is possible the French have the most developed professional sailing landscape (or seascape) of any country, but that is another column. The Figaro is widely followed in France, and the ladies are able to talk face to face with many young ladies who follow this kind of sailing. And in the U.S., two of The Magenta Project ladies raced as part of a co-ed team in The Atlantic Cup last spring, double-handed in Class40s.
And not surprisingly, there is Magenta 65, aka another VOR for the ladies, on the whiteboard at any rate. Personally, I reckon that such a boat in the hands of the Team Magenta ladies would generate very good R.O.I. for the sponsors.
But for now, the basic goal is to expose more young women to the idea that professional sailing can create a life and not merely a living. Sailing is of course one of the few sports (and I cannot think of another right at the moment) where men and women can compete with and against each other. Frankly, based on what Sally told me about the attendees at the clinics, there are some not-so-young women totally fired up by these opportunities. No, they are not having dreams of sailing in the VOR, but they're excited about the confidence they developed simply by being able to pilot an M32 around the bay. Knowing what it did for 'my' two girls, I don't wonder.
According to the statistics gathered by The Magenta Project, just 2 to 3% of all professional sailors at major events are women. There is absolutely no reason for this. In fact, there is something like 3.25 billion reasons why it should be otherwise. Half the population of the planet is women, after all. To learn more, visit TheMagentaProject.org.
Australian born, Joe 'Coop' Cooper stayed in the US after the 1980 America's Cup where he was the boat captain and sailed as Grinder/Sewer-man on Australia. His whole career has focused on sailing, especially the short-handed aspects of it. He lives in Middletown, RI where he coaches, consults and writes on his blog, joecoopersailing.com, when not paying attention to his wife, teenage son, dog, two cats and several, mainly small, boats.