Race the Cape Delivers in 2016!
By Monica Matheson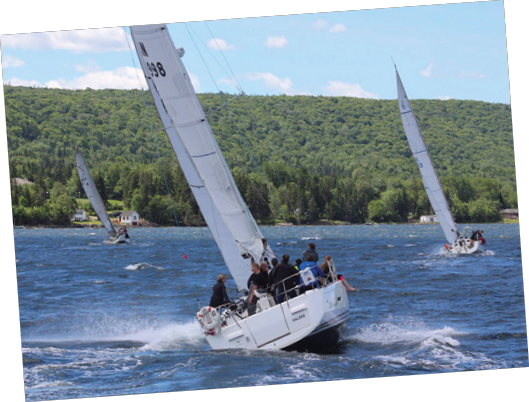 Participants in Race the Cape 2016 experienced the excitement of a challenging point-to-point race on Canada's inland sea, the Bras d'Or Lake.  With adventure at every wave and fun activities each evening, July 18 – 24, 2016 was definitely a week of serious fun in Cape Breton, Nova Scotia.
There was plenty of breeze on Bras d'Or for Race the Cape 2016. © racethecape.ca
Events began in St. Peter's on Sunday, July 17, with the team at the St. Peter's Marina welcoming the skippers and crews of 33 boats from the U.S. and Canada. Monday, registration day, brought everyone together at St. Peter's Marina. It was The Best of Cape Breton night, and Walter Pelley and his family won first prize for donning their Cape Breton Pride, complete with being 'piped in' to the festivities! It was a great night of food, celebration, and preparation for Leg 1.
Leg 1, The Red Islands Cup, took the fleet 32 nautical miles from St. Peter's to Ben Eoin. Beautiful weather made for some great racing! All participants were able to complete the course with ample time to enjoy the night's celebrations. Ben Eoin Marina put together a fun Hawaiian-themed evening, with Bobby and Mike performing our favourite tunes.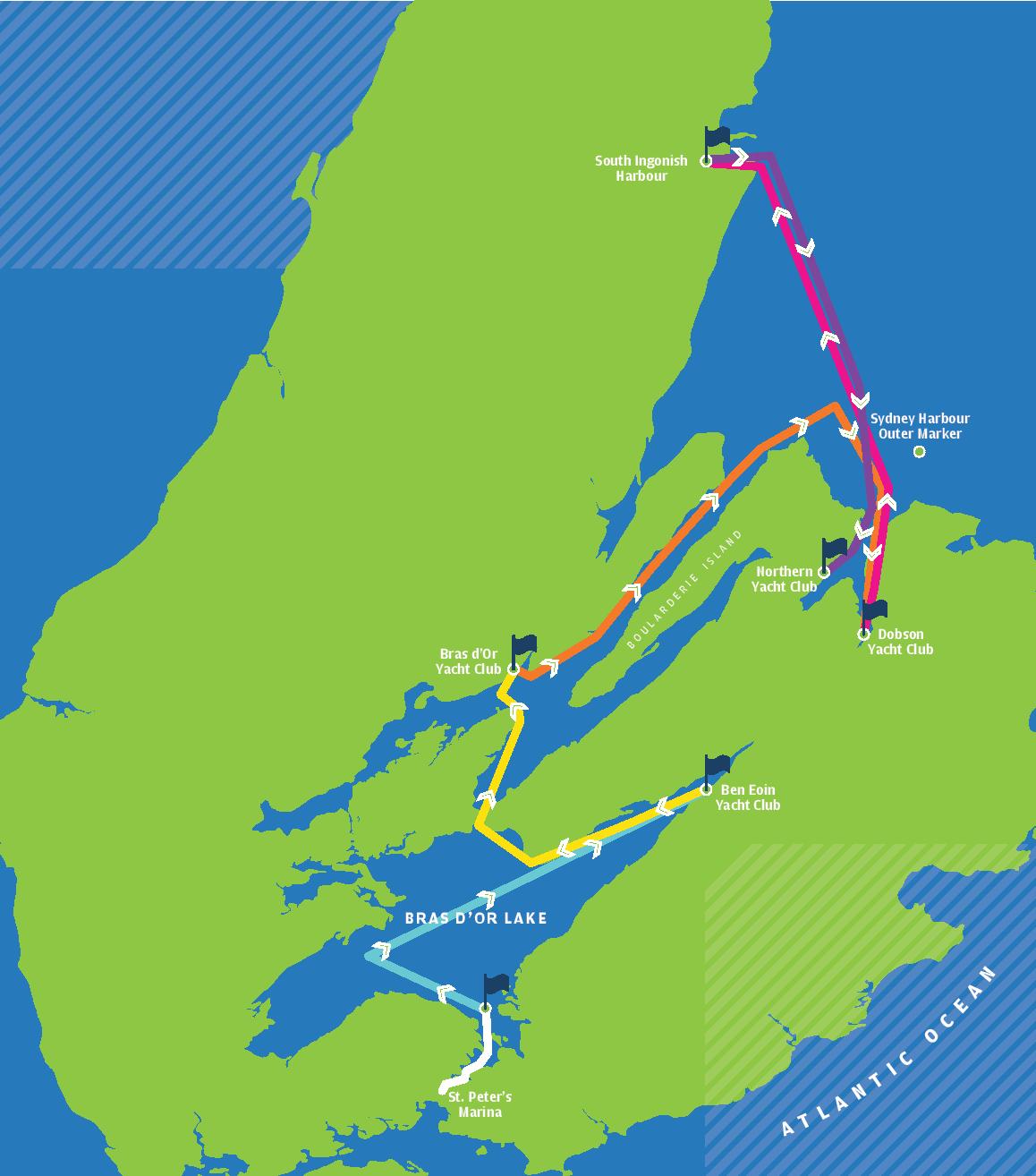 Leg 2, The Barra Strait Cup (Ben Eoin to Baddeck) brought some extremely high winds and seas, which is quite unusual for the Bras d'Or Lake. Although this leg is only 10 miles, it was a hard-fought battle and a very long day. We watched the skippers and crew of the J/24 Waverunner bailing water out of their boat after the Iona Bridge, but they were still smiling! A highlight was watching Dean Baldwin's C&C 27 Mk. 3 Morgan "D" cross a very calm finish line in Baddeck Harbour after pushing through gusts of over 40 knots. A hearty meal at the Inverary Resort was much appreciated after such a trying day.
Leg 3, The North Sails – Yacht Shop Bras d'Or Cup (40 miles from Baddeck to Sydney), was undoubtedly the highlight of the race. Fine weather, winds, and seas brought tactical racing decisions to the forefront. Sailing under the Seal Island Bridge, en route to Sydney Port, was a sight like no other. Brightly coloured spinnakers were a vision from the top of Kelly's Mountain. Sydney Port made everyone feel at home with a delicious buffet, thanks to Scott Morrison of Flavor on the Water.
Layover day in Sydney was a welcome rest for skippers and crew, although news traveled fast that there might be an issue regarding the Sydney-Ingonish ocean leg. The winds and seas were forecasted to be extremely high and our race committee made the decision to change the course for Legs 4 and 5.
Although it was disappointing to not sail up the rugged Atlantic Coast into Ingonish Landing and Marina, it was definitely the best call to ensure the safety of regatta participants. Plans were quickly put in place to create two in-harbour racecourses, change accommodations, and put together a meal for everyone. Flavor on the Water and Sydney Port were more than obliging, and helped us quickly put together another delicious meal. Cambridge Suites Hotel went above and beyond to accommodate as well.
Leg 4, The City Printers Aspy Cup, and Leg 5, The Casino Nova Scotia Cibou Cup, comprised two in-harbour races, ending at the Northern Yacht Club for our final night of awards and celebrations. NYC did an incredible job of decorating in 1950s theme, complete with antique cars and a Harley Davidson parked in the club! Sailors enjoyed a delicious lobster feast and celebrated the past week of exceptional sailing. Overall winners were Walter Pelley's Hughes 38 Mk. 3 Avatar in the Non-Spinnaker division, and Scott Covey's J/29 Rumblefish in the Spinnaker division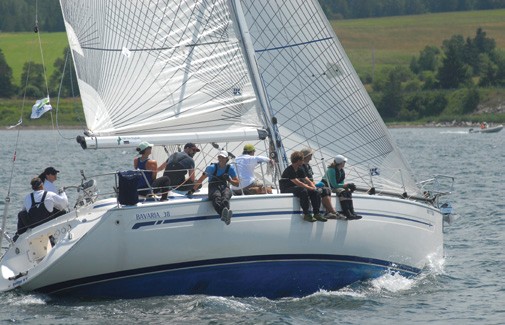 Congratulations to all winners and participants. The staff at Race the Cape could not be more thankful to all of the sponsors, volunteers, drivers, and competitors for helping make this week an incredible success. We hope you enjoyed Race the Cape 2016 and we are looking forward to seeing you in 2017!
For more information, log onto racethecape.ca.
Capt. Mike Evans' Bavaria 38 Sea Smoke (Halifax, NS) is a regular Race the Cape competitor. © racethecape.ca
Monica Matheson is the Marketing Manager at the Cruise Cape Breton Association.