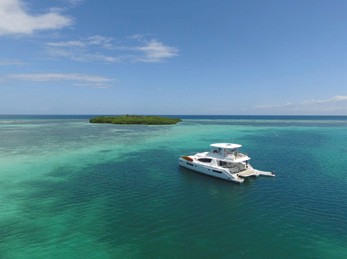 The Moorings has announced its newest charter destination in Puerto Rico, available to book now for vacations beginning in January 2017.
© Sean McGee
The cruising grounds of Puerto Rico and the surrounding Spanish Virgin Islands will offer vacationers a pristine, Caribbean charter experience with convenient access, including direct flights from many cities and no passport required for U.S citizens. Options include all-inclusive crewed sail and power yacht charters complete with captain and chef, as well as bareboat power yacht charters aboard the Moorings 514 Power Catamaran.
The Spanish Virgin Islands comprise the islands of Culebra and Vieques and many surrounding islets and cays. The compact and easily navigated SVI are a natural paradise of unspoiled islands, deserted white sandy beaches, and crystal clear waters with healthy, colorful reefs.
Vieques, the largest island of the SVI, features stunning beaches and the charming seaside village of Esperanza, complete with picturesque Caribbean boardwalk. Nearby Culebra boasts some of the Caribbean's best fishing, diving and snorkeling. Here, the laid back anchorage at Ensenada Honda offers casual open-air bars and restaurants. Charters will start from The Moorings' new location at Puerto Del Ray Marina in Fajardo, the largest marina in the Caribbean. One-way sail and sower charters from Tortola, BVI to Puerto Rico will also be available.
For more information, visit moorings.com.