A critical look at the charter-business end of yacht ownership
By Gregor Tarjan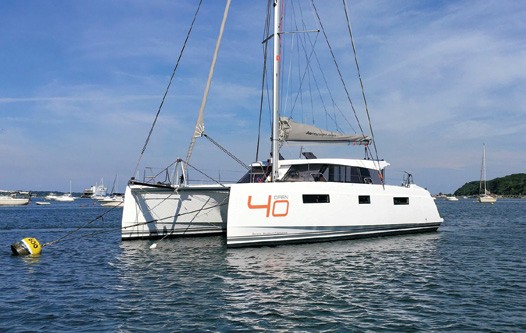 Lately catamarans are all the rage. A keen sailor might have noticed – even in our historically conservative New England sailing grounds – the once exotic catamaran is encountered on a more frequent basis than ever. It is not unusual to find a dozen sailing cats in popular harbors such as our homeport of Port Jefferson on Long Island's North Shore.
The author's Bavaria-Nautitech 40 Open catamaran moored at the Port Jefferson Yacht Club © aeroyacht.com

Cats have a wide stance and stability that make them more family-friendly than monohulls, as catamarans do not heel more than three degrees. If kept light, they are usually faster and have twice the room of a single-hulled vessel. Their huge deck plan and spacious, hard bimini covered cockpits can hold a multitude of water toys and dinghies, and a catamaran's shallow draft allow it venture into charming anchorages once only accessible in a small daysailer. They seem to be ideal cruising vessels.
Well-built cats are constructed with a foam core (rather than balsa wood) in addition to closely spaced watertight bulkheads that make them unsinkable – the ultimate safety feature for venturing offshore. The charter companies quickly caught wind of the advantages of these yachts. If you consider that presently more than 50% of all the charter vessels in the Caribbean are multihulls, it's easy to understand their huge attraction. For the first time since the start of holiday sailing, catamarans have become more popular than monohulls. Pulling into an anchorage in the BVIs on a monohull for the first time feels strange nowadays, as you are surrounded by cruising cats with twice the space and stability. Are cats perfect then? Unfortunately, the cost of catamarans compared to monohulls of the same length is nearly double (but so is their volume), which means that ownership of this type of yacht will strain yacht finances more than a conventional yacht.
The industry has come up with a clever solution. Placing a newly purchased catamaran into a charter management program is an opportunity to significantly lower the amount of running costs of owning a boat. Because of a catamaran's superior holiday appeal, this program works mostly for catamarans and less for single-hulled yachts. By allowing your cat to be chartered, you open up new channels for alternate sources of income, as well as gaining the ability to redirect taxes you are already paying. However, placing a catamaran into charter does not work for everyone. This article hopes to give insight on some of the most heavily debated grey areas of the yacht charter business.
Besides the fairly obvious benefit of added income, placing a yacht into charter has gained traction in the yachting world in the last several years. Ever more dealers and even manufacturers are offering customers charter management programs by promising them a maximum revenue package or a guaranteed income scheme. Although this has worked for many, there are the obvious downsides of lack of control, fixed contract lengths, and the wear and tear on your yacht to consider.
Charter Management is considered a passive owner involvement, and fundamentally changes how the IRS views your enterprise. To receive any type of tax breaks, one is well advised to turn a privately owned yacht into a "business." What this means is that when an owner is actively involved with his or her boat's new function, they are entitled to redirect the taxes they are paying for their primary source of income in order to facilitate the start of this new business. Many of the misconceptions surrounding this type of business plan stem from the hard-to-pinpoint definition of what exactly qualifies as "active involvement," and what does not. Understanding what the rules are from a tax advisor's perspective is in an important step in the decision making process.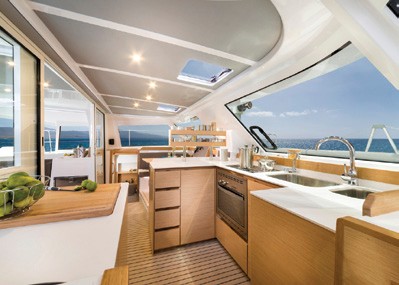 Before getting into the fine print of what exactly constitutes as active vs. passive involvement, there are many other points to consider. Placing a yacht in charter means that your yacht ceases to be a vessel existing solely for your enjoyment. This fundamental concept is important to digest early on; failing to do so will jeopardize any chance of making your charter yacht a profitable enterprise.
360-degree visibility from the saloon takes the stress out of rough weather sailing.
Location is an often overlooked but hugely important factor in the decision making process. If you live (and wish to keep your yacht) in an area that is not known for charter sales, it may not be prudent to advertise your catamaran for charter in this area. Ideally, you want to keep the yacht in a location where there is a constant demand for charters, so that chartering your yacht out is always an option which you can choose to use or not.
The Caribbean has always been the charter capital of the world for a few different reasons. The weather stretches the chartering season out much longer than in areas with a less favorable climate. The family friendly location with closely spaced islands also helps foster an environment ideal for holiday activities. Because of its relative remoteness, vacationers tend to stay for longer periods of time and book charters of a week or longer. Having your boat stationed at an island accessible by plane is also something that would increase demand, which is why many profitable charters are located at islands like Saint Martin or the BVIs.
If you live in the U.S. and ultimately make the decision to keep your boat in the Caribbean, remember that you still have the option of having the boat sailed to your home for the summer for your own use. However, taking the yacht out of the "charter capital" will shorten the charter weeks and reduce revenue. Your catamaran will also sustain more wear and tear on extended delivery trips, which are not very cheap to begin with.
Making an estimate of how much you intend to use your boat per year (and when) is crucial when deciding on whether to charter your yacht or not. The more time you require for personal use (>1 month is significant), the less time the boat will be available for charter and potential revenue will be lost. It is not uncommon to hear of boat owners that partner with a charter management company and then go on to place unrealistic constraints on its use, such as short-term notices before personal use or limiting the type of trips your catamaran can make.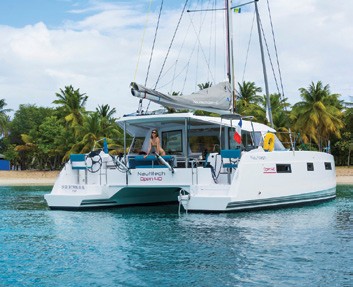 Right from the start, it is important that there is an open dialogue between charter company and client, in order to lay things out clearly. Coming to terms with the fact that your yacht will not always be available for your own use is something that shouldn't be underestimated; many people see their cat as a permanent escape option from the stress of their onshore life, and this option will obviously be lost during the charter season.
Ideally suited for any type of climate, shallow draft catamarans can be pulled right up to the beach.
The irony of the yacht industry is that customers who can afford yachts are also almost always people with the busiest work schedules. Because most clients that purchase newly-built vessels are still working, the time they are able to use the boat is significantly cut down. This is one of the situations in which placing your catamaran into charter makes sense, rather than letting her sit idle. By placing the vessel into charter, it will start to pay for itself over the years, and when you are finally ready to use it for extended periods of time (after retirement, possibly) and keep it purely for personal use, the boat will have cost significantly less as a whole. It can even be argued that having a catamaran used on a regular basis and constantly maintained by professionals is much better for the boat than letting it sit at the dock.
Placing your new catamaran into charter is not the right option for every yacht owner, especially if you consider the wear and tear and restraints on personal usage. However, it is something that every cat owner should at least consider, as the benefits of having your yacht work for you are impossible to overlook. At the end of the day, purchasing a yacht and placing it into charter can make financial sense, but only if it is done in the correct way.
Gregor Tarjan is owner/operator of Aeroyacht Ltd., a Long Island, NY-based dealership exclusively specializing in catamarans. Gregor brokers Sunreef Yachts, Bavaria-Nautitech and Outremer catamarans. He is also author of two catamaran reference books: CATAMARANS, The Complete Guide for Cruising Sailors (McGraw Hill, NY) and CATAMARANS, Tomorrow's Superyachts (Sheridan House, NY).