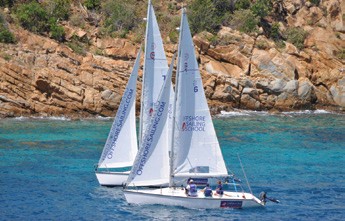 Offshore Sailing School is adding a new venue for its popular racing programs, at the Marriott Autograph Collection® Scrub Island Resort, Spa & Marina in the British Virgin Islands. Scheduled for December 4-9, 2016, this new four-day clinic is hosted by National Sailing Hall of Fame Inductee Steve Colgate, with instruction by veteran Offshore Performance Race Week coaches led by Mumm Worlds Champion Rob (Bobby) Brooks.
The program, for racing skippers and crew seeking to build confidence and skills, and sailors with strong skills who are ready to get into racing, includes morning and afternoon clinics, shore seminars, parties, a regatta for trophies, "and yes, time to relax and explore this sailors' paradise," says Colgate. "This is the perfect location to learn to race or improve your competitive skills, with steady trade winds and a gorgeous resort for accompanying family to play while you're on the water, We encourage participants to bring family and loved ones and book an extra day or two to take advantage of all the resort has to offer."
Scrub Island Resort, Spa & Marina sits on a private island a mile off Tortola in the most picturesque part of the BVI. A Meet and Greet party on arrival night sets the stage for four days of on-water coaching for a maximum of 16 participants, with non-stop racing instruction aboard four Colgate 26s. Box lunches are provided during seminars between morning and afternoon racing sessions and a regatta on the last day sets the tone for a festive awards dinner on the last night. Inclusive packages start at $3,975 per person for two people sharing a room, $4,885 for single private accommodations, and include instruction, five nights at the resort, box lunches, cocktail parties, two dinners and more.
Offshore Sailing School has seven locations in Florida, BVI, New York and New Jersey, and offers comprehensive courses from basic sailing to offshore package making. Additional programs include team building and leadership adventures and cruising flotillas worldwide.
For more information, visit OffshoreSailing.com.