By Colin Rath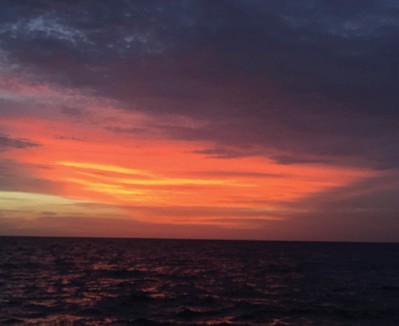 Editor's note: This is the fifteenth installment in a series of dispatches from the Rath family (Colin & Pam, daughters Breana, Mariel and Nerina), who departed Stamford, CT in the fall of 2014 for a worldwide cruise aboard their Hanse 545 Persevere. You'll find previous articles at linked below.
A Pacific sunset   © persevere60545.com
We left Galapagos with as much food and supplies as possible on May 7, but we were not able to top off our fuel as much as I wanted. We had 90% on the tanks and two 20-liter jerry cans of diesel. Good enough for government work, right? So off we went. The girls hit every DVD shop in the islands before leaving and picked up enough movies for the journey. I think we got 75 movies at 50 cents a pop. Some were good, some were not so good.
Watching movies and playing board games are a nightly ritual at sea aboard Persevere. Movies on the flat screen start while Pam prepared dinner nightly as a reward from finishing school each day. The flicks usually continue until bedtime. The other entertainment for the journey was that Pousja had three kittens, which produced many hours of cat play and naming of the kittens. My family crew is well seasoned by now, with close to 12,000 miles at sea. This will be one of our largest ocean crossings though, and our second ocean crossing this year (third for the trip). The girls have learned how to get into a routine quickly once we lose sight of land.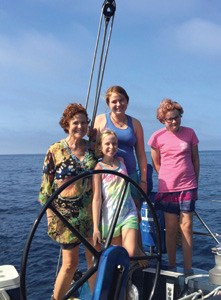 The routine begins daily as I put the bimini extension up over the cockpit to keep the cockpit cool for the day. The girls wake up each morning around 8 am and make breakfast. Breakfast can be anything from cereal to omelets or pancakes. They then have to turn the eggs before they start school each day – a way of saving valuable refrigeration space. Schoolwork then is the mainstay for the next four to five hours with a break for lunch. Lunch can be Pam's signature tuna salad or cold cut wraps until the vegetables run out, usually after two weeks if we are lucky. Once the fruits and vegetables run out, there is bean salad (out of cans), grilled cheeses and pasta.
The boat interior gets vacuumed once school is over and then the girls read or play games or do some art project until dinner. Just before sunset, I take down the bimini extension. Dinner is usually beef, pork, chicken or fish of the day on the barbecue off the back of the boat. Pam prepares vegetables with bread (that Breana makes every week). I get to spend my day fixing stuff on the boat, corresponding with my New Zealand and NYC business contacts via email, checking weather, fishing and trying to catch up on my sleep from the previous night shift. Technically, we don't do a watch system.
Basically, there is no one out there once you are 200 miles offshore. On this 3,000-mile trip, we did not see one boat until we were within 20 miles of Marquesas. I have AIS and can see anyone within 10-20 miles away from me on that, and 8 miles on radar, so I set the alarms and usually sleep on deck and wake up every 45 minutes to see if there is anything out there. There isn't. I know that you hear about those stories of people hitting submerged containers or getting hit by whales (you will not see them anyway at night soon enough to do anything). I make sure the boat is set and update the weather every two days. The weather change in the middle of the night worries me more than another boat. The trades are pretty consistent though. I make sure I know where everyone is below in case and have all the safety equipment up to date. So I am prepared. You might say I have been lucky so far, and you are right.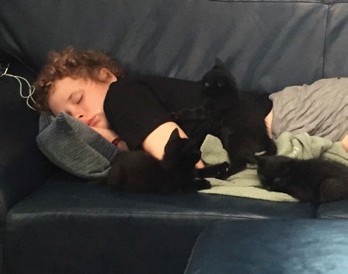 The sail from Galapagos started out great; another reach in 15 to 20 knots (Persevere's favorite) and was going well for the first two and half weeks, until we got within the 200 mile range of Marquesas. The wind died and to add insult we were low on fuel, so we had no choice but to sail. It was tough on the girls to sail at 3 knots and see the time on expedition keep showing it getting longer until we arrive.
Catnappin'   © persevere60545.com
Finally, after four days we caught sight of Nuku Hiva and with the fuel gauge at 3 percent we had enough and motored for two hours to make harbor by nightfall. We dropped anchor after dark within a harbor that was rough as hell and had sheer cliffs on either side. Exhausted after 21 days at sea, I went to bed. We would explore Nuku Hiva and clear customs the next day.
Look for updates on Persevere's journey in future issues of WindCheck. You can track the Raths' progress, and follow them in the 2016 Rolex Sydney to Hobart Yacht Race, on their Facebook page. Colin's book, It Is What It Is, can be purchased on ColinRath.com or at any major bookstore. Look for his next book in the fall of 2017.
Previous articles from the Persevere Family Journey:
January 2015 Persevere Cruise: The Most Important Rule of Cruising: Let the Weather – Not Your Timetable – Determine the Schedule.
March 2015 Persevere Cruise: Cuba Libra!
April 2015 Persevere Cruise: Serious Fun at the St. Maarten Heineken Regatta
May 2015 Persevere Cruise: Kirk Kelly's 50th Birthday in Rincón
June 2015 Persevere Cruise: From the Persevere Log: Dominican Tree House Village
July 2015 Persevere Cruise: From the Log of Persevere: Havana – The Tale of Two Cities
August 2015 Persevere Cruise: Back to NYC
September 2015 Persevere Cruise: Transatlantic Race 2015
October 2015 Persevere Cruise: Sail On, Aspen
November/December 2015 Persevere Cruise: Europe 16: The Adventure Begins
January/February 2016 From the Log of Persevere: Bay of Biscay
March 2016 From the Log of Persevere: Into the Med
April 2016 From the Log of Persevere: One Word: Gaudi
May 2016 From the Log of Persevere: Atlantic Odyssey & Holidays in Tenerife
June 2016 From the Log of Persevere: Carnival in Martinique 
July 2016 From the Log of Persevere: Central America
August 2016 From the Log of Persevere: San Blas Islands and the Panama Canal
September 2016 From the Log of Persevere: The Lost Land of Galapagos