By Lincoln White
Editor's note: Although this month's topic isn't about buying or selling a boat, the author offers very useful information whether you're planning the delivery of a boat you've just bought or commissioning one you've had for years.
The difference between a good experience while boating and a very bad experience can all come from an annual pre-season vessel inspection. Finding what looks like a small issue in the spring could likely avoid a catastrophe. I recently saw Sailing World's post on the Farr 40 that had a lower lifeline failure, which gave me the idea to share a few thoughts on safety that I've learned over years of boating, witnessing accidents as well as being first on scene after some catastrophic events around the water.
A pre-season inspection is a great idea, but what is even more important with a stem-to-stern inspection is having an experienced set of eyes on the project. It never hurts to have a professional (your boatyard or marina service manager, a marine surveyor or a reputable marine service professional) give you their take. Avoid mid-season breakdown by getting a thorough inspection of your yacht. Participating in the inspection is also a great way to get to know your boat, especially the mechanical systems. Observing alongside a professional as he or she inspects your boat gives you a prime time to ask questions as well as build a priority list of needs: spare parts, necessary tools and/or safety equipment. Hopefully this gives you some ideas. You can never be too safe. Just like a pilot has a preflight checklist, you should have yours, as well as concise emergency procedures.
It's always great to brief your crew when they come aboard, and don't be shy about telling someone what to bring and/or wear. It's your boat and you're in command. You have the ability to make or break your guests' experience. Make sure your crew wears comfortable, non-marking shoes. I don't recommend allowing anyone to wear high heels. When your guests arrive, it's important to walk through the boat with them. Show them any obstacles they could trip on or bump their head on. This is also a great time to explain the safety equipment and where it's located. Be sure to require that children wear a PFD and that anyone who is not a swimmer at least have one with them at all times. It's great to have the square Type IV throwable cushions, not only for comfort to sit on but in case anyone ever goes over the side – one could save a life.
A few tips for getting underway
Have a float plan. Communicate with someone your intended area of boating, who you're with, and when you will be back. Have a few good looks at the weather. It's so easy with technology today to watch the weather and avoid being caught in bad weather. Have a good simple radar link and know your weather window.
Sometimes even the best equipment can fail. Therefore, it always pays off to have backups. When it comes to getting home when your instruments or electrical system have failed, you always have your phone. One of the greatest apps I have ever seen is the Navionics navigation app. While it was a little pricy at $9.99, it has paid for itself hundreds of times over. If you are bringing your phone on the water, be sure it's protected. There's nothing better than knowing that your phone is protected in a waterproof case during a bad storm. Your phone can save a life or lives one day, so don't risk it being damaged.
Assign responsibilities for your crew. Utilize your crew to their capabilities. If your guests are there to relax that's great, but they should always know to keep their eyes open and speak up if they see anything in question. When leaving the dock and returning, it's especially important to allow the skipper every opportunity to focus. Always remind passengers to never get in between two boats or between the boat and a dock. The boat will always win. Keep hands and feet in. Lower unnecessary chatter and help the skipper to dock by not getting in his or her way or blocking visibility.
Most boating accidents happen within three miles of shore. Therefore, remember it's important to remind your crew to keep a sharp lookout. On a sailboat, a crewmember should always be assigned the leeward lookout so that he or she can watch what's happening in the area the skipper can't see.
Boating is about having fun, but as in any sport it's crucial to be prepared in order to have a good time. The great thing about our sport is that there are so many professionals and experts willing to share their knowledge and experience. The resources are endless, and with today's technology great information is a click away.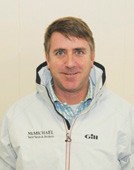 Lincoln White is a member of the brokerage team at McMichael Yacht Brokers' Essex, CT office. Before joining McMichael, he was both the Waterfront Director and Sailing Director at Larchmont Yacht Club. He lives in Madison, CT, with his wife Kristy and their three children and is currently active in the J/70 Class. White can be reached at Lincolnw@mcmyacht.com.